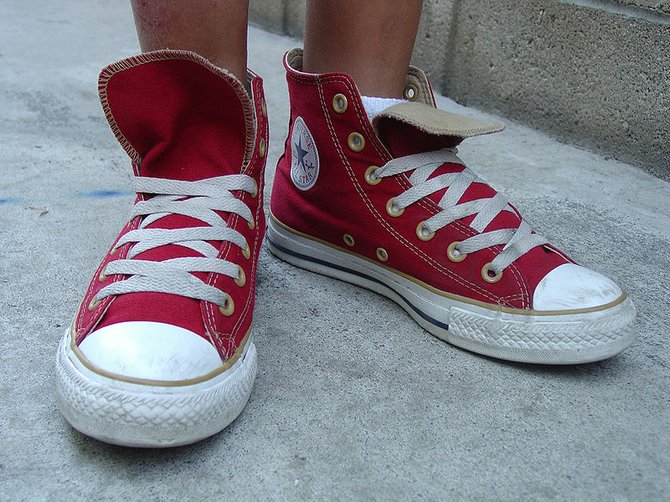 JACKSON — For the second time this week, local officials made headlines for their reactions to children's clothing styles.
Yesterday, on the first day of school at Canton High School, administrators yanked more than 100 kids out of class for wearing shoes that they say violated the school's dress code. The kids--whose parents were called to bring them more appropriate footwear--also received in-school suspensions.
"A number of students wore red shoes that can be identified with gangs . . . That looks good for Saturday, but not for school," Canton Public Schools Superintendent Dwight J. Luckett told WAPT Thursday.
One violating female student featured in the WAPT report wore black and turquoise Nikes; another, male, student had on gray Adidas with green stripes.
The handbook gives the school principal or her designee leeway to make judgment calls about what clothing is "inappropriate."
Canton requires students to wear uniforms consisting of khakis, tucked-in solid navy polo shirts with no blousing, khaki dresses and solid black, brown or white shoes. The uniform dress code also places restrictions on accessories--belts, socks, neckties--and outerwear, all of which must also be black, brown or khaki.
The handbook's list of prohibited garments includes boots with more than 2.5-inch heels, army and snow boots, stilettos, fishnet stocking or--underlined--"Any shoes having the colors that may be tied to gang membership, or can be deemed inappropriate by the principal or his/her designee."
Canton school employees also have a dress code, which requires men to wear neckties (custodians, maintenance and cafeteria workers, and technicians are exempt) and prohibits sexy or revealing clothing, jogging pants and clothing pertaining to fraternal organizations. With respect to shoes, the employee handbook bans the wearing of beach shoes, clogs, slippers and flip-flops, and sneakers by anyone other than coaches and gym teachers.
Canton High School Principal Shirley Sanders, who was not available for comment this morning, told WLBT: "We had kids with neon shoes, neon shoe strings, red shoes, black shoes and gang-related shoes."
The federal Bureau of Justice Statistics lists 17 organized gangs in Mississippi, including Black Gangster Disciples, Bloods, Crips, Latin Kings, and Vice Lords. These organizations brandish a variety of colors making most colors potentially gang associated.
Bear Atwood, legal director for the Mississippi ACLU, said the civil liberties advocacy organization was keeping an eye on the situation in Canton. She wonders whether students received adequate notification of the school's dress policy. Canton school officials said the policy is outlined in the student/parent handbook, distributed at registration.
Atwood also said that students who qualify for free-and-reduced priced lunches may also qualify for a waiver from purchasing school supplies and uniforms. With the waiver, the school must provide the items families cannot afford. Because 92 percent of Canton students are eligible for free or reduced lunch, Atwood also questions whether the district tells parents they can apply for the waiver.
The Canton student handbook does mention the availability of waivers for school supplies but not the uniform.
The Canton footwear fracas follows another fashion controversy earlier in the week when the Hinds County Board of Supervisors held a hearing on a proposed ordinance to criminalizing the popular fashion of sagging one's trousers.
More than a dozen people spoke on District 5 Supervisor Kenneth Stokes' proposal to impose nominal $10 fines on anyone caught wearing their pants low in Hinds County.
"The way we get out of this jail problem is to give them some jobs," Stokes said Tuesday. "No one is going to hire you with your pants hanging down."
The ACLU staged a small demonstration to protest the proposal, which the organization considers an unconstitutional violation of free speech.
Asked how a governmental ban is different from a public school's dress code, Atwood said courts have determined that schools, as a different setting from a public sidewalk, may place restrictions on how people dress.
"Even though you don't lose your constitutional rights when you walk through the school door, they have more leeway," Atwood said. "In schools, there's a mandate that there's a orderly, conducive environment."
The Rev. Jesse Jackson Jr., who visited Jackson for the Jackson Public Schools convocation and addressed Stokes' proposal. If local leaders take their eyes off what's important in students' lives, Jackson said, "People will be arguing about sagging pants and not sagging (access to) computers. Sagging pants not sagging salaries."
More like this story
More stories by this author