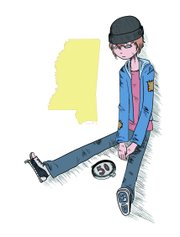 Jackson-area child advocacy organizations say Mississippi's kids don't have to be in last place.
In the Annie E. Casey Foundation's annual Kids Count survey, released last week, Mississippi remained the worst state in the nation for child well-being for the second year in a row.
Mississippi finished 50th in the economic well-being and family and community categories, the study found. The state was 48th in the education and health categories. From there, the data were broken down into 16 subcategories in which Mississippi saw improvement in eight areas. Conditions worsened in eight areas.
Ed Sivak, the executive director of the Mississippi Economic Policy Center, said the Casey Foundation data underscore the need for policymakers to invest in asset-development strategies such as saving for a home or a business, education and health-care infrastructure.
Specifically, Mississippi's less-than-stellar results for children demonstrate the importance of expanding the Medicaid program for people with low incomes, Sivak said. Gov. Phil Bryant and other elected officials have said that the Mississippi could not afford to grow the Medicaid rolls under Congress' Affordable Care Act, also known as "Obamacare."
Medicaid comprises 16 percent of revenue for hospitals around the state, according to the Mississippi Hospital Association. Sivak believes that growing the program could represent an economic boon to Mississippi.
"When children are in families with stable jobs, they do better in school and that translates into higher rates of success moving onto higher education," he said.
The report does show a few positive trends. For example, the number of Mississippi children without health insurance declined by 38 percent from 2008 to 2010. Also, the percentage of children who abuse alcohol went down 14 percent from 2005/2006 to 2008/2009, while child and teen death rates decreased by 10 percent.
Despite Mississippi's 48th ranking for education, the Kids Count study also held some encouraging signs in that area. Since last year's study, more Mississippi children are attending preschool, and more fourth graders are becoming proficient at reading. Eighth-grade math proficiency is also increasing.
The numbers of children in families where the head of the household lacks a high-school diploma are on the decline as well. The number of children in single-parent households decreased 2 percent between 2005 and 2010. Nationally, the number of children in one-parent homes increased.
"It kind of takes your breath away to see these tough numbers," said Robert Langford, executive director of Operation Shoestring.
Langford calls for taking attitude toward overcoming the challenges of Mississippi's kids rather than the non-collaborative "silo approach" that policy officials often take. Investing in workforce development should not come at the expense of early childhood education, he said.
Oleta Fitzgerald, southern regional director for Children's Defense Fund, said Mississippi is an "ideological standstill" on education that the state must overcome.
She points to the recent rancorous debate over charter schools. "You can't have a charter-school conversation without an education-funding conversation," she said.
As lawmakers have debated ferociously over whether to allow charter schools to open in Mississippi, budget architects have consistently underfunded the state's education funding formula known as Mississippi Adequate Education Program. This year, the shortfall is $250 million.
Cultural chan-ges also need to be made, Fitzgerald said. She wants a return to the days when people held the teaching profession in higher esteem and said "we have to stop getting teachers by default," because they can't get a more desirable job anywhere else.
Fitzgerald believes the political will to improve exists, but said it's time for policymakers to put their money where their mouth is.
Comment and email R.L. Nave at [email protected]
8/01/2012 -- The above story is updated to reflect a clarification. Reporter R.L. Nave attributed the following information to Mississippi Economic Policy Center executive director Ed Sivak: "Because Medicaid comprises 16 percent of revenue for hospitals around the state, growing the program could represent an economic boon to Mississippi." Sivak stated that growing Medicaid would help the state's economy, but did not provide the figures on the portion of hospital revenue derived from Medicaid. That information came from the the Mississippi Hospital Association. The Jackson Free Press apologizes.
More like this story
More stories by this author
Support our reporting -- Become a JFP VIP.
The news business has changed dramatically in the past year, and we need your help more than ever to keep bringing you important stories about Jackson and the Metro. Become a JFP VIP with an annual membership or you can Sign up as a monthly supporter. Thanks for anything you can do to empower our journalism!