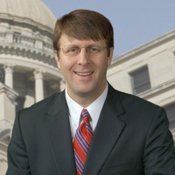 State Sen. Gray Tollison, D-Oxford, may switch political parties. One newspaper report speculates that Tollison's endorsement of Lt. Gov. Phil Bryant over fellow Democrat Johnny DuPree could be one indication of the rumor's validity.
On its website, the Northeast Mississippi Daily Journal is reporting that Tollison may head to the GOP.
Several state Democrats and Republicans told the Jackson Free Press this morning that they've heard similar rumors of Tollison's impending defection or that they wouldn't be surprised if the information was accurate.
Considered by some political observers as a liberal, Tollison jumping ship might seem surprising, but his departure won't dramatically shift the balance of power in the Legislature's upper body where Republicans already hold the majority albeit a slim one.
The rumor mill about Tollison is in high gear today in light of a Mississippi Republican Party press conference this afternoon at party headquarters to discuss "a major development" for Republicans in the Mississippi Senate.
Still, the biggest question mark after Tuesday's election remains the composition of the House of Representatives where Republicans are hoping to wrest control from Democrats for the first time since Reconstruction.
As of today, Republicans have secured 58 seats to the Dems' 54 seats with 11 seats still up in the air. Of those races, Democrats lead in four of them; Republicans have the edge in five.
Overnight, the race was called in House District 25 in favor of Republican challenger Gene Alday over incumbent Democratic state Rep. John Mayo. Meanwhile, the state Republican Party has declared victory in winning majorities in both houses of the Legislature.
Rickey Cole, the executive director of Mississippi Democratic Party, says it's early for Republicans to be jubilant.
"It's too close to call," Cole said. "The counties must first certify the results and send them to the secretary of state for final certification, a process that could take 10 days. Until the final election returns have been certified, we will not know with absolute certainty (who the winners and losers are)," Cole added.
Cole and other Democrats believe that even if they lose the House, opportunities exist to build coalitions with their Republican colleagues.
"I can support a moderate Republican speaker," state Rep. Steve Holland, D-Plantersville, said.
State Sen. John Hohrn, D-Jackson, said that if Republicans control both houses of the Legislature, Democrats will have to become more combative to hold the majority party in check.
Said Cole: "In a two-party system, the party that's in the minority serves as a check for those that are in the majority. It's their job to keep the other side honest."
Previous Comments
ID

165379

Comment

Here's a statement that just came in from the Mississippi Democratic Party Executive Director Ricky Cole: The announcement today that state Senator Gray Tollison has decided to become a Republican is surprising to Democrats who know him. "Throughout his career, Senator Tollison has been a leading liberal voice in the State Senate. As a Democratic activist, Tollison and his law firm have strongly supported liberal candidates and causes for decades, helping to raising money and donating heavily to national liberals. A trial lawyer himself, he has been a vocal champion for trial lawyers in the legislature" said Rickey Cole, Executive Director of the Mississippi Democratic Party. "We understand that many factors probably played into his decision, and no doubt he searched his soul. But it will certainly be interesting to see how Senator Tollison reconciles his new-found partisan identity with his lifelong advocacy of liberal causes." Even at this ironic occasion of a liberal becoming a Republican, the Mississippi Democratic Party remains the big-tent party. We welcome the participation and active support of every Mississippian who cares about the advancement of our Mississippi community, regardless of where their opinions on individual issues may fall along the ideological scale. We remain fully committed to a united effort at building a better Mississippi for everyone."

Author

Lacey McLaughlin

Date

2011-11-10T16:42:07-06:00
ID

165380

Comment

And here's a statement from the Republican Party: The Mississippi Republican Party has issued a statement announcing Senator Gray Tollison has joined the Republican Party, giving Republicans a 31-21 supermajority in the Mississippi State Senate. "I welcome Gray Tollison to the Republican Party and will rely on his experience next year in the Mississippi Senate," said Lieutenant Governor-elect Tate Reeves. "I look forward to working with Gray to try to make Mississippi the best place in America to do business and to keep it the best place to raise a family. Together we will work on bold solutions to help improve the education attainment level in our state and bring in more jobs and economic development." Reeves added, "The election results on Tuesday and the news today that Gray Tollison will be joining the Republican Party speaks to the appeal of our conservative values and vision for moving Mississippi forward. Gray will be a great addition to our team." Governor-elect Phil Bryant, who is in Washington D.C. today, said, "I have worked with Senator Tollison for four years and know he will be a strong supporter of our conservative agenda of job creation, education redesign and performance-based budgeting. I welcome Senator Tollison to the Mississippi Republican Party." "As a Republican, I can still hold firm to my core political beliefs of making Mississippi a better place to live by supporting education, encouraging jobs and economic development, working for efficient and effective government, and improving our criminal laws," Senator Gray Tollison said. "I am committed to moving Mississippi up and – going forward – it will be done with the help of the Republican Party." "Republicans have made historic gains all across the state in this year's elections, but our gains in Lafayette County are especially impressive," said Mississippi Republican Party Chairman Arnie Hederman. "We are looking forward to Republican Representatives-elect Brad Mayo, Nolan Mettetal, Steve Massengill, and Senator Gray Tollison working to effectively represent Lafayette County in the legislature."

Author

Lacey McLaughlin

Date

2011-11-10T16:52:31-06:00
ID

165381

Comment

Do others not find it somewhat disingenuous to run as a democrat, be reelected on Tuesday and switch parties two days later. I feel that is unethical if it is true and it certainly is not the legislator most of us know. I wonder what changed him if indeed this happened.

Author

onewhoknows

Date

2011-11-10T17:11:37-06:00
ID

165386

Comment

I'll tell you what happened, threats and promises. I'm sure it's no coincidence that his opponent was pulled off the ballot. What a complete lack of character.

Author

DiFatta

Date

2011-11-11T09:39:04-06:00
More stories by this author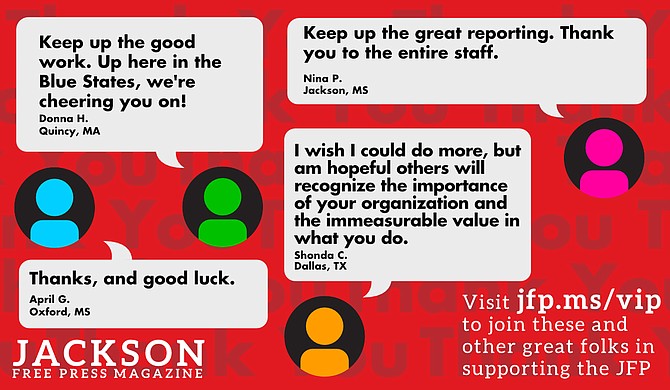 Thanks to all our new JFP VIPs!
COVID-19 has closed down the main sources of the JFP's revenue -- concerts, festivals, fundraisers, restaurants and bars. If everyone reading this article gives $5 or more, we should be able to continue publishing through the crisis. Please pay what you can to keep us reporting and publishing.