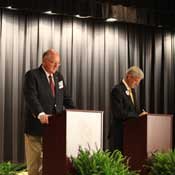 Three Republican gubernatorial candidates took different views of taxes and education this weekend at a Mississippi Tea Party-sponsored debate at Northwest Rankin High School.
Republican frontrunner Lt. Gov. Phil Bryant pushed all the right Tea Party buttons at the debate, which was sponsored in part by WAPT News Channel 16. Mississippi businessman Dave Dennis and Pearl River County Supervisor Hudson Holliday refused to follow him down some of those rabbit holes.
The most obvious difference between the three was how they dealt with an Americans for Tax Reform pledge to oppose and veto any proposal for a statewide tax increase. Bryant embraced the pledge in an attempt to emulate popular Republican Gov. Haley Barbour, who has claimed a "no new taxes" philosophy.
"I have signed it, and that's why I have made sure I have not voted for any tax increase. As governor, I'm going to make sure I'm there to veto tax increases," said Bryant.
Holliday said he would not agree to raise taxes except under the most "dire need," but refused to commit to the pledge.
"If I tell you a chicken did snuff you could look under his wing and see the can," Holliday said. "I fought against tax increases in Pearl River County ... but I don't know what's going to happen down the road. We're in for some hard times."
Dennis, similarly, said that if a candidate commits to a pledge, "you fundamentally need to make sure you can do it."
Both then cited examples of local tax increases the state suffered due to Barbour's policy of blocking most statewide tax increases. Dennis pointed out that in April, employers' unemployment compensation doubled.
Holliday said beds at nursing homes "went up from $9.27 to $12 a day," even though this did not count as a tax increase in the code, either.
Holliday and Bryant disagreed regarding public education as well. Bryant pointed out that as a politician, "I'm not responsible for educating your child. You are."
"I'm responsible for making sure we've got good safe schools for them to go to, but we need competition. If they're not getting a good education, they need to go to a school where they can get that," Bryant added, and advocated expanding charter schools in the state.
Mississippi charter schools use state funding slated for public education, but most charter formulas also allow the schools to weed out problem and low-performing students through expulsion—an option less available to public schools, which must follow a mandatory government enrollment policy for school-age children.
Holliday, who represents a largely rural county with a population of about 56,000, said many children would not have access to charter schools.
"It's fine to have a charter school here and there. It's fine to let the rich folks do it, but what about the poor folks?" Holliday asked.
Dennis and Holliday both parted ways with the frontrunner on tort reform. Bryant said he supported imposing new anti-plaintiff state laws to impose penalties on plaintiffs or plaintiff lawyers who lose a suit that he considers frivolous.
"(G)uys that are out here with these big billboards who say, 'Call me,' for your suit, that guy would have to pay your cost if he sued you frivolously. You're absolutely right, I'm for that," Bryant said.
The other two, however, said the term "frivolous" is a matter of opinion.
"No one likes frivolous lawsuits, but I think it would keep a lot of people with legitimate claims from trying to get their just reward," Holliday said. "People need to have their day in court, as provided by the Constitution."
"It would be punitive," Dennis said. "On the surface it sounds great, but candidly ... you don't know how a jury's going to react."
Previous Comments
ID

164098

Comment

Forget charter schools we need vouchers. Why should I have to pay for a school that no one should have to go to in a district that thinks handcuffing children is a fine way to deal with discipline problems? Then pay on top of that for a private school so my child can get a decent education? Vouchers are the only fair way to inject competition into a corrupt monopoly like government run schools.

Author

WMartin

Date

2011-07-18T14:04:20-06:00
ID

164101

Comment

If you want quality education to be available in Mississippi, please consider my platform as you explore candidates for Governor. The Real Solutions will come from those who are on the front lines of the battle to give our kids an advantage in the workforce - Teachers, Principals, Parents and Kids. Professional Politicians will never work FOR us, the citizens. http://bobbykearan.com/vote/ Question, Comment and Lend your Voice.

Author

BobbyKearan

Date

2011-07-19T09:03:55-06:00
More stories by this author
Support our reporting -- Follow the MFP.