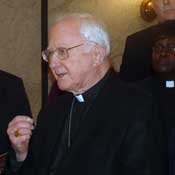 Stewpot Community Services Chief Executive Officer Rev. Frank Spencer said Stewpot Community Services would supply groceries to people whose choices are limited to paying off their loan or buying groceries.
"To those of you that are having payday loans, that are having to make a decision as to whether to pay the loan or buy food, I say pay the loan and get out of the trap--we at Stewpot will make sure you have the food that you need to make it through your crisis," said Spencer, who spoke at a press conference this morning criticizing legislators' efforts to extend a state exemption allowing payday lenders to dodge a 36 percent annual percentage rate cap on loans that is applicable to nearly every other lending institution.
Spencer joined several religious leaders, including William Houck, a retired bishop with the Catholic Diocese of Jackson, Mount Helm Baptist Church Pastor C.J. Rhodes and Mississippi Conference of the United Methodist Church Connectional Ministry Director Steven Casteel in slamming the APR exemption for payday lenders, which they said was the highest among states that allow payday loan interest rate exemptions.
Houck called payday lending reform "an ethical and moral issue that the state desperately needs to address." Under current law, the industry in Mississippi can charge a lending fee that equals an APR of 572 percent, according to state Department of Banking and Consumer Finance.
"Payday lending traps individuals in a vicious cycle of indebtedness. We realize the need for poor people to be able to borrow a small amount of money to make ends meet, but we should not allow businesses to prey upon those living in poverty," Houck said. "We are one of the poorest states in our country. We have to be concerned as to how the finance and banking committee can address this so that our state will not be the state charging the highest interest to people making payday lending loans.
Houck went on to criticize the lack of loan options for poor people in the state: "Why is it that people of means are able to borrow money for their needs at a reasonable rate of interest, but here in Mississippi, existing law makes possible for poor people to be taken advantage of when they need money?" Houck asked.
Rhodes said that even though the payday lending industry provided a service, it too often took advantage of poor people.
"Many of these payday lenders are highly concentrated in some of the poorest areas of our state," Rhodes said. "Go down to west Jackson or south Jackson amid the huddled masses of black and brown folk, and see the plethora of payday lending businesses. Then go to Madison and Ridgeland, and you'll see very few of these loan places. Something is wrong with that."
Financial Services Center President Dan Robinson said that many payday lenders tend to occupy an area with plenty of vacant office space, such as Ellis Avenue and Terry Road in south Jackson.
"That's a matter of supply and demand," Robinson said. "Building owners in these areas are willing to make a deal to get their space filled, and also, as a business-owner, you would want to be on Ellis Avenue, Highway 80 or Terry Road. These are major corridors."
Robinson said that the 572 percent APR was not a realistic translation because the life of the loan is only two weeks and is not annual in nature. To reach that level of interest, a borrower would have to refinance his or her loan every two weeks for an entire year. Current law bars a lender from refinancing the same loan or from charging more than 18 percent interest regardless of how long it takes a debtor to repay.
Ed Sivak, senior vice president of Hope Enterprise Corporation and director of the Mississippi Economic Policy Center, said the $21.95 fee that lenders can charge per $100 for a two-week loan is still one of the highest in the nation, however it is translated. Nothing in the law prevents a borrower from going to another payday lender to borrow the funds to repay the first.
The House and Senate will likely have to go to conference over HB 455, the bill extending the interest rate exemption for payday lenders. Versions of bills to extend the current APR exception will reduce the 572 percent APR up to 50 percent by extending the life of the loan from 14 days to at least 28 days but not more than 30 days. The House version extends the payment time for loans $201 to $500, while the Senate version extends the payment time for loans $300 to $500. Smaller loans can be paid in "up to" 21 days instead of 14.
Spencer, meanwhile, urged people having difficulty trying to pay off their short-term loan to call Stewpot Community Services, and to be prepared to show paperwork proving the extent of their problem.
"If citizens are having a problem paying off a payday loan and buying food, and can demonstrate that to us, we will make sure they have food," Spencer said.
Interested parties can contact Stewpot Community Services at 601-353-2759.
Previous Comments
ID

161782

Comment

I am able to buy my own food thanks to a payday loan. I was unable to borrow any money from the bank to have my alternator replaced in my car, and since I can't work without transportation, I chose to have my car fixed, and I took a small payday loan to buy food for my family. I will pay it back at the end of the month, and just don't know what I would do if it weren't for them loaning enough money to make it to my next payday. Thank you, thank you, thank you.

Author

snoopy1

Date

2011-01-24T14:54:51-06:00
ID

161783

Comment

I'm glad to see the religious community speak out on this. To me, it's not so much the actual practice of payday lending (there is some sort of need for it), but the outrageous fees associated with it if you're not able to pay it in time. I'll admit to using a payday lending about ten years to get myself out of a tight squeeze, but I knew I would have the money in place within the two-week deadline. However, I know a lot of people aren't so fortunate. It doesn't make any sense for lenders to charge such high fees. One thing I would like to see is for banks to set aside a certain amount of funds for small loans (maybe not more than $500) for higher-risk consumers. I wouldn't have a problem with them charging higher interest rates for such consumers, but not the astronomical three-digit percentage fees payday lenders currently charge.

Author

golden eagle

Date

2011-01-24T15:50:16-06:00
ID

161784

Comment

It is very sad to see someone from a "Financial Services Center" have such a complete disconnect from the basics of capitalism. It does not matter what the term of the loan is when determining an annual interest rate (APR) -- doing so allows us to compare the price of money from different sources. They are either knowingly lying, or embarrassingly ignorant, because they are indeed charging a 572% APR interest rate. Otherwise, would he argue that I would actually be paying far less than my 6% mortgage rate because I am stretching it out over 30 years? (You could include the prospect of inflation in such an argument, but I have never heard anyone from payday loans using the argument that their 572% rates are great as an inflation hedge.)

Author

Leland Jr

Date

2011-01-24T16:07:28-06:00
ID

161794

Comment

While this isnt the best alternatives people sometimes need the money. If the church is that concerned...they should start lending loans

Author

A. Theodore

Date

2011-01-25T10:53:20-06:00
More stories by this author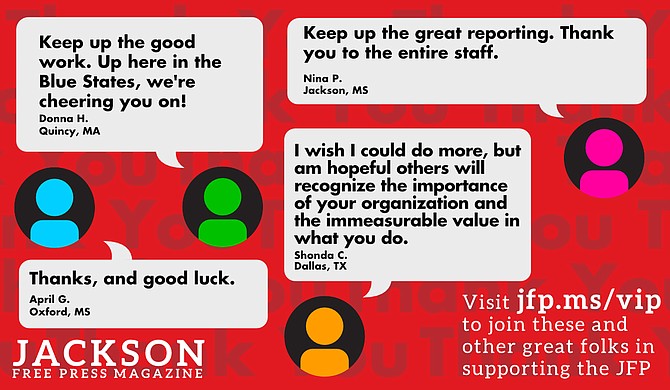 Thanks to all our new JFP VIPs!
COVID-19 has closed down the main sources of the JFP's revenue -- concerts, festivals, fundraisers, restaurants and bars. If everyone reading this article gives $5 or more, we should be able to continue publishing through the crisis. Please pay what you can to keep us reporting and publishing.