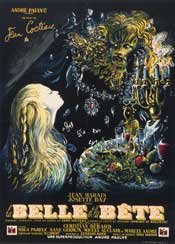 Ah movies. The perfect snuggle-up time on the couch (or just to please your significant other). Dripping full of drama, heart-breaking (and love-making) tear-jerkers that can make even the most hardened heart pump full of love (and blood). Veg out on the couch with these passion-filled movies.
"La Belle et la Bete" (1946) with Josette Day as Beauty and Jean Marais as Beast. A father finds himself at a fantastical castle where he picks a rose for his daughter Belle. The head of the manor, the Beast, confronts the father with two options: the father's death or his daughter to remain in the castle forever. The father opts for the latter. Belle detests the Beast, but the two grow to love another.
"The Time Machine" (2002) with Guy Pearce as Alexander Hartdegen, Sienna Guillory as Emma and Samantha Mumba as Mara. His fiancée (Emma) is murdered in front of him, and Alexander becomes obsessed, inventing a time machine so he can change history. The invention works, but changing the course of events does not. Dismayed, he travels forward in the hopes of finding peace and bliss. Instead he finds the Eloi, evil Morlocks, and another love: Mara.
"Somewhere In Time" (1980) with Christopher Reeve as Richard Collier and Jane Seymour as Elise McKenna. A young writer attends his first play's opening, where an old woman says: "Come back to me." The woman was a highly touted actress in the 1890s. The more Richard dwells on the encounter, the more obsessed he becomes trying to "go back." He succeeds (you'll have to see how he does it), and they end up together, but their bliss is ripped asunder, and Collier strives to return.
"Last of the Mohicans" (1992) with Daniel Day-Lewis as Hawkeye (Nathaniel Poe) and Madeleine Stowe as Cora Monroe. Set in colonial times, the British (who have their own problems warring with the French and their Native American allies) rule farmers and settlers. Hawkeye, his Mohican father Chingachgook and brother Uncas rescue Cora, her sister, Alice, and Major Duncan Heywood from a sadistic and vengeful band of Huron warriors. While being chased, Hawkeye and Cora's love blossoms, making survival imperative.
"Leon The Professional" (1994) with Jean Reno as the Cleaner and Natalie Portman as Mathilda. The Cleaner is a contract killer living in a run-down apartment next to a 12-year old Mathilda, whose family is executed by criminals. The Cleaner reluctantly takes her in, protects her and shows her the ropes of his business. She becomes the daughter he never had.
"Cloverfield" (2008) with Mike Vogel as Jason Hawkins and Jessica Lewis as Lily Ford. Amidst the cacophony of a Godzilla-like monster and a multitude of smaller carnivorous creatures ravaging New York City, Jason is focused on rescuing a former girlfriend, whom he still loves.
"Sid and Nancy" (1986) with Gary Oldman as Sid Vicious and Chloe Webb as Nancy Spungen. The Sex Pistols' bassist and his American girlfriend are oblivious of the world around them, and from boredom, they turn to drugs. Friends never cared for the two being a couple or their heroin addiction, but the couple did not head the warnings, and their bond became even stronger—right up to their untimely deaths.
More stories by this author