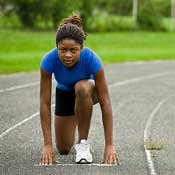 In my recent search for the right gym, I found that many of the gyms in the area expect you to burn more cash than calories. I just wanted a place where I could work off all the leftovers I've been stealing from my roommate, not some extravagant fitness complex.
Here are a few no-nonsense fitness centers located in the city that have everything you need to get fit, with reasonable rates and some great discounts (and without tanning beds).
Anytime Fitness, 4924  I-55 North, 601-321-9465 http://www.anytimefitness.com/en-us
The convenient location of Anytime Fitness makes it easier to stick with a health and fitness program. This location is never closed.
Baptist Healthplex, 717 Manship St., 601-968-1766 http://www.mbhs.org/med_serv/wellness/healthplex.htm
Nothing is more convenient if you live in or around Belhaven. Highlights include a cushioned indoor running and walking track, a 20-meter indoor heated pool and several fitness classes a week (including yoga, kickboxing, Zumba and more). One great perk of the Healthplex is their excellent student discount: Full-time students can join for the entire fall semester (Aug. 1 to Dec. 31) for $175, everything included.
Walter Payton Center at Jackson State University, 1400 J. R. Lynch St., 601-979-1368 http://www.jsutigers.cstv.com/facilities/jast-facilities.html
In addition to all the usual equipment, this fitness center includes racquetball courts, three aerobic studios and a juice bar. And it's not just for students. The center opens free to the public the first three days of every month, and anyone can join year-round for the regular rate of $40 per month. In August, the center plans to offer a special rate of $100 for a four-month contract. That averages out to $25 per month (I'm a math wiz). Not bad.
YMCA
Multiple locations, 601-948-0818 (North Street location) http://www.metroymcams.org/
The YMCA has several locations within the city, making it a convenient option. The Y has everything you need to get in shape, with a focus on the community. It offers group sports for adults and children, and hosts several special events throughout the year. Parents will appreciate the "Kidz Zone" children's fitness program and child care is available at most facilities. For a 12-month individual contract, the monthly fee is $53. If you don't want to make that kind of commitment, the individual month-to-month rate is $67. Discounts for families and students are available as well.
More stories by this author
Support our reporting -- Follow the MFP.