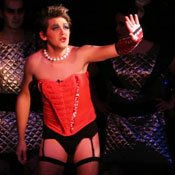 Standing on stage wearing a sparkly corset, a pearl necklace and glossy red lipstick, Chad King is the quintessential Dr. Frank-N-Furter in Fondren Theater Workshop's "The Rocky Horror Show."
The Jackson native plays the role of Dr. Frank-N- Furter, a transvestite and mad scientist in the British comedy and musical, famously known for its 1975 film adaptation, "The Rocky Horror Picture Show." The musical tells the story of a newly engaged couple Brad Majors and Janet Weiss, who stumble into the castle of Dr. Frank-N-Furter. The mad scientist unveils Rocky Horror, his creation of a well-built man, who he says is the secret to life. The rest of the night turns into a chaotic scene with several plot twists and murders.
King, 29, began acting in high school musicals and plays. After high school, he played several roles in local theater productions, and this is his third time appearing as Dr. Frank-N-Furter.
By day, King is the head paralegal with Chinn & Associates PLLC and Thompson Law firms in Jackson. Working and acting can be a challenge, but he finds a way to juggle both. "All rehearsals are in the evening which works well with my schedule and both law firms are supportive," he says.
King says the musical has a wide appeal because it creates a fun environment for the audience.
"It's fun, and a little bit dark, and perfect for Halloween," he says. "People like musicals; they like it when people sing and dance. I think it just creates an atmosphere of carefree attitudes, fun times, dancing and singing."
King is a graduate of Northwest Rankin High School and is currently working toward his bachelor's degree in business and administration at Belhaven University.
"The Rocky Horror Show" will be staged in Hal & Mal's Big Room Saturday, Oct. 30, at 7 and 10 p.m., and Sunday, Oct. 31, at 7 p.m. Tickets are $20; Call 601-982-2217 to purchase in advance. Tickets will be available at the door, but may sell out quickly. A portion of the proceeds
benefits HeARTS Against AIDS.
More like this story
More stories by this author