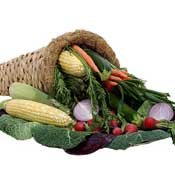 Oh, the joy of Thanksgiving! As we prepare to give thanks and share time with family and friends, food will take center stage. Although many will spend hours in the kitchen to make everything from scratch, there are ways to enlist a little help. Let one of our fabulous local eateries prepare all or some of your t-day menu, and relax a bit. And if you don't feel like cooking at all (or cleaning up) a few places will be open for dining out.
Bon Ami (Maywood Mart, 1220 E. Northside Drive, Suite 230, 601-982-0405) Catering menu includes seafood gumbo, corn and crab bisque, chicken and artichoke soup, lemon-pineapple or strawberry congealed salad, Grand Marnier ambrosia, herb roasted turkey, apple pecan stuffed pork loin, Aunt Mable's cornbread dressing, sweet potato crunch, squash soufflé, corn pudding, hot curried fruit, pineapple casserole, spinach Madeleine, old-style green-bean casserole, chunky apple-cranberry sauce, Bon Ami strawberry cake, Mona's chocolate sheet cake, chocolate chip bread pudding with bourbon sauce, Nannie's pecan pie and chess pie. Orders must be placed by noon, Nov. 19. Bon Ami cannot accept cancellations after this date. The restaurant will be closed Thanksgiving day.
Broad Street Baking Company & Café (Banner Hall, 4465 Interstate 55 N., Suite 101, 601-362-2900) Full menu of meats, specialty bread, sides, salads and even dessert. Items include pork loin, oven roasted honey glazed Smithfield ham, fried turkey breast, breakfast biscuits, brioche, Struan bread, pumpkin cheesecake, bread pudding and honey pecan tart. Orders must be placed by Nov. 20 and picked-up by 2 p.m. Nov. 24.
Campbell's Bakery (3013 N. State St., 601-362-4628) Offering desserts off their regular menu: donuts, pastries, cupcakes, cakes (carrot, chocolate, strawberry, iced tea and Italian crème) and cookies (sugar and peanut butter.) Taking orders until the week of Thanksgiving.
CHAR Restaurant (Highland Village, 4500 Interstate 55 N., Suite 142, 601-956-9562) Menu includes cornbread stuffing, creamed spinach, mashed sweet potatoes, cranberry-almond wild rice and whole pecan pies. You can also purchase regular menu items in bulk; however, no modifications, please. Orders need to be placed 24 hours in advance. The restaurant will be closed Thanksgiving Day.
Crazy Cat Bakers (Highland Village, 4500 Interstate 55 N., Suite 173, 601-362-7448) Desserts only: sweet potato pie, spiced apple cake with caramel glaze, chocolate chip bourbon pie, carrot cake with lemon-infused icing and bread pudding with brandy-butter sauce. Crazy Cat will take orders until they can't take anymore. Pick-up will be the day before Thanksgiving from 9 a.m. to 3 p.m.
For Heaven's Cakes and Catering (4950 Old Canton Road, 601-991-2253) Taking cake and dessert orders including gingerbread cupcakes and nut tarts. Open 10 a.m. to 5 p.m. the Wednesday before Thanksgiving. Calling ahead is encouraged.
Foodies (Deville Plaza, 5050 Interstate 55 N., Suite F, 601-978-7999) Thanksgiving fare includes bisque (crab and brie, or shrimp and corn), chicken and andouille gumbo, brown-sugar glazed ham, turkey (smoked or fried), smoked beef rib eye, cornbread dressing, sweet potatoes, casseroles (green-bean or spinach), potatoes (spinach, mashed or au gratin), macaroni & cheese, blonde gravy, cranberry sauce, rolls, cornbread muffins and pies. Order by Nov. 19. Pick-up by 2 p.m. Nov. 24.
Hickory Pit (1491 Canton Mart, 601-956-7079) and Haute Pig (1856 Main St., Madison, 601-853-8538) Offer barbecue pork, beef, ribs, chicken, ham and turkey by the pound and party packs. They also offer delicious cakes and pies that can be ordered at any time.
Jammin Beignetz (111 N. Wheatley St., Ridgeland, 601-856-2112) Offering smoked turkey, prime rib, cranberry relish, Creole dressing and sweet-potato praline soufflé. Order by Nov. 21.
Ida's Restaurant (4501 Raymond Road, 601-371-6481) Traditional Thanksgiving items including baked, fried and smoked turkey, baked and smoked chicken, smoked tenderloin, smoked beef brisket, beef tenderloin, honey ham, cornbread dressing, casseroles (sweet-potato, green-bean and broccoli-cheese), macaroni & cheese, potatoes (mashed or au gratin), greens (collards, mustard or turnip), giblet gravy, cranberry sauce, dinner rolls, cobblers (apple, blackberry or peach), assorted cakes and pie (sweet potato or pecan). Order a week in advance and pick-ups by Noon on Nov. 24.
Julep Restaurant and Bar (Highland Village, 4500 Interstate 55 N., Suite 105, 601-362-1411) Offering a wide variety of meats, dressing, soups, salads, sides, bred, dips, spreads and desserts. Menu includes turkey, herb-crusted tenderloin, strawberry-pecan salad, crawfish and corn bisque, Cajun caramelized carrots, chocolate ganache cake, Bailey's Irish cream cake, strawberry cake, key-lime pie, derby pie and bananas Foster bread pudding. They also offer items like breakfast casserole, quiche, smoked Gouda grits and banana nut bread for a Thanksgiving brunch. Orders must be made in advance and can be made two days before Thanksgiving from 11 a.m. to 6 p.m.
Lumpkin's BBQ (182 Raymond Road, 601-373-7707) Meats include fried or smoked turkey, smoked beef brisket or smoked pork roast, or small or large dinner packages that include one meat, two vegetables (greens, cabbage, yams or macaroni and cheese) and a roll or corn muffin. You can also order sides like cornbread stuffing or yams by the half pan (feeds 15) or the full pan (feeds 30). Order by 5 p.m. Nov. 22.
]McDade's (Multiple locations, Woodland Hills, 653 Duling Ave., 601-366-5273) Bring in your own turkey or ham and the meat department will smoke it for you. (Woodland Hills location only) All locations also offer meat trays, dressing, various types of casseroles, like sweet potato casserole, mashed potatoes, vegetables (collards, turnips, green beans, lima beans and peas) and various baked goods like cakes, pies and rolls. Check weekly for specials and discounts. Meat orders and cooking require 48-hour advance notice. Order early for all other items.
Parker House (Olde Towne, 104 Southeast Madison Drive, Ridgeland, 601-605-0420 or 601-856-0043) Menu includes dips (bacon, smoked Gouda and onion or black-eyed pea salad with housemade tortilla chips), soups (crawfish bisque or Parker House gumbo), salads (Caesar, house, iceberg wedge or spinach, pecan and apple with choice of parmesan peppercorn, Maytag bleu cheese, Creole honey mustard, remoulade, Caesar or balsamic vinaigrette), meats (herb roasted chicken or turkey breast, smoked pork loin or pot roast), sweet potato casserole, cornbread dressing, roasted garlic mashed or rosemary roasted potatoes, spicy cheese grits, vegetables (turnip greens, creamed corn, black-eyed peas, stewed okra and tomatoes, and green beans), Parker House rolls, cranberry sauce, gravy, Parker House bread pudding and cobblers (apple, peach or pecan). Order by 3 p.m. by Friday, Nov. 19. Pick-up by 3 p.m. Nov. 24.
Paul Anthony's Butcher Market (Highland Village, 4500 Interstate 55 N., Suite 100, 601-981-7559) Classic Thanksgiving fare including Turkey and sides.
Primos Café (2323 Lakeland Drive, Flowood, 601-936-3398 or 515 Lake Harbour Drive, Ridgeland, 601-898-3600) With their "Pick Up a Holiday" special you can order a dinner package that includes turkey or ham, cornbread dressing and gravy, large vegetable order (sweet potatoes, squash, butter beans, green beans, macaroni & cheese, mashed potatoes or broccoli au gratin), cranberry sauce, 12 dinner rolls and your choice of pie (lemon ice box, sweet potato or pecan). You can also place individual orders of any of the items above as well as breakfast items, breads, cheese straws or bursts, and cakes (German Chocolate, caramel, Italian cream, pineapple-coconut, red velvet, strawberry, pound, lemon pound or sugar-free pound). Primo's will accept orders as long as they can; however, they recommend advance orders.
Rainbow Whole Foods Co-operative Grocery (2807 Old Canton Road, 601-366-1602) They offer organic, vegan and vegetarian options, including Tofurky. You can also order special items like real turkey and various types of homemade bread through customer service. Bakery items require three days advance notice and meats require 10 days notice.
Ro'Chez (204 W. Jackson St., 601-503-8244) Take home menu with all the fixins includes smoked prime ribs or smoked turkeys. Orders by Nov. 19. Also open Nov. 25 for 3-course brunch, Noon and 2 p.m. seatings. Reservations required.
Strawberry Café (107 Depot Drive, Madison, 601-856-3822) Offers appetizers including spinach and artichoke dip, hummus and the Strawberry Picnic which includes baked brie, strawberries, salami, strawberry preserves and crackers. They also have apple and Vidalia onion, and apple and butternut squash soup. Café sides, entrees and desserts include sweet potato smash, baked apples, green-bean casserole, garlic mashed potatoes, mixed vegetables, café relish, pork tenderloin, smothered chicken, beef tenderloin, glazed boneless ham, pork shanks, key-lime and caramel pie, strawberry mascarpone, German chocolate cake and bread pudding. Bread selections include pumpkin, banana, strawberry, blueberry and cinnamon, and Mississippi spice and lemon poppyseed muffins. Order by Nov. 22. Menu is online: http://www.strawberrycafemadison.com, click on catering menu.
[b[Sugar's Place Downtown (168 W. Griffith St., 601-352-2364) Roasted and fried turkey, ham, corn bread dressing, green beans, macaroni and cheese, mashed potatoes, collard greens, yams, broccoli and cheese casserole, potato salad, giblet gravy, peach cobbler, lemon cake and chocolate cake. Order by Nov. 19.
Taste of the Island Caribbean Takeout (436 E. Capitol St., 601-360-5900) Menu includes jerk chicken, curried chicken, oxtails and jerk ribs. Orders must be placed 24 hours in advance.
T'Beaux's (369 W. Northside Drive, 601-364-5000) Fried turkey and anything else you need. Order by Nov. 20.
Mimi's Family and Friends (3139 North State St., 601-366-6111) Offering pies, including chess pies and lemon pie. Order about a week in advance.
Wellington's at the Hilton (1001 E. County Line Road, 601-957-2800) "Thanksgiving To Go" packages include roasted turkey, Brenda's cornbread dressing, giblet gravy, sweet-potato casserole, green beans, cranberry sauce, rolls, Mississippi-mud pie and apple pie. Items can also be purchased à la carte. Order at least 48 hours in advance. Pick-ups are on Nov. 23 and 24.
Restaurants Open Thanksgiving Day
Fairview Inn and Sofia's Restaurant (734 Fairview St., 601-948-3429) Offering a brunch menu from 11 a.m. to 2 p.m. Reservations required.
Hal & Mal's (200 S. Commerce St., 601-948-0888) Red Room Bar will open at 8 p.m. The Quills perform, $10 cover.
Hilton Jackson (1001 E. County Line Road, 601-957-2800) Served in the Grand Ballroom, the hotel will be hosting its annual Thanksgiving buffet. Reservations are required.
Marriott Jackson (200 E. Amite St., 601-859-5100) Open 6:30 a.m. to 2 p.m. and 5:30 p.m. to 9 p.m. with an a la carte menu and no reservations needed.
Petra Café (104 W. Leake St., Clinton, 601-925-0016) Home-cooked Mediterranean and Lebanese cuisine. 11 a.m. to midnight.
Support our reporting -- Become a JFP VIP.
The news business has changed dramatically in the past year, and we need your help more than ever to keep bringing you important stories about Jackson and the Metro. Become a JFP VIP with an annual membership or you can Sign up as a monthly supporter. Thanks for anything you can do to empower our journalism!