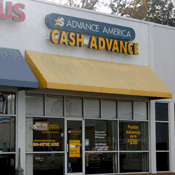 Mississippi House of Representatives Banking Committee Chairman George Flaggs, D-Vicksburg, says he wants to extend the life of the 1998 Mississippi Check Cashers Act, which allows short-term lenders a special exemption from the 36-percent annual-percentage-rate cap on loans of under $1,000. Under the Act, check-cashing operations can charge customers 18 percent simple interest in fees for loans under $400 due within two to four weeks.
I don't intend to let it sunset," Flaggs said. "I'm not chairman of a committee to put (check cashers) out of business."
In 1998, legislators passed a law allowing payday lenders to charge a standard rate of $21.95 per every $100 a borrower takes in cash up to $400.
The Mississippi Department of Banking and Consumer Finance mandates that short-term lenders compute their fees into an annual percentage rate, calculated by dividing the lender's fee by the amount of the loan, multiplied by the number of days in a year, and divided by the number of days in the load (up to 30). The calculation reveals an annual percentage rate (APR) of 572.26 percent, the Department reports.
However, Jamie Fulmer, vice president of public affairs for Advance America, which offers short-term loans, says the APR is not a fair translation of the interest rate of the loan, which cannot legally last a whole year or charge more than 18 percent simple interest.
"An APR calculation isn't how a consumer values it. In order to pay a 500 percent percentage rate, the consumer would have to take out that loan every two weeks for an entire year," Fulmer said. "On average they use us between seven and eight times a year."
Under state law, to get a loan, a borrower gives a payday lender a personal check, which the lender holds until the loan's due date. In exchange, the borrower receives cash, minus the lender's fees. Advance America, on Ellis Avenue, offers a maximum of a $330 payday loan, requiring a fee of about $60. Advance America holds the borrower's check for about two weeks--the course of a regular pay period. When the payment comes due, it is due in full. If the borrower does not have the money in their account to pay back the company, he or she risks getting hit with bank overdraft charges, as well as a lender fee up to $30.
Jackson City Council members say the payday lenders are hurting Jackson residents, and are popping up like mushrooms in places containing a significant population with money problems. Hinds County contains a total of 71 short-term lenders, according to the Center for Responsible Lending, which reports that short-term lenders in Hinds earned about $20 million in profits from $90 million in loans in 2009.
Ward 6 Councilman Tony Yarber wants to halt the growth of the industry and has championed a moratorium on short-term lenders in the city. The Council is still mulling the constitutionality of restricting the businesses, but Yarber said his effort to push a moratorium may be unnecessary if the Legislature allows the Check Cashers Act to expire in 2012.
"We've decided we're going to wait and see what legislators do before moving forward with our own plans," Yarber said.
But short-term lenders are working to extend their exemption beyond 2012.
"We're more than willing to sit down and talk to legislators on both sides of the issue to try to address concerns," Fulmer said. He added that capping the APR at 36 percent--the cap for long-term lenders--essentially shoehorns a short-term loan into an incompatible format. Under the traditional annual unit of measurement used by credit-card agencies and banks, the loan would amount to a charge of $1.38 per every $100 loaned, he said.
"Seven-and-a-half cents a day is what an APR cap breaks down to per $100 charged," Fulmer said. "There's no way we can conduct business under those circumstances."
Industry representatives such as Borrow Smart Mississippi are talking to legislators, including Flaggs, on the possibility of extending the exemption, and Flaggs, so far, agrees. He argues that short-term lenders fill a necessary economic niche because banks and credit agencies do not offer $100 to $300 loans.
"Do you think $21.95 on a $100 loan for two weeks is very much? You can walk out of that office and go right back in there the next day and pay it off, and it's still $21.95. Take that same bill and don't pay it for a whole year, it's still just a $21.95 fee," Flaggs said. "They can't take that bill to the DA's office. They have to collect it for themselves. They don't have a lot of power like credit-card companies."
Under the Check Cashers Act, the short-term lender cannot "renew or otherwise extend any delayed deposit check." That is, state law does not allow a lender to extend the loan for any additional fees.
While state law does not permit the same short-term lender to renew or extend any delayed deposit check, it does not keep customers from paying off an earlier short-term loan with a new loan from a different company.
But Flaggs blames the cycle of debt on customers' lack of foresight, not the lender.
"My concern is that people are captured in a cycle which could be avoided with financial education," said Flaggs, adding that the short-term lenders have a less costly policy than credit card or power companies. "Put $100 on a credit card and let it go delinquent for a year. How much will that cost you? Or how much does it cost to re-activate your cell phone or your electricity?"
Mississippi Center for Justice community organizer Alesha Netterville said MCJ is trying to convince legislators who voted to extend the Check Cashers Act in 2007. "Legislators need to be educated about the impacts that they may not know about that we are seeing in the community," Netterville said.
Flaggs said he has asked the Mississippi Department of Banking and Consumer Finance to review the issue and make a fair suggestion on how to handle the issue, and that he will conduct hearings "giving both sides an opportunity to express their feelings."
MCJ Advocacy Director Beth Orlansky suggested either allowing the exemption to expire completely or adapting it to allow borrowers 90 days to pay back the loan. "That would reduce the APR significantly, and people could probably pay it back. People need small-dollar loans, not short-term loans. There shouldn't be a requirement to pay it back in two weeks," Orlansky said. Fulmer said extending the loan period essentially changed the formula and might create a less consumer-friendly product.
Previous Comments
ID

160957

Comment

Usury by any other name smells just as foul. I would have liked to see more from the MCJ about why these loans are wrong. The interest rates are far beyond what is necessary to make the industry viable, as lower interest rates in other states demonstrate. Did you ask Flaggs whether he has taken money from the industry? Perhaps he is a true believer, but his enthusiasm puzzles me. Note that Congress has capped loans to members of the military at 36 percent. If these loans are so valuable to consumers, why do we protect our troops from these products? The truth is that these are predatory loans. With respect, I think your questions for Flaggs should have been much tougher.

Author

Brian C Johnson

Date

2010-11-17T13:50:34-06:00
ID

160960

Comment

Brian, we are going to have follow-up stories on payday lending, looking at a lot of aspects of it. With this particular story, we had to concentrate on what is and is not allowed under state law, as both sides seem to try to shape it a bit. It is vital to let people know what is actually in the law and how it works before building a case either direction. Ronni and I discovered the need to cut past the rhetoric and tell a basic-facts story first, after running a story online last week that proved misleading about what the law allows and doesn't. Then we can build on top of it.

Author

DonnaLadd

Date

2010-11-17T14:21:59-06:00
ID

160961

Comment

The check cashing industry actually has a lobbying group named "Borrow Smart Mississippi"? The irony there is just too much to bear. I think the check cashing team is using George Orwell to write their sound bites. I am a full-throated capitalist but there are circumstances where capitalist institutions threaten their own existence by short-term self-serving behavior, and this one of the rawest examples. This whole scenario is so disappointing on many, many levels -- starting with legislators who, simply, must not actually care about their constituents. There is no excuse for this exemption in the first place, and pursuing an extension of this exemption in the absence of any serious effort to educate people is just wrong -- maybe "Borrow Like an Idiot Mississippi" could be the tagline for their educational efforts to get people to borrow at reasonable rates since "Borrow Smart Mississippi" is already taken. Usury is just wrong.

Author

Leland Jr

Date

2010-11-17T14:34:01-06:00
ID

160970

Comment

Has anyone bothered to check with military credit unions as to how much more they make from overdraft funds now than when this law was enacted. Does anyone know what the APR is on a $30.00 overdraft protection fee for a $20.00 check held for 3 days?. does anyone know what the APR is on a $60.00 reconnect fee on a utility for two days? does anyone know the APR on a credit card balance of $17.99 when the late feee is $15.50 after the payment is received 1 day late? the public has other options. some choose payday lenders.

Author

Jerry1

Date

2010-11-17T16:23:02-06:00
ID

160974

Comment

Does anyone realize that the way they are trying to calculte the rate at over 500% would be similar to saying if I loaned someone $100 and they paid me back $101 the next day that would make the $1 charge on the loan have an interest rate of 365%? On just a $1 charge! This is not real life arithmetic, people are smart enough to realize what they are paying for and to make their own choice as to whether or not to take out the loan.

Author

Victorvon

Date

2010-11-17T16:45:25-06:00
ID

160975

Comment

I agree Jerry!! For that matter, has any bothered to check whether cigarette companies allow their employees to smoke cigarettes, investment banks front-run their customers stock trades, or the Clarion Ledger lets its staff peruse VIP Magazine?!? Because when other people do something that's wrong, that makes it right!!

Author

Leland Jr

Date

2010-11-17T16:47:32-06:00
ID

160977

Comment

The fact is there are two high volume small loan ($20 - $300) products in Mississippi. By far the largest and most profitable are bank overdraft loan programs. CNN Money reports that banks brought in 40 Billion from overdraft loans last year alone. Even worse 90% of the loans are paid for by just 10% of the population. This would explain why the complaints against payday loans do not come from people that use them. Bank overdraft loan volume in Mississippi dwarfs payday loans. Payday loans are simply a much cheaper alternative and probably would not even exist if it were not for bank overdraft loan programs. Mississippi payday loans are capped at 18%. When given the choice of an overdraft loan fee of $39 per check, a payday loan is a no brainer. The average bank overdraft loan principal amount is $20 and carries a fee up to $39. Let's just assume a real nice bank offers a $30 overdraft loan fee. Considering the average overdraft loan is $20 and the fee is $30... that bank stands to earn about $150 per $100 borrowed compared to just $20 to borrow from a payday loan store. To make that happen banks software will clear the largest checks first. A single mother of two has a sick child but already has written 4 checks that she has just enough to cover. She writes that check to the Dr and another to the pharmacy anyway. The checks come in and the banks will pay the largest first. Now the account is overdrawn and the bank will charge her $30 each for the 5 remaining checks. Thats $150 in bank fees. OR... she could take out a payday loan for $40 and put $200 in her account to clear the checks. She now has up to 31 days to pay the payday lender. Unlike payday loans banks don't have to give any terms. The bank customer often doesn't know how much they borrowed until after the fact. They don't know what the APR is. The due date is the moment their direct deposit hits the bank account. All of the terms of a payday loan are clearly set for the customer to understand. To reach the 500% APR rate reported by consumer groups a customer would have to take out a payday loan and then pay the fee every two weeks or 26 times in one year. MS law doesn't even allow this to happen once. The MS Department Banking, which regulates payday lenders, reports that customers on average took out only 3 payday loans a year. Regardless of how many times the service is used... it's still cheaper than a bank overdraft loan. A bank overdraft loan if computed as an APR would carries a rate in the thousands. Now the real question... Why are these so called consumer groups asking that payday lending be capped at 36% APR while turning a blind eye to bank overdraft loan programs? They understand that you cannot make a loan on a profit of $1.38. So why get rid of the cheapest small loan alternative in Mississippi and the 3,500 jobs the industry employees? It's simple... Evidently they are not concerned with helping the public... they just want funding and banks are giving them money. If a bill is introduced to cap payday loans at 36% APR ... bank overdraft loans should be included in this cap as well.

Author

Go Dawgs!

Date

2010-11-17T17:08:51-06:00
ID

160978

Comment

Point taken Leland. Just trying to show there is another side. But people do tend to weigh their options and make the choice that they think is personally the right one for them. No one is trying to legislate the tobacco companies out of business nor investment banks nor the Clarion Ledger. I do not intend to be argumentative and I will quit with this post. However I would think this would be more of a personal or family matter rather than the governments.

Author

Jerry1

Date

2010-11-17T17:14:50-06:00
ID

160979

Comment

Payday loans are a cheaper alternative than overdraft protection. Payday loans serve customers that cannot (and will not) be served by traditional banks... Rep. Flaggs' indication that he supports continuing the industry points to someone that wishes to allow free enterprise to continue. How can one be sure that the information that MCJ purports (as well as others against payday lenders) is accurate? After all, as others have stated, the APR information is ridiculous for a short-term loan of its current duration... so based on the facts - where is the usury? Where is the predatory practice? Payday lenders seem to be filling a niche...

Author

DSP2

Date

2010-11-17T17:28:00-06:00
ID

160980

Comment

"If a bill is introduced to cap payday loans at 36% APR ... bank overdraft loans should be included in this cap as well." Absolutely. Positively. Definitely. If not a specific exemption FURTHER LOWERING the amount that the cap should be for payday loans and the overdraft loans. And before someone from the Big Bankers Alliance (with their Borrow Unwittingly Mississippi program of non-lobbyists) says, "Well, there are unintended consequences of such an action -- we would just have to stop allowing checking accounts/checks/interactions with poor people who might have these tiny uneducated loans." To which someone from an actual representative government who cares about its citizens (instead of protecting usury) would say, "Speaking of unintended consequences: your refusal to serve people based on their economic status and your greedy desire to feast on their circumstances has jeopardized your ability to borrow money from the Fed discount window at the ridiculously low non-market rates we have provided you for decades. From now on, please see your local pay day lender for their best possible overnight rates. Have fun doing business together."

Author

Leland Jr

Date

2010-11-17T17:30:25-06:00
ID

160981

Comment

Hey Victorvon - Please send any of your own business, and any friends you have who also think with your brand of "real life arithmetic", my way. I will make you THOUSANDS of such loans with any payoff terms you want.

Author

Leland Jr

Date

2010-11-17T17:33:56-06:00
ID

160990

Comment

I need to borrow $300 to get my car fixed until I get paid at the end of the month, and I need to borrow this money today so I can get back to work. Brian Johnson, Donnaladd, Leland Jr, Victor Von, Borrow Smart Mississippi, Scott Sr, DSP2, where do you propose I go to get this money?

Author

snoopy1

Date

2010-11-18T10:08:35-06:00
ID

160994

Comment

It depends on your situation. Do you have any collateral? Do you have an income? Do you have any friends? Do you have a record of trustworthiness? Do you have any common sense?

Author

Leland Jr

Date

2010-11-18T10:33:39-06:00
ID

160995

Comment

Actually I do have a job. I do not have any collateral, I owe my friend rent money, and I have several charge off accounts because I didn't pay some bills. I do have a checking account that is over drawn just a little bit. Leland Jr, will you loan me $300? I need to get my car so I can get to work. I mean, really, where can I get $300 today?

Author

snoopy1

Date

2010-11-18T10:43:45-06:00
ID

160997

Comment

Snoppy1.. I would recommend a payday lender. Your only other option in Mississippi is a bank overdraft loan at about $150 fee per $100 borrowed. OR.. Maybe Leland Jr. will open his own small cash loan business. He could charge a rate he thinks is fair. Why not just charge 36% like the so called consumer groups are asking for? Leland could loan you $300 for a fee of $4.14 due at the end of the month. Leland should be able to put everyone else out of business.

Author

Go Dawgs!

Date

2010-11-18T11:00:04-06:00
ID

161000

Comment

Now Leland... I hope you are a good collector.. because at 36% APR you are only making $4.14 on a payday loan. If you have just one loan go bad you will have to make 72 more good $300 loans just to break even. Of course that's not considering other expenses like payroll, rent, utilities, taxes, etc, etc... Don't worry, I am sure you will do fine. Good luck and be sure to post info on your new loan business. I hope ti be your first customer!

Author

Go Dawgs!

Date

2010-11-18T11:15:42-06:00
ID

161001

Comment

Donna Ladd, you have any suggestions where I can get $300 today? I mean, you have done the research and investigation of all loan types. Please make a suggestion to where I can go and get $300 to get my car out of the shop. After today, the shop is going to charge me a $25 storage fee. Please help!

Author

snoopy1

Date

2010-11-18T11:25:08-06:00
ID

161002

Comment

Welcome to the real world of actions and consequences, Snoopy. You may have to walk, ride JATRANS, or ask a coworker that you have been doing nice things for that it's time to return the favor until the end of the month when you would apparently get paid this money that you have to have today. Let's see -- how long at a normal bank savings account rate would it take for someone to get $4.14 on $300 at today's rates? Only 34 YEARS!! And I get that in less than one month? Sign me up and bring lots more where they came from!! This is a great racket!!

Author

Leland Jr

Date

2010-11-18T11:25:50-06:00
ID

161003

Comment

Leland, what bank do you use that offers a $300 loan payable in 34 years with a fee of $4.14? Do you live in Fairy Land? Please open your own cash advance store. I believe you can get a license from the MS Dept of Banking. Start your business ASAP... there is much demand and need for small dollar loans. Or are just another one of those lawyers drawing a check from a so called consumer group?

Author

Go Dawgs!

Date

2010-11-18T11:31:35-06:00
ID

161004

Comment

"Welcome to the real world of actions and consequences, Snoopy. You may have to walk, ride JATRANS" You are correct, Leland. This is my world where I have to pay for actions and consequences. If I had collateral, or good credit, or a rich friend, or a checking account that wasn't overdrawn, I might could do something different. I screwed up, my credit score is 400. But for $65 dollars I can borrow $300, and this will mean I don't have to ride JATRANS. Money well spent. I am in the real world, Leland Jr, you need to come visit sometime.

Author

snoopy1

Date

2010-11-18T11:39:13-06:00
ID

161005

Comment

OK, short-term lenders, you need to tone it down a tad or you're going to alienate people. I've been the editor (or one of them) who has toned down the rhetoric a bit from the folks who want to close you down, and who has asked many of the same questions you are suggesting: What will replace the lones? What about overdraft fees? Etc. We will have more stories coming. You are welcome to post your side and say positive things about your businesses, but don't come here and try to pick fights. And that applies to folks on the other side from you as well. Behave, all.

Author

DonnaLadd

Date

2010-11-18T11:46:05-06:00
ID

161006

Comment

I am not a short term lender and have no ownership in a payday loan business. Not trying to pick a fight either. Just trying to provide real word facts.

Author

Go Dawgs!

Date

2010-11-18T11:54:00-06:00
ID

161007

Comment

OK Donna - I will try to turn the snark knob lower. In the world of intelligent investors, the compound annual growth rate (CAGR) is king. It doesn't matter if your investment pays off over one month or one thousand months, you compare CAGR. That is because, if it is a one-month investment, you would string together one-thousand of them to build an equivalent thousand-month investment. Intelligent (<- important word here) borrowers should do the same. No intelligent borrower would take out a 70% loan on a house or a car, and just because it is over one month doesn't make any difference regarding the lunacy of such a decision. If you honestly think that it is worth $65 on a $300 loan to avoid riding JATRANS, and you represent the payday lending crowd, then it is no wonder that the customers are poorly educated about financial decisions - because apparently the lenders are. If hypotheticals-loving Snoopy had a basic financial education, he would understand that he is in his terrible financial situation because of bad decisions that can stop today by AVOIDING EVER VISITING A PAYDAY LENDER. He should reverse his downward financial spiral by sucking it for a month and spending that $65 on getting out of his overdraft situation, paying down his debt, or whatever other atrocities Snoopy can dream up. Maybe buy a Dave Ramsey book and spend his time on the bus reading it. Capitalism is the greatest economic system on earth, and by its definition capital is in control. Smart owners of capital put it where it gets the best return, and it is a beautiful and powerful system when all parties are educated about the transaction. Its biggest danger is to itself, when smart capital takes the easy way out and beats up on ignorant cash flow. Banks and utility companies charging huge overdraft fees and payday lenders charging usury rates should be ashamed, just like the guys who packaged and sold rotten CDO's.

Author

Leland Jr

Date

2010-11-18T12:12:37-06:00
ID

161009

Comment

Again... I am not in the small loan business nor do I have any ownership in a payday loan store. Just trying to point out that the payday loan service is the best real small loan alternative and trying to compare it to a 34 year mortgage is silly. If anyone disagrees... then rather than use misinformation to do away with this loan alternative, get in the business yourself. Charge the lowest rate you can and let competition do the rest. I don't think you can stay in business offering a $100 loan with a $1.38 fee. Prove me wrong with action... get in the business! That's capitalism and has served our county well.

Author

Go Dawgs!

Date

2010-11-18T12:23:26-06:00
ID

161012

Comment

Donna- Lones? ;-)

Author

BubbaT

Date

2010-11-18T12:54:44-06:00
ID

161014

Comment

Teehee, Bubba. Told y'all it was a late night. Busy here. ;-)

Author

DonnaLadd

Date

2010-11-18T13:28:15-06:00
ID

161016

Comment

Bank overdraft fees to total $38.5 billion Just 10% of consumers paying nearly 90% of the record windfall as fees jump despite recession, research report says. By Julianne Pepitone, CNNMoney.com contributing writer Last Updated: August 10, 2009: 7:00 PM ET NEW YORK (CNNMoney.com) -- U.S. banks will collect a record $38.5 billion in overdraft fees this year, with nearly all the revenue paid by just 10% of customers, according to a research report released Monday. The windfall is nearly double the $19.9 billion collected in 2000, as overdraft fees drift higher despite the recession, said Mike Moebs, chief executive of research company Moebs Services. "Overdrafts are the mother lode of all service-related charges, and they're often the only source of capital," Moebs said. "Still, we had never seen fees go higher in any recession until now." The national median overdraft fee rose to $26 from $25 in 2008, while larger Wall Street banks charge a median of $35, Moebs said. Moebs Services collected data from 2,000 banks and credit unions, and the firm found that 44.5% reported a net overdraft revenue higher than their net income. Fee hikes have helped banks boost profit amid the recession, Moebs said. "Most people paying these fees have a credit score below 590 or so," Moebs said. "Beyond that, they're a whole gamut of people: rich and poor, men and women." Government-mandated overdraft fee increases "are leading the charge," Moebs said. For example, he said, a local U.S. post office decides to increase its overdraft fee to $35. Area retailers note the increase and in turn raise their own fees. Finally, banks follow suit. "I doubt anybody in Congress is aware of this," Moebs said. "The customers are angry, and they have a right to be angry." The Federal Reserve and other lawmakers are discussing rules about overdraft fees, Moebs noted, but he thinks cash-strapped customers need more transparency -- and soon. "We need to do everything we can for consumers: send e-mails, text messages, voice-activated alerts," Moebs said. "It's essential that we send a wake-up call, especially to Wall Street banks." A JPMorgan Chase (JPM, Fortune 500) spokesman told CNN that his company did not raise overdraft fees from last year, saying that the bank charges overdraft fees depending on number of times it occurs ranging from $25 to $35. A Bank of America (BAC, Fortune 500) spokeswoman said although her company sent customers letters earlier this year about possible increases, it decided not to raise the $35 fee. Overdrafts of less than $5 incur a $10 fee, she said, and the bank may waive unemployed consumers' fees on a case-by-case basis.

Author

Go Dawgs!

Date

2010-11-18T13:43:50-06:00
ID

161018

Comment

Donna, I don't doubt that you all have Adam after this like a rat terrier, a comparison I know he would take as a compliment. I think Leland is doing a great job of explaining why Snoopy isn't really helped by getting a predatory loan. As he argued, defending payday loans by comparing them to overdraft fees isn't much of a defense. It's a little like arguing that marketing alcohol to kids is better than marketing tobacco to kids, because alcohol is not as harmful as tobacco. Sure, but why allow either? We have already seen some movement from Washington on restricting overdraft fees, so that people must now opt-in to overdraft protection on ATM cards, for example. Those overdraft fees provided a "service" to people. All people had to do was make wise financial decisions. But the reality is that the service was not worth the price, and people often weren't aware of the charges until it was too late. To take another example, the credit card companies fully disclose their fees, if people would just read all that tiny print. But that doesn't change the fact that many of the fees are excessive and predatory. Consumers shouldn't have to have MBA's or law degrees to understand financial products. And the fact that these fees are disclosed does not mean that the government has no obligation to protect consumers from bad financial products. Hopefully, we'll see action from the new Consumer Protection Bureau on some of these matters. At a minimum, there should be improvements in disclosure. The payday loan industry has long been accused of deceptive marketing and disclosure practices. Finally, it is "silly" to suggest that critics of these loans should enter the business or keep their mouths shut. I have seen no evidence that these businesses must charge 575 percent APR to be viable. If 36 percent APR is insufficient, that doesn't mean we should allow these businesses to charge any rate they want. I would like to see actual evidence that cutting the rate in half, for example, would destroy the industry.

Author

Brian C Johnson

Date

2010-11-18T15:20:51-06:00
ID

161021

Comment

"If 36 percent APR is insufficient, that doesn't mean we should allow these businesses to charge any rate they want." "At a minimum, there should be improvements in disclosure. The payday loan industry has long been accused of deceptive marketing and disclosure practices." Facts only, please...the industry is regulated by the MS Dept of Banking based on the laws passed by Miss. Legislation. They don't charge "any rate they want". Full disclosure? By law, the rate is printed, in large letters, on the contract. There are no other hidden fees to read about in the fine print. No late fees, no document fees. So, Facts only, Please! And by the way, Exxon profit in 2009 was 4O BILLION. They could do it for less. Starbucks charges $5.25 for coffee. They, too, could do it for less. Pharmacy's? Wow, they could do it for a lot less. The profit margin for a single payday loan location, on average,is roughly $4300 per month. What is wrong with making a modest profit? And my last thing, the number of consumer complaints filed this year with the Department of Banking concerning payday loans? Six. What group of consumers do you represent? The consumer likes it, appreciates it, and they would like for you to leave it alone, as well.

Author

snoopy1

Date

2010-11-18T16:48:05-06:00
ID

161027

Comment

Snoopy, since you are comparing payday lending to other industries to justify its actions, you must be one of those "ethics and morals are all relative" types of people. Usury is wrong. Feel free to go toe-to-toe with God (Exodus 22:25, Leviticus 25:36&37;, Deuteronomy 23:19&20;) on that one. Which brings us back to the original article -- Mr. Flaggs should be ashamed. Our fellow Southerners in Arkansas and Georgia have made payday lending illegal, and we should be following suit, not moving in the other direction. Four billion-dollar public payday lending companies (FCFS, EZPW, CSH, and DLLR) have done very well over the last five years compared to the S&P 500 or any other comparable metric, on the backs of suckers that they explicitly target in their marketing. Clearly, they are not feeling any squeeze in the current economic climate - quite the opposite. Extending this ridiculous exemption is bad governance.

Author

Leland Jr

Date

2010-11-19T10:11:13-06:00
ID

161029

Comment

Leland Jr., since you are distorting facts in order to justify putting 3,500 Mississippians out of work and remove the cheapest small dollar loan option in the state...can we assume that you are really one of several lawyers calling yourselves a "consumer group" when you are really just attempting to secure funding for your salary? You know the kind that rides around the state in a $100,000 Mercedes Benz spreading half-truths and out right lies about the industry? You know.. one of those individuals in our state on a fellowship from a law firm that represents banks that earn 40 Billion per year on overdraft loan products? Essentially paying you to put their competition out of business? If you are not one of those folks, please excuse me, sorry.

Author

Go Dawgs!

Date

2010-11-19T11:32:13-06:00
ID

161031

Comment

Snoopy, your comparisons don't hold much water because banking is a highly regulated industry. That's why these lenders have to appeal for an exemption in the first place--because the people of Mississippi have seen fit to limit the interest rates lenders can charge. If other lenders have to offer products that charge 36 percent APR or less, why should the payday lenders be able to charge the equivalent of 575 percent APR? Why not limit them to 200 percent APR? I'm not saying I would support such a measure, but I have yet to see a good argument against it. As Leland noted, payday lenders are raking in substantial profits. The number of retail locations has increased from 500 stores in 1990 to more than 22,000 today. Snoopy, do you have any affiliation with the industry? I am curious how you come by your facts. Can you provide links to substantiate them? And why are you so enthusiastic about these loans?

Author

Brian C Johnson

Date

2010-11-19T13:55:42-06:00
ID

161054

Comment

Apology accepted, Dawg. I do not have a law degree nor do I want one. I happily drive a 1995 Explorer worth less than $1000. This article is the only time I have ever spoken my mind publicly on this topic. My issues (shared by many others) with payday lenders are moral (Google 'usury' for more info or look at my references above), not financial. I have friends who were financially ruined by the misinformation (in particular, how 'cheap' that first loan was) fed to them by their 'friends' at the corner payday lender. And I have the displeasure of sharing some holidays with someone in the industry whose predatory attitude towards his 'customers' literally makes me sick. Nonetheless, you may note that above I said that those bank overdraft charges are just as bad -- they should also be capped at something closer to sanity, especially given the actual cost of handling transactions in today's electronic banking environment. It would change a lot of things if a $5 bank overdraft for two days had an overdraft charge of 5 cents, which would still be roughly a 360% APR interest rate that the bank would be enjoying in aggregate. That is a fine risk-adjusted rate of return. The good news is that I am able to use mathematics to make my points, which doesn't lend itself to half-truths. What facts am I distorting?

Author

Leland Jr

Date

2010-11-22T21:57:12-06:00
ID

161055

Comment

Leland Jr you are being fed your information from one of the "so called consumer groups", I have seen it before. Most likely you work for one. You have friends that have been financially ruined by taking out a $300 loan? Really?!! Come on now Leland.. that's a little hard to believe. Why can't your consumer group buddies find any example customers? Why aren't they parading them around at all of their meetings? They are certainly sending letters to banks and credit unions asking for help to find such customers without much success. Please apply your high powered math skills to something more productive than misinformation in an effort to take away an important financial alternative and sending 3,500 of your fellow Mississipians to the unemployment line.

Author

Go Dawgs!

Date

2010-11-23T08:45:11-06:00
ID

161056

Comment

My apologies again Leland.. in my haste to reply to your friends comment I didn't take notice of your bank overdraft loan position. You must not work for one of the so called consumer groups if you want to cap bank overdraft fees. If you do you will be gone soon. Visit one of their websites and look who the benefactors are.. obvious why they aren't going after the MUCH more expensive bank overdraft loan option. I agree that if banks were forced to reduce their 1000-10,000 % APR down to a 300% cap alot of things would be changed. My point all along in our discussion.. Why the push to cap payday loans at 36% and ignore bank overdraft loans? Why are these groups tied to banks who operate the most expensive small loan alternative by far?

Author

Go Dawgs!

Date

2010-11-23T09:17:58-06:00
ID

161096

Comment

I know that, for my two friends whose financial lives were given their coup de grace by payday lenders (one filed bankruptcy, the other got help from family) they have no interest in their personal lives being made any more public than they already are. Most people would probably be like that. Two things are going to make this whole argument somewhat moot over the next few years, though it doesn't excuse the immoral behavior of giving "cheap" 3000% loans, whether you are a bank or a payday lender. 1. Wal-Mart. They are already trying to 'break the banks' and that will happen soon, completely changing banking as we know it - even more than they changed hardware stores, grocery stores, and just about every other type of retail. 2. Mobile banking. In my travels in Africa, just in the last couple of years rural stores have started accepting payment by text messaging funds. The poor there now have de facto checking, savings, and electronic banking accounts via their phones (yes, they are poor and yes, they have phones) and it has destroyed the usury system in those communities because capital travels so much more freely. If it works there for people making less than $1 a day, it will work here for people doing much (relatively) better.

Author

Leland Jr

Date

2010-11-27T22:02:38-06:00
More like this story
More stories by this author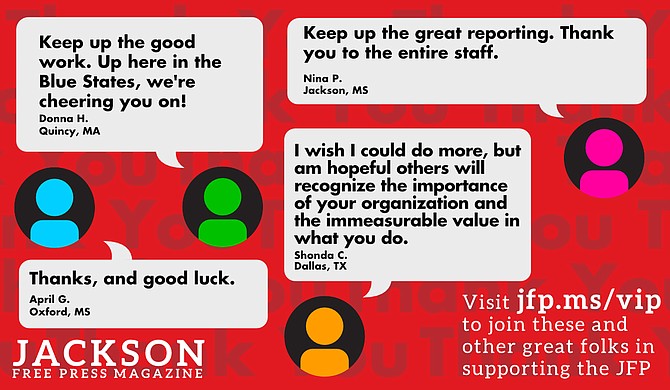 Thanks to all our new JFP VIPs!
COVID-19 has closed down the main sources of the JFP's revenue -- concerts, festivals, fundraisers, restaurants and bars. If everyone reading this article gives $5 or more, we should be able to continue publishing through the crisis. Please pay what you can to keep us reporting and publishing.