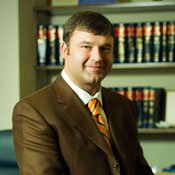 Gov. Haley Barbour may have his own reasons for threatening to sue to stop the Democratically passed Patient Protection and Affordable Care Act, says Dave Levinthal, communications director for lobbyist watchdog group Center for Responsive Politics in Washington, D.C.
"Republicans have made representing the best interests of the insurance industry their policy, so it's not at all surprising that Barbour would be coming out guns blazing against this kind of legislation, and taking whatever action he deems necessary to stop it," Levinthal said this week.
Barbour, in particular, is a founding partner of high-powered Washington lobbying group Barbour, Griffith & Rogers, and still receives payments from the firm to a blind trust from which information is unavailable to the public. Barbour described the money paid into the trust at a 2007 appearance on the Matt Friedeman Show on American Family Radio as a form of retirement.
"When I left the firm at the end of 2003, I resigned as chairman and chief executive officer, (and) I didn't have any stock. So that totally severed my relationship. Except they do pay me retirement," Barbour said to a caller. "But they pay me a flat retirement that if they make $50 million or $5 million, I get paid the same retirement. So I don't have any participation; I don't have any financial interest; I don't have anything to do with the firm today other than they pay me retirement."
Steve Clemons of The Atlantic argued in 2007 that Barbour's lobbying firm does not provide retirement benefits, so either he is getting a special payout that other employees do not get, or the firm is making payments into his blind trust in return for some continuing service.
The firm's service has included plenty of lobbying for insurance companies, according to information from the Center for Responsive Politics. Barbour, Griffith & Rogers reported a total of $560,000 from Massachusetts Mutual Life Insurance Company between 2003 and 2006, and accrued more than $1 million from insurance companies such as Gray Insurance and Collectcorp Inc. between 1998 and the Center's most recent figures from 2006.
The firm's work with health-care providers and multi-million-dollar drug manufacturers, who the reform legislation will affect, is even more apparent. In 2006, the firm collected more than $3.9 million from drug-makers like Bristol-Myers Squibb and health-care providers such as the United Health Group.
Despite this, Barbour argues that he opposes reform because it will put a financial strain on Mississippi to cover the expansion in Medicaid that the bill demands, and told Democratic Attorney General Jim Hood to challenge the bill, or he would file his own suit as governor of Mississippi.
"Under the plan, 15 million people would be moved to the federal-state Medicaid program, which already strains our state budget every year," Barbour stated in a March 22 letter. "Once the temporary funding is gone, we can expect taxes to spike by hundreds of millions of dollars for Mississippians who will have to pay for this expanded program."
Advocates for the reform bill, like the Center on Budget and Policy Priorities, argue that the federal funding isn't temporary, and that the federal government will foot the bill for 100 percent of the cost of that expansion in the first three years and 90 percent of the cost afterward.
Barbour, who did not return calls, also argues on his Web site that the issue is a matter of personal freedom versus government intrusiveness. "The federal government is clearly overreaching its authority by forcing Mississippians and all Americans to buy a product simply because he or she is alive," Barbour wrote.
Mississippi Democratic Party Chairman Jamie Franks compared the insurance requirement to the state's own mandate that automobile owners buy auto insurance.
"The argument for buying car insurance is that you need to protect the other driver and make sure the other driver's insurance does not go up because you're not willing to do what you need to do. But all these years, insurance premiums and health-care costs have been going up because the insured have to pay for the uninsured. It sounds like the same argument to me," Franks said.
Last week, Hood responded that he needed more time to review the feasibility of a legal challenge to the new law. He added that he did not intend his request for more time to be misinterpreted as a refusal to bring suit, arguing that state law allows the attorney general "a reasonable time" to review the complex constitutional issues surrounding the new legislation.
"Since the reconciliation bill will remove many of the provisions of H.R. 3590, we must wait until there is a final bill in order to determine the legal impacts of the law," Hood wrote in a March 24 letter to the governor.
Hood forbade Barbour to take legal action as governor while he pondered the suit: "When this office has had a reasonable time to finish its review and analysis of the matters referenced above, we will promptly notify your office. Meanwhile … you are not authorized by this office to engage or employ counsel, file suit, or intervene in pending litigation at this time while we are completing our review and making our decision whether to file suit."
Barbour told reporters he would allow Hood an unspecified amount of time to analyze the reconciliation legislation signed last week before seeking his own counsel.
The state statute under which the governor seeks to file suit, Mississippi Code 7-1-5 (n), allows the governor to bring any proper suit affecting the general public interests, in his own name for the state of Mississippi, but only after first requesting the proper officer so to do, and then only if the said officer—meaning the attorney general—refuses or neglects the request.
Hood would not comment upon the potential legal problems of challenging the federal government on this new law, but U.S. history shows that states have failed to overturn federal mandates in the past, such as civil-rights laws, voting-rights laws and the creation of Social Security and Medicare.
More like this story
More stories by this author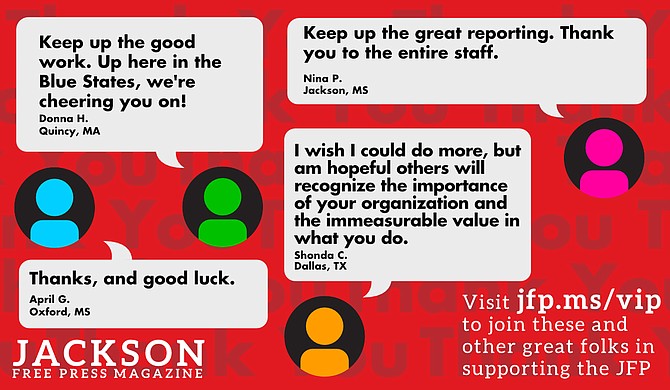 Thanks to all our new JFP VIPs!
COVID-19 has closed down the main sources of the JFP's revenue -- concerts, festivals, fundraisers, restaurants and bars. If everyone reading this article gives $5 or more, we should be able to continue publishing through the crisis. Please pay what you can to keep us reporting and publishing.