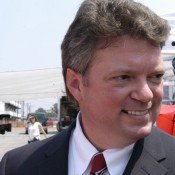 Mississippi Attorney General Jim Hood is waiting to act on Gov. Haley Barbour's request that Mississippi to sue the federal government over health-care reform. "Since the reconciliation bill will remove many of the provisions of H.R. 3590, we must wait until there is a final bill in order to determine the legal impacts of the law," Hood wrote in a March 24 letter to the governor's office.
Barbour, who is one of many Republican governors opposed to the recent Democrat-led health-care reform legislation passed by the Senate and the House, argues that the bill will put a financial strain on the state to cover the expansion in Medicaid that the bill demands. Barbour fails to mention however, that the federal government will foot the bill for 100 percent of the cost of that expansion in the first three years and 90 percent of the cost afterward.
Earlier this week ,the governor called upon Hood, the state's highest-ranking Democrat, to challenge the constitutionality of H.R. 3590 and join a similar suit filed in Florida challenging the new law.
Hood added in his letter that he did not intend his letter to be misinterpreted at a refusal to bring suit, arguing that state law allows the his office "a reasonable time" to review the complex constitutional issues surrounding the new legislation.
In the meantime, Hood forbade Barbour to take legal action as governor: "When this office has had a reasonable time to finish its review and analysis of the matters referenced above, we will promptly notify your office. Meanwhile ... you are not authorized by this office to engage or employ counsel, file suit, or intervene in pending litigation at this time while we are completing our review and making our decision whether to file suit."
Barbour demanded Hood file suit March 22, the day after the House passed the Senate bill on Sunday, and pledged to file suit himself as governor if Hood refused by today. The state statute under which the governor seek to file suit, Miss Code 7-1-5 (n), allows the governor to bring any proper suit affecting the general public interests, in his own name, for the state of Mississippi, but only after first requesting the proper officer so to do, and then only if the attorney General refuses or neglects the request.
Previous Comments
ID

156925

Comment

Haha. Hood's not gonna do it, Barbour will, then Hood will sue Barbour, and then will run for governor.

Author

DrumminD21311

Date

2010-03-25T19:51:01-06:00
ID

156928

Comment

Big waste of time and money. Why can't the Republicans just accept defeat and move on? They'll stop at nothing to see that Obama doesn't succeed.

Author

golden eagle

Date

2010-03-26T09:20:30-06:00
ID

156929

Comment

DrumminD and golden eagle, you are both on target with this issue. I didn't realize that this link was up and I posted just minutes ago on the other Barbour story. Isn't it interesting that he can threaten Hood that he will hire private attorneys to file. Where is this money coming from? Barbour continues to scream "BROKE". This issue is really getting out of hand and the Republican, Party of "NO" can take full responsibility for the escalation of violence. If they were honest, these folks would admit that this whole issue is about President Barac Obama; nothing more and nothing less. Where was all of this outrage during Bush's eight years? Where were the Tea Party folks, the Birthers, the outraged Republicans? Better still, where was their health care reform bill and other plans to move America forward? Just asking.

Author

justjess

Date

2010-03-26T09:36:09-06:00
ID

156930

Comment

Many constitutional legal experts disagree that the law is unconstitutional. See the opinion of a couple of them in this morning's top story.

Author

Ronni_Mott

Date

2010-03-26T09:46:25-06:00
More stories by this author