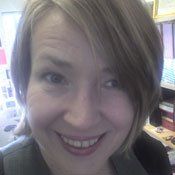 Not long ago, Todd and I were downtown to see "Groovaloo" at Thalia Mara. As we walked to the car, an obviously homeless man walked up and respectfully asked us for money. Todd did what I've watched him do so many times when we lived in New York City and when visiting San Francisco and other cities. He paused for a split-second in decision and then reached into his pocket. He pulled out a $20 bill, glanced at it and handed it to the man who was holding the bucket he uses to wash windshields. The man looked surprised.
Thank you so much!" he said as we walked away. Todd looked at me and shrugged; it wasn't our richest month, but he always gives whatever he pulls out when he makes that decision. It's a rule that serves us well.
And it is one of the many reasons I share my life with Todd Stauffer.
Neither Todd nor I give money every time we're asked by someone on the street. There are no hard-and-fast rules; we often don't have any money on us, or we just don't choose to at that moment. Or the person is rude, which never makes sense when you're asking someone for a gift. But we are never disrespectful to the person who believes they need to walk up and ask us for money, and we don't worry too much about what they are doing with the gift. Giving and compassion aren't about that. If we don't choose to give, we say, "I'm sorry," and keep walking.
My lessons in homelessness came during the late 1980s in New York's East Village. The Reagan years were a time of horrid homelessness in the city and a rapid rise in poverty across the country. I was slap-dab in the middle of a battle between developers trying to drive poor people out and turn the East Village into, well, what it is today. Like now, I was working for local newspapers and had friends on all sides, so to speak. In fact, I became close to the police commander charged with kicking the homeless and their mattresses out of our local park (the same cop who would come back late at night and give them foam pads to sleep on once the TV cameras were gone).
When I started my work there, I leaned toward collective pity rather than collective disdain (most people choose one or the other with homeless people). But even within my more biblical approach, I would soon learn that I was naive--like most people--about one simple fact: "The homeless" are not all the same. Some are kind and gentle; some mentally ill; others addicted to drugs; still others lazy and shiftless; others work hard and are still poor; others are downright jerks. Many are a combination of those factors--kind of like most non-homeless people we know, or family members, or even ourselves. Ahem.
It took many hours in the park for me to learn to look at them as individuals. And do I have memories: There was the guy who always walked up and said in a fake British accent, "Pardon me, do you have any Grey Poupon?" (Everyone thus called him "Grey Poupon," and he made scads of cash.) There was the guy who stole our free newspapers from racks to sell until I chased him down one day, grabbed him and told him to bring his sorry ass to my office to get papers to sell because we worked too hard to distribute the damn things.
And then there was Terry Taylor.
I most certainly did not like Terry T, as everyone called him, when I first met him. He was a tall man who liked to drink 40-ouncers and yell at "yuppie scum" like me who came to the park. He had rippled muscles under his sweaty dark skin, and he seldom wore a shirt if it wasn't freezing out. He would stare at me with what one might call hate in his eyes, saying stuff like, "What is a rich white girl like you hanging out with us pitiful losers for?"
I didn't flinch. I could see something in his eyes beyond the taunts, and I talked back. "It's my park, too, Terry T. Back off."
"Well, ain't that something," he'd respond, shaking his head.
Soon, his anger turned into affection. "Hey, Lil Sis!" he would call out as I walked into the park with my iced coffee. He became one of many friends I made there (which turned into a posse one night to look for a dude in a fur coat who had mugged me, hit me in the face and taken my wallet. Rumor is they found him and kicked his ass back to the Bronx, but I never confirmed the story).
Over the months, Terry T told me his story. He was from a Carolina and fell out of luck in New York. He started hanging out in the park, which was like its own little town, for better or worse. None of the homeless guys liked the shelters because they were dangerous, they said, and clearly they wanted a little patch of earth to call their own. He also liked being in the middle of the East Village, among a fairly accepting group of residents and artist types (many of whom stood with the homeless when developers and the police tried to kick them out to parts unknown and undeveloped). And he liked witty repartee.
During the time I knew Terry T, my mother died in July. The next Mother's Day, I was feeling very alone and went to the park just as it was getting dark. It was Sunday, and quiet, and I felt like no one cared about or understood what I was feeling.
As I sat on a bench, Terry T walked up to me with one hand behind his back, flashing his toothy grin. "Hey, Lil Sis!" I nodded and half-smiled. Suddenly, he swung his hidden hand out and thrust a slightly wilted carnation toward me. "Happy Mother's Day, Lil Sis!"
My eyes teared as I hugged the one friend who realized the crappy day I was having.
I wish I could report a happy ending to Terry T's life. It almost happened. He got into a rehab program, and was so proud that he had quit "drankin' and druggin'," as he put it. He'd wear an ironed shirt and a crisp vest covered with little AA badges when we'd meet at the diner across from the park. He taught me the phrase "stankin' thankin'," which I use to this day when people devolve into negativity.
Then one day at the diner, Terry T tearfully told me he had "the disease"--AIDS-- probably from sharing needles in the park. As he withered away in St. Vincent, I would visit, and we'd re-tell old stories. One day, not long before he passed, he was so thrilled he couldn't keep still. Our police-commander friend--then a top-level NYPD chief--had visited him on my suggestion, in full uniform, hat in hand. Terry T was awestruck.
"Ain't that something, Lil Sis. Ain't that something," he said, shaking his head.
Previous Comments
ID

156651

Comment

thanks, donna. that story made my day. [c]

Author

C Myers

Date

2010-03-10T13:11:08-06:00
ID

156660

Comment

WOW, what a great story with such a positive ending!! In spite of the fact that Terry T died from AIDS, he was able to live the last part of his life knowing that the smart, newspaper yuppie, and journalist from the 'Sip was able to "look beyond his faults and saw his needs."

Author

justjess

Date

2010-03-10T14:07:13-06:00
ID

156674

Comment

This indeed was a good story.

Author

Walt

Date

2010-03-10T17:41:04-06:00
ID

156680

Comment

Nice. Very nice piece. We must have overlapped some time in NYC. Still love that place.

Author

Susan T.

Date

2010-03-10T19:17:43-06:00
ID

156683

Comment

Donna- great story!

Author

BubbaT

Date

2010-03-11T00:19:06-06:00
ID

156685

Comment

Todd gave twenty bucks to "Bucket Man"? Dude, you should have gotten him to wash your car! He does a great job. He tries to stay at the Salvation Army most nights and you know its costs seven bucks a night. So, he washes cars, etc because the other shelters around here suck. Bucket Man has it made, though. Catholic Charities has sort of adopted him. The Man talks to him everyday. Gives him money when he has it. Gives him a smoke when he doesn't. :) What's funny is we have names for all the Smith Park homeless people too. There's Bucket Man, The Preacher, The Backpacker.... My favorite is The Preacher. He dresses up from time to time and preaches sermons from the pavillion in Smith Park as loud as he possibly can.

Author

Lori G

Date

2010-03-11T09:43:41-06:00
ID

156687

Comment

When people would get to ranting about society's "theys" (the homeless, the addicts, the crazies), my grandmother would sit quietly for a while and then say softly, "It takes all kinds. It takes all kinds." Aren't you glad that Terry T, just like each of us (even the ones who complain about us) is accounted for in "all kinds"?

Author

N.A. Collier

Date

2010-03-11T09:52:34-06:00
ID

156689

Comment

Your personal stories are some of the most profound wide-reaching stories I have ever read.

Author

Duann Kier Sywanyk

Date

2010-03-11T10:24:58-06:00
ID

156690

Comment

Y'all are too kind. I loved Terry dearly, probably because we had to work hard to get there and earn each other's respect. I still miss him, and it was wonderful to revisit that short-lived friendship. I have a small collage in my office I made that has a picture of him and the dried carnation he gave me. In many ways, he helped me focus my life, but I didn't know it then.

Author

DonnaLadd

Date

2010-03-11T10:52:42-06:00
ID

156733

Comment

I am so glad to hear about people who will give to the homeless without qualms. This story really made my day!

Author

jamesparker

Date

2010-03-12T15:52:01-06:00
ID

156837

Comment

Thanks, Shannon. That was sweet of you to say. ;-)

Author

DonnaLadd

Date

2010-03-22T10:16:45-06:00
More like this story
More stories by this author