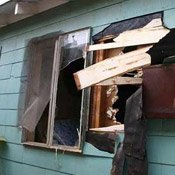 Atlanta-based Malachi Financial Products Inc. will be the city's new contracted financial adviser to guide it through financing of its general fund debt in hopes of saving $27 million over the next five years. City council members approved the contract last night in a 6 to 1 vote.
A report Malachi Financial Products presented to the council in May predicts the city will face a $48.5 million budget shortfall by 2015, which sent council members reeling. Malachi Financial Products Inc. and Virginia-based Public Financial Management Inc. suggested the refinancing as a possibility in a larger money-saving plan that also included employee furloughs, increasing property taxes and eliminating city services.
City Deputy Director of Administration and Finance Rick Hill said that by refinancing its general fund debt, the city is putting off debt payments. The move will free up some cash to use in the short term, but it comes with the disadvantage of taxpayers having to pay that money back further into the future, when the city would much prefer to have as little debt as possible and contain future property tax increases.
The city would also be responsible for an extra $1.6 million in additional interest payments by delaying its debt payment, but Hill said the administration is banking on its ability to cash in on new property tax revenue from upcoming developments like the emerging Farish Street Entertainment District, the upcoming Capitol Green Project and the convention center hotel.
Monday, Ward 1 Councilman Jeff Weill took issue with Malachi Financial Products' $300,000 fee and demanded more information on what the city would pay the company to do before casting his vote Tuesday night. On Tuesday night, Weill cast the lone vote against the contract when no further information was presented in open session. Calls to Weill were not immediately returned.
Stokes' Battle
Ward 3 Councilman Kenneth Stokes took his personal battle with The Clarion-Ledger before the council this week by submitting an order to hire a contract attorney on his behalf to begin a "fact-finding lawsuit against the Clarion Ledger," for its recent coverage of Stokes' publicly financed travel costs and his low council meeting attendance record. Council members struck down the order in a 5 to 2 vote.
The Clarion-Ledger cited city documents last week indicating that Stokes attended only 27 of 55 full council meetings since last July. Stokes argues he should not have to attend every special meeting because he is often not present to schedule them.
Stokes also lashed out at the newspaper's story citing sources who had no knowledge of Stokes' presence at an American Association of State Highway Transportation Officials Subcommittee on Construction in Chicago last August, although Stokes' expenses for the conference cost taxpayers $2,745, according to The Clarion-Ledger.
Stokes told the Jackson Free Press that he was present at the events and revealed credentials that, he claims, prove his presence. On Tuesday, he presented nametags and brochures from the conference as proof that he was there.
Ward 7 Councilwoman Margaret Barrett-Simon voted against the order to sue The Clarion-Ledger, calling the prospect "a waste of taxpayer money."
In light of Stokes' travel expenses, Council President Frank Bluntson said he would enact a procedure of personally approving city expenditures for travel.
Drug House Demolitions
The council unanimously adopted a new city ordinance--pushed by Stokes--establishing new proceedings to demolish or seize abandoned buildings that the city purports to be locations for illicit drug activity and those considered to be public nuisances.
The ordinance passed Stokes' planning committee last month after the city's legal department tinkered with the law to bring it in line with state and federal laws. City legal insisted on adapting the proposed ordinance to avoid First Amendment violations similar to those the U.S. Department of Justice charged former Mayor Frank Melton with for his role in the 2006 demolition of a home on Ridgeway Street.
In August 2006, Melton, his two city-paid bodyguards and a host of young people not employed by the city destroyed a Ridgeway Street duplex Melton suspected as a drug house, although they discovered no drugs during the raid, triggering four years of litigation against the city and Melton. Mississippi unsuccessfully pursued charges against Melton, followed by federal civil-rights prosecution for Melton's violations against the owner and occupant of the home. Melton's bodyguards pled guilty to in the federal case, while prosecutors dropped charges against the mayor following his death last year. The city is currently in the middle of a civil suit with the owners of the Ridgeway Street home, which remains destroyed and uninhabited.
The ordinance will simplify the process by which the city can condemn and demolish "public nuisance" property and those suspected as sites for drug activity.
City Attorney Pieter Teeuwissen and assistant City Attorney Monica Joiner told the council Monday that the new ordinance will not violate the parameters of state and federal law, and ensures that the city will not incur any new violations.
"This ordinance sets forth procedures by which the city may file to get these abandoned drug houses demolished," Joiner told the council. Joiner explained that city authorities must file a petition with Hinds County Circuit Court, complete with evidence from law enforcement supporting the city's complaint that the property constitutes a public nuisance.
Determination of the home as a public nuisance or "drug house," ultimately remains within the discretion of the court.
More like this story
More stories by this author
Support our reporting -- Become a JFP VIP.
The news business has changed dramatically in the past year, and we need your help more than ever to keep bringing you important stories about Jackson and the Metro. Become a JFP VIP with an annual membership or you can Sign up as a monthly supporter. Thanks for anything you can do to empower our journalism!