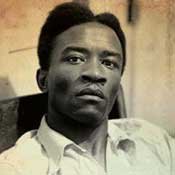 Did grocery delivery driver Willie McGee crawl through a window, wake mother of three Willette Hawkins from her sleep as she held her infant daughter and rape her? Or did Hawkins wake up after a nightmare and believe it actually happened? Did she make it up?
These questions will frequently pop into the reader's mind while reading "The Eyes of Willie McGee: A Tragedy of Race, Sex, and Secrets in the Jim Crow South" (HarperCollins, 2010, $26.99) by Jackson native Alex Heard, a true story about a black man, McGee, who allegedly raped a white woman, Hawkins, in Laurel, Miss., in 1945.
The questions may never find answers. On May 8, 1951, after receiving a death sentence in three separate trials, the 35-year-old McGee was executed in Mississippi's traveling electric chair for the crime of rape.
Heard, editorial director of Outside magazine and author of "Apocalypse Pretty Soon," spent five years researching and writing "The Eyes of Willie McGee" in his spare time. Heard first learned of the McGee case at Vanderbilt University, where the late journalism professor Jim Leeson played a tape recording of the McGee execution broadcast for his students. (Listen to the broadcast.) Years later, Heard came across a few pages about the McGee case in a volume he found in a used bookstore, and he decided to investigate.
At first, the details of the case were murky, but Heard discovered great resources of information, among them the Mississippi Department of Archives and History, and the archives of the communist Civil Rights Congress in Washington, D.C. (The CRC paid for McGee's defense, and former Congresswoman Bella Abzug was his lead attorney, adding interesting historical twists to the case.) There, he discovered trial transcripts, FBI documents and archived newspapers. Heard conducted interviews with people who still remember the horrific events, and he interviewed the now-grown McGee and Hawkins children. The result is an unbiased story that reports hardship and suffering endured by both families.
During the trials, journalists from California to New York, and as far away as the Soviet Union and China, wrote about Hawkins as if she was an evil, power-hungry sex fiend--the woman who cried rape. The stories and conjectures from people all over the world will blow the reader's mind, and Heard uncovers the truth about many of the assumptions that have become accepted truth over the years.
"McGee was ultimately executed--but the woman lost quite a bit as well," Heard writes on his website. "In the aftermath, she was thrown under a bus by journalists and historians who were (and still are) surprisingly sloppy about conveying her side of the story."
The story remains a sore subject in Laurel. In interviews, the majority of Laurel's African Americans believe McGee was innocent while the majority of whites believe he was guilty. Heard reports: "'Willie McGee was a man who liked women and they liked him,' Cleavan Jordan began. 'Along in there after the war, he got messed up with a white woman and her husband found out. So she called rape on Willie to save her own neck,'"
In contrast, Mrs. O.A. McMullan, in her 50s at the time of the trial, says: "The lawyers themselves should be shot for having anything to do with
this case, for defending the old rascal. He is guilty, and everybody knows it."
Tension during the trials extended to McGee's white lawyers--Dixon Pyles, Alvin London and John Poole--who did not bring up allegations of an affair between the two, afraid of a potential lynch mob if they showed favor to McGee. During one of the trials, the lawyers fled for their lives before delivering a summation, and they never called witnesses to McGee's defense.
Heard gives examples of how the corrupt justice system of the time favored whites, as in the case of Laverne Yarbrough.
"At around 6 p.m. on December 6, 1946, a 24-year-old white male named Laverne Yarbrough showed up at a small grocery store in the Queensburg section of town. The store's owner, F.A. Hendry didn't know Yarbrough, but he noticed that he had a bottle of whiskey in his pocket," Heard writes.
Hendry closed the store for the night. Moments later, two African American boys witnessed Yarbrough walking past them holding a little black girl by the hand. He proceeded to pick her up and take her into the woods, where he raped her.
"Notably, blood-test evidence was never introduced," Heard writes, "[A]pparently, for Laurel investigators, the visual link of a bloody girl and blood on Yarbrough's clothing and skin was enough."
Prosecutors sought the death penalty for Yarbrough, but an all-white jury sentenced him to life. A white man rapes a helpless child, and his life is spared; a black man rapes a white woman, and he is executed.
McGee's guilt or innocence remains in question, but even if guilty, it is clear that Willie McGee was not treated fairly. "The Eyes of Willie McGee" may be the first time the story is told equally from both sides.
Signed copies of "The Eyes of Willie McGee" are available at Lemuria Books. Heard appears in Oxford, June 2 (Overby Center at Ole Miss at 9 a.m., and Square Books at 5 p.m.); Greenwood June 3 at Turnrow Books; Laurel June 4 (no venue, yet); and New Orleans June 6 at Garden District Books.
More stories by this author
Support our reporting -- Follow the MFP.