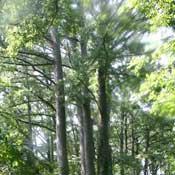 A former Forestry Commission employee is alleging that poor oversight and a new focus on aggressive logging is making statewide timber theft easier.
Former Franklin County forester Steve Oglesby said logging practices endorsed by Mississippi State Forester Charlie Morgan--under pressure from Secretary of State Delbert Hosemann--are making theft too easy by embracing the tactic of "cutter select" logging, which does not demand that commission employees mark trees for harvesting.
"The way they're doing things, (they're) getting more sales out there faster and adding those dollars up...," Oglesby said. "(But) whether timber is getting stolen doesn't seem to matter to them."
Oglesby said the commission's focus has shifted to making money rather than oversight, and that it adopted more wide-scale use of reckless time-saving tools, like ignoring individual tree identification for harvesting, soon after signing a 2008 memorandum of understanding (PDF, 556 KB) with the secretary of state's office.
Secretary of State Delbert Hosemann told The Meridian Star in 2008 that the memorandum of understanding forced the forestry commission to manage 16th Section lands "like a business," and allowed his office to impose upon school boards a "timber management plan" that would culminate in more than 100,000 acres of the state's 400,000 acres signed up for logging by the end of 2009.
Hosemann's office reported a $1.2 million increase in revenue generated from timber sales from 2007 to 2008, a rise of 13 percent. Franklin County Superintendent Grady Fleming said Hosemann's timber-management plan in 2008 was too aggressive for the Franklin County School Board to handle.
"The secretary of state had a plan to cut too many of our trees over 10 years, and we felt it was not going to do right with us and that we were going to end up with a period of not having that resource available. It is a trust for our children," he said. He added that Hosemann and Morgan and about eight people "in suits" paid a visit to the board in 2008 "and wanted to tell us how to do our thing."
Fleming said the school board refused to comply with Hosemann's logging plan and has since adopted a more conservative arrangement. Fleming added that Oglesby lost his job as Franklin County forester because he refused to sign off on a 10-year harvesting plan pushed by Morgan and Hosemann--which Oglesby agreed was unsustainable.
Morgan said he did not see any county timber-management plan as unsustainable, despite reducing harvest rotations from an average of 60 years to 35 years. However, he did confirm that the department has mostly done away with marking individual trees for harvesting, in favor of what he calls "operator-select thinning"--also known as "cutter-select." He said the method served the ambition of the MOU by generating more revenue for school districts, even though he claims the practice was becoming standard before his department signed Hosemann's memorandum.
"One of the reasons for change is the buyers prefer it," Morgan said. "It decreases their logging costs, and that translates to more value to our schoolchildren."
But Oglesby said the lack of clear markings on the trees requires more oversight from commission employees to make sure loggers cut the correct amount. Without an on-the-site assessor counting the actual loads of logs leaving a harvest site, little stops a crooked contractor from hauling off his load to a different mill, turning in the wood under a different name and cheating the school district of its revenue.
"You don't have the labor for marking each and every tree in 100 acres or whatever it is on the front end, but you've got to be out there making sure he cuts it correctly," Oglesby said.
But making sure loggers cut correctly has been a problem for the commission, according to an Aug. 24, 2007, letter from former Lowndes County Service Forester Trenton "Keith" Beatty, who alerted the Lowndes County Board of Education that his superiors in the commission called him off from monitoring one logger he suspected of stealing.
Beatty's letter (PDF, 124 KB), which outlines the thinning of a stand of trees on 16th Section land benefitting the county school district, claims agency officials ordered Beatty and Forestry Technician Luke Tucker to stop their daily counting of trucks carrying wood from a logging operation conducted by contractor Hayes Hunt on June 15, 2007.
"We were not allowed on the site to keep track of the loads each day from June 16 through July 16," Beatty stated in a letter he sent to the Lowndes County Board of Education. "During that time, the average loads per day dropped to 7.8 loads a day. While we were observing we had an average of 9.6 loads a day. Also, during the time that we were present and counting the loads, we can show a total of six loads more than what (Hunt) turned in for those days."
Beatty--who has since been promoted to assistant district forester--has little to say on how the board and the Forestry Commission resolved the matter. He also would not comment on whether he sent to the letter to the board, even though the letter features his signature and the Mississippi Forestry Commission seal.
A second document, allegedly an addition to the 2007 Lowndes County School Board agenda, shows Beatty pleading with the board to back him up on his complaint against Hunt: "At this moment we are taking a lot of heat over this matter, simply because we are trying to protect the interests of the Lowndes County School Board, and it seems that we are being cast aside by the Board, and receiving no backing."
Morgan said he called Beatty and Tucker away from the Hunt logging site because "it was not cost effective" to have two employees watching the site, and said the administration typically uses surveillance cameras to count the trucks. Morgan added that, "to (his) recollection," Hunt eventually accounted for all the wood he logged from the Lowndes County 16th Section land in 2007, despite Beatty's report.
Previous Comments
ID

159792

Comment

Soooo glad to have investigative reporters still here and working in Mississippi.

Author

ScoutandBoo

Date

2010-09-16T17:39:45-06:00
More stories by this author
Support our reporting -- Follow the MFP.