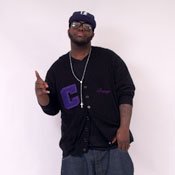 The small group stands on Capitol Street outside the Clarion Hotel Roberts Walthall well after midnight when all the downtown buzz has died. Discussions about the city's progress (or lack thereof, some members say) and the group members' personal projects weave together like 1,000 thread-count sheets. When there seems little left to say, one group member, a poet, declares, "I just want all of us to win, man." Others agree; it's their desire, too. "We will. We're gonna make it," Coke Bumaye responds. "Yeah, man. We'll make it," another says to Coke with equal parts conviction and confidence.
Twenty-five-year-old Corey Stokes, aka Coke Bumaye, the stage name he adapted from the "kill him" chant of Zimbabwe natives at the 1971 Muhammad Ali-Joe Frazier fight, has determined that he and members of his crew, The Street Fame Gang, will make it. Over the past decade, Jackson's underground hip-hop movement has been establishing itself nationally, moving artists like David Banner and emerging phenom Boo the Boss Playa from the local streets to rap's Main Street. These artists have and are paving the way for other up-and-coming artists to get exposure that they might not otherwise receive. Coke expects to do the same for those who come behind him.
"We couldn't really feel the music that was on the radio because it was so playful. That's not the kind of stuff we were feeling," Coke says of the music he heard before he decided to start rapping at age 14. "So I started making music for my friends, so we'd have stuff to listen to. And then my friends started saying that other people they let hear the music were feeling the emotion I was putting into it. I wasn't trying to make anything to be mass-produced; I just wanted to be truthful."
Coke's self-proclaimed "anti-radio music" is characterized by his gruff, I-bet-he'll-be-hoarse-after-a-song-or-two delivery style. When he growls, "B*tches try to recruit me/N*ggas will salute me/They respect where I'm from respect/'Cause they say we weren't supposed to make it/It's the gang, and we're guilty by association" on "Guilty by Association," the first track on the CD "The Initiation 2," one doesn't know whether to be offended by his vernacular or pat him on the back because he's doing what "they" say he wasn't going to. The rapper utilizes in-house collaborations with other members of his Street Fame Gang (Killa B and C-Lew, along with Crackkoke and DJ Bang-Bang). Each member of the gang has his own swagger that contributes to the group's overall success, Coke says.
"C-Lew is the most flamboyant, and Killa B has the more street-savvy style," Coke says. He claims his style is a mixture of both. "Whatever—I mean whatever—you like, I've probably got a little bit of that in my sound, too. I'm flexible."
Coke and Street Fame Gang are earning their proverbial stripes quickly. Their first project, "Live Fast, Die Famous," in February 2009, preceded "The Initiation" in July 2009. And that project's follow-up was "The Initiation 2: Guilty by Association" which the group distributed in March of this year.
"It's an amazing feeling to be in the studio, because now we're recording in bigger studios with all the right equipment, but I remember the days when we were rapping in front of computer screens with a little microphone," Coke says. "Back then, our sessions had to be perfect because we didn't have the equipment to go back and edit mistakes, but now, rapping on our own original beats, with our own style (feels) simply amazing."
Looking to broaden the fan base for himself individually and the Street Fame Gang as a whole, Coke released a solo mixtape, "Translation," July 7 and is simultaneously working on two other projects—"Highway to Mars" and "Old School Shoes and Tattoos"—scheduled to be released in the fall. Coke and The Street Fame Gang will keep toiling, though doors are opening to them because, Coke says, their mission in the rap game hasn't been accomplished yet.
"I don't have a problem with us going mainstream, although that isn't our ultimate goal," Coke says. "As long as people are listening to our music ... and we have an opportunity to make profit from it, that's my definition of making it in this game." And as Coke and his gang make it, he says he will do what he can so others can, too.
Find Coke Bumaye's latest music at http://cokebumaye.bandcamp.com.
Previous Comments
ID

158680

Comment

Great article. All too often do we get caught up in the "mainstream" & forget to show support for local artists. There are great musical talents in this city from all genres.

Author

kinglewie

Date

2010-07-16T13:57:52-06:00
Support our reporting -- Follow the MFP.