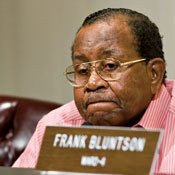 The Jackson City Council voted to retain current council President Frank Bluntson and Vice President Charles Tillman after a lightning-fast roll call during Tuesday's council meeting.
Council members voted unanimously to keep Ward 4 Councilman Bluntson in the president's seat without prior debate. The vote for vice president was slightly more contentious, with Ward 2 Councilman Chokwe Lumumba and Ward 6 Councilman Tony Yarber favoring Lumumba over Ward 5 Councilman Tillman.
Ward 3 Councilman Kenneth Stokes was not present for the vote. Stokes made clear his irritation at missing the vote when the council, to his surprise, moved the item to the top of the Tuesday's agenda.
"The meeting started at 10 a.m.," Bluntson told Stokes, after explaining that the council agreed to move the vote up after some council members said they would have to leave the Tuesday meeting early.
"Well, Mr. President, this is Item No. 16. You don't take up Item 16 until you get to 16," snapped Stokes, who was about seven minutes late and said he had a sickness in the family."
Bluntson pointed out to Stokes that the council record reflected Stokes supporting last year's decision to move the vote for president and vice president to the top of the agenda.
Middle-Finger Salute to Arizona
Ward 2 Councilman Chokwe Lumumba submitted a new city ordinance designed to discourage city police from making unwarranted inquiries into a person's immigration status during traffic stops or public interaction, including calls for police assistance.
"This ordinance will reduce racial profiling and harassment of people because they look a certain way," Lumumba said, adding that he believes the Jackson Police Department is tolerant of minorities.
"JPD doesn't do (racial profiling) anyway—I don't believe they do, but there are some places where the police do that. I would use this police department, which does do it the right way, as a shining example to other communities of how it should be."
The ordinance prohibits police from basing any police action on a person's appearance, ethnicity, immigration status, manner of dress, national origin, physical characteristics, race, religious beliefs, sexual orientation or gender identity. It also prohibits police officers from asking witnesses about their immigration status for purpose of ascertaining a person's compliance with federal immigration law. The ordinance does not prohibit officers from soliciting immigration status information while assisting federal law-enforcement in the investigation of a criminal offense, but only when it is relevant to the investigation or prosecution of a criminal offense—or when processing an arrested person.
Crushed Homes, Candy Deliveries
The city settled two lawsuits connected with former Mayor Frank Melton. The city agreed to pay homeowner Jennifer Sutton $20,000 for damages incurred as a result of Melton's 2006 illegal demolition of her duplex on Ridgeway Street and to pay for complete demolition of her partially destroyed building.
A Hinds County Circuit Court jury found Melton not guilty of the destruction, despite multiple witnesses claiming Melton was present and directed an entourage of young men to take sledgehammers to the building. Federal prosecutors charged Melton and his two bodyguards for civil-rights violations in connection with the crime, but Melton died last year before his case went to federal court, where it brought a hung jury.
Melton and his supporters on the council, including Stokes, argued that the destroyed home served as a distribution point for the sale and use of illegal drugs, even though police found no drugs at the home at the time of Melton's August 2006 raid, and police did not charge occupant Evans Welch with drug distribution.
On Tuesday, Stokes refused to approve the $20,000 settlement and demolition costs, which city spokesman Chris Mims estimated to be about $1,000. Stokes argued that an agreement to settle the claim suggested that the city was not doing all it could to discourage illicit drug sales.
The city also settled a lawsuit lodged by former city employee Stephanie Parker-Weaver, who alleged that a city officer had brutalized her while trying to cross a barricade during the 2009 Mal's St. Paddy's Parade, according to city attorney Pieter Teeuwissen.
Teeuwissen said Parker-Weaver initially demanded $150,000 from the city for alleged injuries to her shoulder by police officer Lance Scott, but the city settled for $5,500. Parker-Weaver was delivering candy and trinkets to members of Melton's entourage to toss to parade onlookers when Scott allegedly restrained her from crossing the barricade.
"The officer did not allow her through, and one thing just led to another," Teeuwissen said.
More stories by this author
Support our reporting -- Become a JFP VIP.
The news business has changed dramatically in the past year, and we need your help more than ever to keep bringing you important stories about Jackson and the Metro. Become a JFP VIP with an annual membership or you can Sign up as a monthly supporter. Thanks for anything you can do to empower our journalism!