On the shelf in my closet, between my Nine West velvet, lace-up wedges and my favorite pin-up style, Mary Jane stilletos, is an empty space. This is where an undiscovered pair of fabulous new shoes for the Best of Jackson party will go.
I adore this party. Not only is it a celebration of all that is awesome in Jackson, it's one of the shopping highlights of my year. I'm normally a clearance junkie, but I'll dish out a few more ten-dollar bills for this event, even if I have to find them in the couch cushions. I can't think of a better way to dress for this event than shopping locally. So far I have had my eyebrows waxed and beautifully shaped at Lacey's Salon, had a hairstyle update at S'Moak, and I have done some preliminary shopping (meaning I have purchased items with outfit potential but haven't firmly decided if they are "the one") at my favorite store for finding great bargains, The Orange Peel. Shoe Bar and Repeat Street, I will be seeing you this Saturday. I don't know if these places are winners this year, but they are some of my favorite local places.
This is an excellent way to participate other than just voting for the Best of Jackson. When you pick up the Best of Jackson issue this week, go out and congratulate the winners and finalists, then dine and shop locally to say "thank you".
Previous Comments
ID

155600

Comment

So, what is everyone wearing? It can be whatever you want, as "royal" dressed up, or deliberately dressed down, as you feel like. Me, I'm rocking my vintage Orange Peel Bond girl dress (if I don't change my mind before then. Anyone else wants to give us a preview?

Author

DonnaLadd

Date

2010-01-29T10:44:26-06:00
ID

155609

Comment

Here are some things that have come to mind during my Best of Jackson outfit daydreams: Fashion royalty - Chanel; Royal prints and fabrics like plaid or velvet; Royalty - Princess Diana, Princess Caroline of Monaco; royal accessories - hats, gloves, broaches, feathers, furs. I'm thinking of looking for some Chanel inspired pieces as I shop tomorrow. I may change my mind though. Depends on whether or not I can find something to go with the little treasure of a pencil skirt I found at The Orange Peel last week.

Author

caroline

Date

2010-01-29T11:52:29-06:00
ID

155611

Comment

I, unlike most women I know, hate thinking about what to wear to a party. It's not in any way fun for me. Therefore, I'll wait until it's time to actually get dressed and let my mood dictate what I wear. So, as long as I am not feeling like coming nude....we should be okay. Although, I do remember someone coming pretty close to that last year. LOL (one never can tell about these JFP parties)

Author

Queen601

Date

2010-01-29T12:52:47-06:00
ID

155615

Comment

You two ALWAYS look fabulous. Can't wait to see what you concoct, Caroline! Usually, I'm shopping the day before; this year, I planned a full week ahead. So proud of myself! Now, if I can just not change my mind ...

Author

DonnaLadd

Date

2010-01-29T13:37:56-06:00
ID

155625

Comment

I haven't a clue or a penny to spend so I'm shopping my closet and might have to lug out my sewing machine!!

Author

multiculturegirl

Date

2010-01-29T20:44:11-06:00
ID

155627

Comment

That works, darlin'! Those on a budget remember our local thriftstores. My dress for Sunday night cost $5 at Orange Peel.

Author

DonnaLadd

Date

2010-01-29T21:02:50-06:00
ID

155629

Comment

That rocks! I may redesign something I've had for awhile, where is this orange peel place?

Author

multiculturegirl

Date

2010-01-29T21:41:42-06:00
ID

155630

Comment

Corner of Duling and State Street. Great vintage clothing/jewelry/shoes store! Tangle down the block has great party jewelry -- but not super cheap. (They outfit me jewelry for big events, as if I'm at the Oscars or something! Love them!)

Author

DonnaLadd

Date

2010-01-29T23:35:59-06:00
ID

155632

Comment

I'm doing a bit of D.I.Y. myself. I make almost all my own jewelry and accessories. Dream Beads on Duling near The Orange Peel has pretty stuff. They give classes too. That's wear my jewelry making hobby got started. I wish I knew how to sew. One day maybe I'll get the time to learn. One can only have so many hobbies.

Author

caroline

Date

2010-01-30T07:50:53-06:00
ID

155633

Comment

I heard at Tangle yesterday y'all that Kristin (Orange Peel owner) lost a grandparent. Y'all send them prayers and good thoughts.

Author

DonnaLadd

Date

2010-01-30T07:54:28-06:00
ID

155637

Comment

@ Caroline the necklace I'm probably wearing my mom made me and she is the only reason I know how to sew, but I have lost some weight so I may have to alter a few things or I may just feel like a slight redesign I haven't quite figured it out yet. I have been considering getting my alterations side business back going for 2010 though.

Author

multiculturegirl

Date

2010-01-30T11:31:09-06:00
ID

155644

Comment

EVERYONE in The South last night looked AWESOME!!! It was a great party! I think I liked this venue better than any before. There was more room (although still pretty crowded). But I like that JFP goes somewhere different - IN JACKSON- every year. Otherwise, i don't know if I would have ever had reason to go to that building. Big ups to the JFP Staff! Donna and Todd, kudos on your stage presence. Great choice in outfit DLadd. I had a blast and I'm already waiting for next year. I have to get busy doing "something"....I want one of those awards!!! I'm claiming it right now! Yaaayyyyy JACKSON!!!! LOVE IT!

Author

Queen601

Date

2010-02-01T08:42:20-06:00
ID

155653

Comment

Thanks, all. We don't know the official number who came, but it was at least 800 because that's how much wine we had, and it ran out. Bartenders tapped all six kegs, too! It was a great venue! Cheers to Stan Leflore and Wendy Putt who helped make it possible. And the amazing restaurants who brought food for all us ProJacks to sample and rave about. And, of course, the Kimberly-ShaWanda show. It was the best organized Best of Jackson party, yet! There will be many more thank-yous in the issue this week as well. You know who you are. Thank you, thank you, thank you! I urge everyone to support the Best of Jackson winners, and especially the ones who helped so much last night. This is what Thinking Local First is all about!

Author

DonnaLadd

Date

2010-02-01T11:28:46-06:00
ID

155656

Comment

I don't think I saw ShaWanda but that Kimberly. My goodness, she WORKED. Everytime I saw her she had a clipboard or a binder in her hand, looking FABULOUS!

Author

Queen601

Date

2010-02-01T11:59:33-06:00
ID

155658

Comment

The first Best of Jackson party for me and my wife...why oh why have we never gone before?! Great venue (which is now in the running for my 40th b-day party spot in January 2011!) food, fellowship and music! Congrats again to all of the winners and the overall winner...the City of Jackson! Yes, I agree Queen...Ms. Kimberly worked and when she didn't have the binder or clipboard...she had much needed water!

Author

Big Tee

Date

2010-02-01T12:48:47-06:00
ID

155665

Comment

Queen, Kimberly looks more fabulous every WEEK. From one angle last night, I thought she was Michelle Obama! I'm getting my own trainer due to how she's motivating me! Make no mistake: Kimberly runs this operation! ;-) And I don't how I'd get through the week without ShaWanda these days. Where has she been all my business life!?

Author

DonnaLadd

Date

2010-02-01T17:57:08-06:00
ID

155666

Comment

I agree....Kimberly was FANTASTIC!!! This was my first Best of Jackson party working at the paper and Kimberly was there to help lead the charge. She was the captain and I was her co-pilot. My hat...well crown...is off to her. ---ShaWanda

Author

ShaWanda Jacome

Date

2010-02-02T01:27:16-06:00
ID

155672

Comment

And you are some co-pilot! ;-)

Author

DonnaLadd

Date

2010-02-02T11:12:22-06:00
ID

155673

Comment

I know....she is definetely inspiring us all!!! You know she loves Michelle, right?! So keep her off this thread, we don't need her looking good AND getting the big head! :-) Just kidding. I heart K.Griff, she knows it! She's the bestest! ShaWanda, I don't know how I went the entire night and missed you. Next time I will make sure someone introduces us. Kim is direct and precise so if you had to work with her I am sure you were just as wonderful! :-)

Author

Queen601

Date

2010-02-02T11:24:44-06:00
ID

155675

Comment

Y'all haven't met!?! My word. We have to fix that!

Author

DonnaLadd

Date

2010-02-02T11:31:04-06:00
ID

155742

Comment

I'm surprised to see so many people coming out. I figured TDogg Woods had messed it up for lots of people. The other day one of my buddies told his wife he was about to run to the store to pick up a newspaper and she told him just go in the house, she'd go get it for him. Since then we find out John Edwards is worse than we thought. He now makes Clinton looks like a saint. If Edwards and Clinton ever decided to switch to the GOP they would fit right in perfectly. He, he.

Author

Walt

Date

2010-02-03T17:59:26-06:00
More like this story
More stories by this author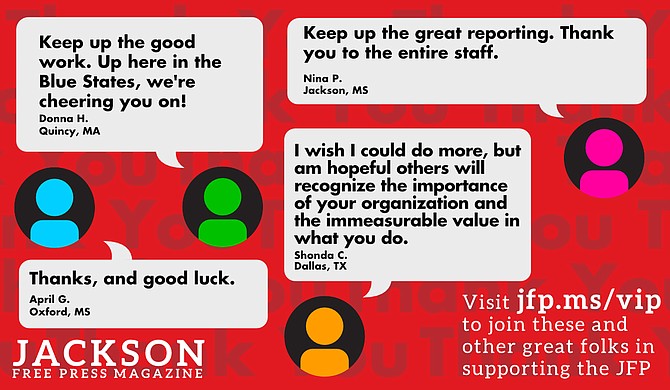 Thanks to all our new JFP VIPs!
COVID-19 has closed down the main sources of the JFP's revenue -- concerts, festivals, fundraisers, restaurants and bars. If everyone reading this article gives $5 or more, we should be able to continue publishing through the crisis. Please pay what you can to keep us reporting and publishing.