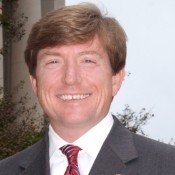 The state Legislature is still rumbling over money issues and executive power this week. The Senate passed Senate Bill 2495 last Wednesday, a bill that would grant Gov. Haley Barbour the selective power to cut the budget of some state departments up to 10 percent, without having to cut all departments by 10 percent.
The bill unnerves the Democratic-led House, which is more guarded of the Republican's executive power. Current state law prevents the governor from cutting any agency's funding by more than 5 percent until every agency has been cut by 5 percent. The law prevents the executive branch from favoring one department over another, but Barbour said increased revenue shortfalls push him to make cuts beyond the blanket 5 percent as required by law.
Barbour argues that some agencies, such as Corrections, cannot abide more than a 5 percent cut. Barbour claimed during his State of the State address that an 8.1 percent cut would release up to 4,000 convicts. Barbour wants to first target other areas of the budget, such as education.
This month, the governor released a list of the programs he wants to slice by up to 10 percent, including most K-12 public education, universities and community colleges. He also wants to hand a 9 percent reduction to the Mississippi Adequate Education Program—the program that steers state money to low-revenue public school districts. Also suffering 10 percent in cuts under the Barbour plan is the attorney general's office and state district attorney's offices, as well as the Ethics Commission and the Department of Finance and Administration.
"It's too much of a cut," House Education Committee Chairman Cecil Brown, D-Jackson, said. "We think the governor overestimated the amount of money that we need to cut, and we're going to try to work around it without cutting things so severely."
The Department of Corrections, in comparison, only suffers a 3 percent reduction under Barbour's proposal.
The House may not pass SB 2495 in its current form. Appropriations Committee Chairman Johnny Stringer, D-Montrose, proposed a bill that would exempt all or part of the budgets of certain state agencies from reduction when state revenues fall below estimates, but Barbour said that particular bill was not enough to make a difference.
Stringer—who initially said a bill giving the governor the power to selectively cut up to 10 percent would not make 
it out of the House Appropriations Committee—said this week that House Democratic leaders were working with the governor's request.
The situation isn't getting any better, as far as the state's debt goes. State Treasurer Tate Reeves presented a budgetary overview to the joint appropriations committee last week showing that the state's total bonded indebtedness will rise dangerously close to $3.5 billion in 2010, including the conversion into long-term debt of $165 million of its investment in the as-yet unbuilt Toyota plant near Tupelo.
In a fit of bitterness, Stringer compared the Toyota plant to the failed Mississippi Beef Processors LLC plant, which cost taxpayers $50 million. "The Toyota plant is the new beef plant, in my opinion. The beef plant today works 275 people, but there's nobody working at the Toyota plant, besides security," Stringer told reporters. We've already paid $18 million in interest (on our debt for the Toyota investment), so add that $18 million to the $165 we've already invested in them. That's the total that we've got in it, but we don't have any jobs."
Reeves said he was confident that the Toyota plant would eventually pay off.
Sen. David Baria, D-Bay St. Louis, said his bill to create a tax incentive for the use of solar, wind, geothermal or other energy-efficient physical plants for home and business owners may be gathering momentum this year, thanks to the personal attention of a committee chairman friendly to the bill.
"I have been joined by the committee chairman as a co-author of the bill and feel that we can get it passed," Baria wrote on his blog. "I have also filed for the first time a bill to allow for net metering so that those who produce excess electricity can sell it back to the power company (at a fair price). These common-sense measures will promote the wise use of resources and will help stimulate a new 'green' economy."
Insurance Commissioner Mike Chaney jumped ahead of Baria on another venture: the establishment of a program to help coastal residents storm-proof their homes. The program advocated by Chaney is similar to Florida's "My Safe Florida Home" program, created by the Florida Legislature in 2006 to help Floridians strengthen their homes against hurricanes through free home inspections and construction grants.
"I introduced 2007 legislation, the mitigation program, after we did the state billing code in 2006, never knowing I'd be insurance commissioner," Chaney told the Jackson Free Press. "The difference between us and Florida is our mitigation program isn't mandatory like Florida's program. What happened in Florida was when they made it mandatory, people were having premiums cut as much as 60 percent. They were actually paying people to do business with them. The way this program comes together it should reduce (home insurance) rates by 10 or 12 percent."
More stories by this author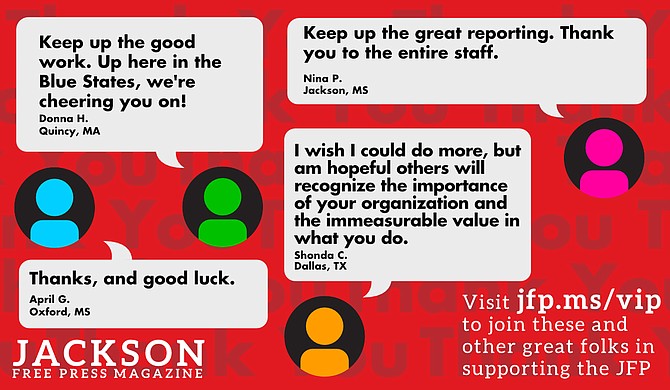 Thanks to all our new JFP VIPs!
COVID-19 has closed down the main sources of the JFP's revenue -- concerts, festivals, fundraisers, restaurants and bars. If everyone reading this article gives $5 or more, we should be able to continue publishing through the crisis. Please pay what you can to keep us reporting and publishing.