If passed in its present form, Mississippi SB 2032--charitably titled the "Immigration Reform Act of 2010"--would:

Force undocumented immigrants to remain in Mississippi for up to 10 years against their will, at taxpayer expense [see Sections 1(5) and 2(5)];
Impair the ability of Mississippi agencies to cooperate in federal immigration law enforcement by giving any racist crank in the state the authority to monopolize personnel time with as many writs of mandamus as their little heart desires [see Section 5(5)]; and
Unfairly target family members of undocumented immigrants, forcing legal citizens to rat out their parents, children, or siblings to law enforcement or face imprisonment [see Section 3].
Ordinarily when I see a bill this nasty and punitive, I chalk it up to the race-baiting excesses of the anti-immigrant movement. But this isn't even, strictly speaking, just an anti-immigrant bill; it's an anti-common sense bill. SB 2032 tells us the best way to make immigrants leave is to imprison them here, that the best way to keep immigration paperwork moving through the system is to pile on an indefinite amount of additional immigration paperwork, and that the best way to promote family values is to criminalize them.
There is only one conceivable reason why anyone would propose a bill like this: to bait public officials of good will (and good sense) into opposing it, then paint them as "pro-amnesty" by misrepresenting the bill's contents to the press.
Previous Comments
ID

155255

Comment

Yay! Tom Head's blog is up. Tom is one of several new bloggers the JFP is rolling out this month. He'll be blogging a lot about civil liberties issues at the Legislature (and anything else he wants to address). He joins Chris Nolen (mostly music) and Michael Kennedy (pop culture on steroids), Anita Modak-Truran (film, including Sundance blogging later this month) and others yet to come. Keep an eye out and give them a huge JFP Nation welcome!

Author

DonnaLadd

Date

2010-01-19T11:43:54-06:00
ID

155257

Comment

This is so sad, Tom. The other part of this story is that these nutts have the bully pins to spread negatives and unfair reasons based on their personal fears, meaness and ignorance. Maybe your blog will give issues like these a chance to not only be heard but turned around with positive remedy. We are a Nation of Immigrants: What's the big deal here? Only the Indians can claim homestead exemption. PS. Congratulations and welcome to the JFP: Land of people with more opinions than money. LOL!!!!!!!

Author

justjess

Date

2010-01-19T11:57:16-06:00
ID

155258

Comment

Ain't that the truth, justjess!

Author

DonnaLadd

Date

2010-01-19T12:30:11-06:00
ID

155259

Comment

I can't believe such a law is even being proposed. But the key question is if I'm not an employer, how do we know if somebody is here legally or illegally? Am I supposed to walk up to them and ask? Just because someone is Mexican doesn't mean they're here illegally.

Author

golden eagle

Date

2010-01-19T12:49:15-06:00
ID

155261

Comment

What I'd like to see is a common sense bill that really reforms the system, with harsh punishments for employers who continue to hire immigrants illegally. Unable to find employment the problem would self deport. It seems to me that our politicians of either stripe don't want to do anything real about the issue. One party is happy with cheap exploitative labor and the other is pandering for votes and cheap exploitative labor.

Author

WMartin

Date

2010-01-19T13:19:21-06:00
ID

155262

Comment

Watson does have a bill you'd like, Tom. It bars anyone convicted of a violent crime/murder serving at the Gov's mansion. :) I'm still reading through this one, but like many other things, I think it's a solution in search of a problem.

Author

Ironghost

Date

2010-01-19T13:57:21-06:00
ID

155275

Comment

Donna, thank you! I'm going to enjoy this, and I hope it'll be useful to folks... justjess, amen. golden eagle, I hear you; shades of the Hazleton Ordinance, where the Congressional Research Office reported that there was, in fact, no way to put it into practice without enabling large-scale ethnic profiling, not that large-scale ethnic profiling has historically been a dealbreaker for white conservative/Dixiecrat legislators in Mississippi. WMartin, both parties are listening to their constituencies...and both parties like having cheap exploitative labor that is not subject to minimum-wage or OSHA regulations. Slavery is profitable, or at least it is for non-slaves. IG, I actually have no fundamental problem with a convicted murderer working at the governor's mansion, and I have no problem with the governor having executive power to pardon without review (the topic of another bill relating to the same excesses). I have serious issues with the way Barbour used that power in these particular cases, to the point where I think impeachment could be warranted (though it's not going to happen), but I don't have any issues with the fact that he had the power in the first place because sometimes it's the only way to protect innocent people from judicial mischief. Might be a good topic for a future post.

Author

Tom Head

Date

2010-01-20T04:05:25-06:00
ID

155281

Comment

Watson does have a bill you'd like, Tom. It bars anyone convicted of a violent crime/murder serving at the Gov's mansion. :) I can definitely agree to that.

Author

golden eagle

Date

2010-01-20T09:23:58-06:00
More like this story
More stories by this author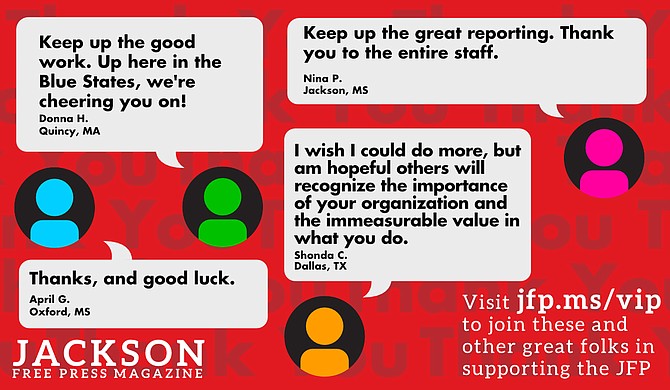 Thanks to all our new JFP VIPs!
COVID-19 has closed down the main sources of the JFP's revenue -- concerts, festivals, fundraisers, restaurants and bars. If everyone reading this article gives $5 or more, we should be able to continue publishing through the crisis. Please pay what you can to keep us reporting and publishing.