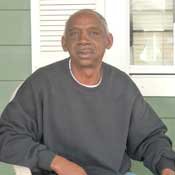 Jackson resident Oliver Bass, a 56-year-old Vietnam veteran, has been unable to get a job since 2009. He has experience in machine operation and cooking, and he can run a forklift. He says he will take any job and has applied at restaurants and warehouses all over the city.
"They say either I don't have the right experience or I'm too old," Bass said. "Well, they really say I'm overqualified, which means you're too old."
Habitat for Humanity sold Bass and his wife, Julia, a home at 215 Maple Drive in 2006, where they lived until she divorced him in March and returned to New Orleans. Bass said the misery of his long-term unemployment contributed to the divorce.
The clock ran out on his 99-week unemployment insurance cap in October, and now Bass will likely lose his Habitat for Humanity home in January after running about $1,000 behind in mortgage payments.
Bass' Habitat for Humanity home sits amid a neighborhood of similar homes filling the area around Jaycee Park, and he is an example of what could be in store for a lot of people next year, regardless of Congress' agreement to extend unemployment insurance benefits this month.
Heidi Shierholz, a labor economist with the Economic Policy Institute in Washington, D.C., explained that all Congress and the president agreed to do as part of their last-minute tax-cut plan in December was extend the filing deadline for unemployment insurance for people who run out of their state-funded unemployment insurance benefits.
"That allows people to file for federally paid-for unemployment benefits until 2012, but it does not extend your benefits if you've already passed the federal (99-week) cut-off," Shierholz said. "There's a lot of confusion there, but people need to know that this extension does not necessarily mean you'll be getting any more benefits if you've been without a job for too long."
Bass is currently $1,056.26 behind in his mortgage payment, and Cimarron Mortgage Company, which finances his Habitat home, informed him in a Dec. 9 letter that they had approved his home for foreclosure. Habitat for Humanity is willing to help him avoid foreclosure costs if he signs the property deed over to Habitat and vacates the premises.
In exchange, Habitat will pay Bass $500 to save him the cost of any attorney's fees. If he refuses to sign over the deed, however, Habitat warned that Cimarron will move forward with foreclosure and hold Bass accountable for the $1,056.26 he owes, plus attorney's fees, which could run up to an extra $1,000.
Habitat for Humanity Metro Jackson Executive Director Cindy Griffin would not comment on Bass' situation, but said the group offers financial counseling and works with families experiencing hard times to reduce the size of their house payments and put together a budget. Average monthly mortgage payments for Habitat homes in the Jackson metro area are between $275 and $325 a month, which includes taxes and insurance.
"We work with families who have come into difficult financial situations as long as possible to get them back on track and ensure successful homeownership," Griffin said.
In a Dec. 9 letter to Bass, Griffin warned that foreclosure would start on Jan. 9 if he could not bring his past-due payments up to date. "We helped you set up a payment plan; however, you did not adhere to it," she stated.
Bass said that no payment plan—no matter how generous—would work as long as he has no income.
Officials at Cimarron Mortgage Company would not comment on customer issues.
Whitney Barkley, an AmeriCorps legal fellow who works at the Mississippi Center for Justice's foreclosure-prevention program, said she expects another surge in foreclosures over the next couple of years as more unemployment-insurance payments cap out at their 99-week maximum.
Bloomberg BusinessWeek reported Dec. 13 that the number of U.S. homes worth less than the debt owed on them dropped in the third quarter, but that this was largely because homeowners took the next step and entered into foreclosure.
Mortgage default rates are highest in Nevada, Arizona, California and Florida; Mississippi's rates fall somewhere in the middle. "Right now we're not at the top in terms of foreclosure rates," said Barkley, who added that expiring unemployment insurance was only the start of the problem.
"Most analysts expect another surge of foreclosures as adjustable-rate mortgages taken out in 2005 and 2006 begin to reset after their five-year rate. Adjustable rate mortgages allow a (low) payment for five years, which goes up after five years. A lot of people get into these expecting to refinance, but now in the new economy they're finding that refinancing is impossible, or they've lost their job and gotten behind and no longer qualify for a fixed-rate mortgage."
Shierholz said Mississippi will suffer greatly as more Mississippians reach the 99-week limit: "On a national level, the impact varies, but the end of UI benefits will have a huge impact upon your local area if your area is suffering high unemployment," she said.
Unemployment is particularly bad among African Americans like Bass. The Economic Policy Institute reports that while unemployment among Mississippi whites is only at 6.6 percent, unemployment among blacks is 17 percent.
"If unemployment remains high ... you can still expect the loss of unemployment benefits to have a terrible effect," Shierholz said. "That's why extending benefits, even if it is expensive to do so, is one of the better forms of stimulus, because that money goes directly back into the economy. The unemployed have no choice but to spend it."
But economic aid in the form of extending unemployment payments beyond the 99-week maximum is slim in the incoming 112th Congress, with a Republican majority in the House. Republicans revealed a jarring indifference to extending UI benefits throughout 2009. In July, U.S. Sen. Roger Wicker, R-Miss., was among many Republicans voting "no" on a cloture vote on H.R. 4213, a bill seeking to extend unemployment benefits to jobless workers who had yet to reach the 99-week cap.
In November, Wicker joined Sen. Thad Cochran, R-Miss., in submitting a letter vowing to block all legislation, including legislation extending unemployment benefits again, if Republican senators could not get from the Democratic majority an extension of tax cuts for wealthy Americans, those making more than $250,000 a year. Democrats were already willing to allow tax cuts for the wealthy on any income they made below $250,000, but Republicans argued that was not enough.
Oddly, the Nov. 29 letter to Majority Leader Harry Reid demanding tax cuts for the wealthy begins with the statement: "the nation's unemployment level, stuck near 10 percent, is unacceptable to Americans."
Bass says he entered the holiday season with a heavy heart, knowing what January is bringing. "I have no reason to have my hopes up," Bass said. "Maybe I can work out something, but if there's no job, there's no job, so there's not much I can work out (with Habitat). Why won't someone just hire me? I can show up for work better than any high schooler. They just won't give me a chance."
More like this story
More stories by this author