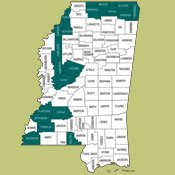 The Mississippi Development Authority is extending its Dec. 3 enrollment deadline for its free inaugural entrepreneur and business-owner training seminar to Dec. 17 due a low number of applicants.
"We've seen an uptick in applications since (last week), but we want to make sure that as many people as possible can take advantage of this program," said MDA Public Relations Manager Sally Williams, who said the program has room for about 40 more participants.
MDA extends the program to residents in 19 Missisippi counties with high unemployment rates, including portions of the Delta, including northeast and the southwest parts of the state. Hinds County residents are not eligible, but surrounding counties such as Holmes, Yazoo, Copiah and Claireborne are. Participants can be any prospective business owner or entrepreneur who wants to learn the mechanics behind opening a business, whether it's construction, a hair salon or a donut shop.
The program requires applicants to attend monthly seminars or webinars from January through September 2011. In exchange, the program provides in-depth training on all major aspects of running a business.
Williams said the monthly seminars help participants assemble a business plan that will increase their chances of obtaining start-up loan. Personal business advisors will review the business plans, and offer advice and suggestions.
"The course will cover the legal aspects of business and management, human resources managing, hiring--that type of thing," Williams said. "It will grow into the marketing side of things: market research tactics; understanding financial statements; how you buy a business; (and) run a home-based business."
The program also connects attendees to other assistance programs available through MDA and the state, and funding sources and financing programs--including programs specifically benefitting women and minority business owners.
Williams said MDA has tried to inform the public about the program, but many of the benefitting areas do not have a daily municipal newspaper, and that widely broadcasting the program will inform areas outside the program's range.
A U.S. Economic Development Administration grant is funding the program. If successful, the pilot program could extend to other counties.
"We expect this to be a success. We hope to go back to EDA and demonstrate its success and perhaps look at way to fund this in a much broader way across the state," Williams said. She added that she hopes participants will allow program monitors to follow their progress over the next five years to gauge their success.
Call MDA at 601-359-3593 for an application or assistance.
More stories by this author
Support our reporting -- Follow the MFP.