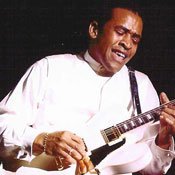 This Thursday is the Mississippi Museum of Art's monthly Jazz, Art and Friends series, with Barry Leach playiing jazz from 5:30-8:30 p.m. $7. Have a beer, jazz it up and check out the art. The New Bourbon Street Jazz Society Band will be playing on the Two Sisters' patio Thursday,6 to 8 p.m. for free. Just down the road, Gallery 119 will have an art opening from 5-8 p.m. with bluesman Bill Abel performing downstairs at Underground 119, from 8-11 p.m. Also Thursday, the jam band Big G & the Groove plays at Martin's from 6 to 9:30 p.m. for free.
In Fondren, Sanders Bohlke is the must see show Friday night at the Auditorium , 9:18 to 11 p.m. I wish the Oxford native got down this way more often than he does. With his unique blend of indie-folk slow-groove meets blue-eyed soul, Sanders can't help but make you feel sexy. He's the vibe for whispering sweet nothings in your lover's ear over candlelight and wine. Of couse, The Auditorium serves dinner, too.
Fans of Memphis punk/garage rock label Goner Records take note. Local favorites Overnight Lows will be joined by De Hoje Haele and Mig & Min Ven from Denmark this Friday night in Hal & Mal's Red Room. The triple bill then heads west and back to Memphis for Gonerfest Sept. 26.
This weekend is the perfect opportunity to check out the new blues club on Farish Street, F. Jones Corner. They have live blues playing during lunch most weekdays and for the late night crowd on Friday and Saturday nights, 11:30 p.m. to 4 a.m.
This Saturday the 31st Annual Farish Street Heritage Festival is ready to funk you up with the stellar line up of the Original P, Midnight Star, Eddie Cotton, Zac Harmon, Grady Champion and more starting at 4 p.m. Admission is $10 in advance at Be-Bop Records or $15 at the gate. In case you don't know who Original P is, they are 12 masters of funk, fronted by two Parliament-Funkadelic members and members of the Rock and Roll Hall of Fame. The Farish Street Festival a great street party with a killer line-up worth checking out. During the festival, F. Jones Corner will have music on the street from 6 to 10 p.m. with the Bailey Brothers, 5th Child and DJ Venom. Then former Subway Lounge band The Houserockers bring it back old school and take you into the wee hours inside F. Jones Corner from 11:30 p.m. to 4 a.m. Check out the stage schedule and all the details at farishstfestival.com.
Elsewhere, downtown Jackson offers up several other choice entrees this Saturday night. Rock and Rollers will dig Clutch, Revolution Mother and Wino at Fire, $22. Firing up the Memphis aristocrunk party and hip-hop throwdown is Lord T & Eloise at Martin's. Check them out at http://www.lordtandeloise.com. Everyone's favorite heavy dose of blues juke, Burnside Exploration, is back at Ole Tavern Saturday night. Jazz favorites Lisa Palmer will be at Underground 119. Bluesman Big Juv and the Juvenators are at Fenian's, and the Scramblers play at Hal & Mal's.
St. James Episcopal Church is holding a benefit for the Mississippi Academy of Ancient Music next Tuesday, Sept. 22 at 7:30 p.m. The St. Andrews Cathedral Choir and organist Dr. John Paul will perform the music of Bach. Call 601-852-4848 or 601-594-5584. Donations will be accepted at the door
Next Friday, Sept. 25, male soprano Robert Crowe will perform a concert of songs by Purcell and Mozart in the Millsaps Academic Complex Recital Hall, 7:30 p.m. Donations will be accepted at the door.
Tickets are on sale now at Be-Bop and Ticketmaster for Styx, Saving Abel and Creedence at the State Fair in October. Cheers.
More like this story
More stories by this author