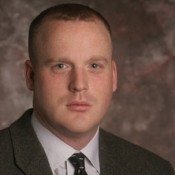 Last month Scottish officials released convicted Lockerbie bomber Abdelbaset Ali Mohmed al-Megrahi from prison because he is dying of prostate cancer. The former Libyan intelligence official was convicted in 2001 of carrying out the 1988 terrorist attack that brought down Pan Am Flight 103. There's a back-story to his prosecution, however—one involving the murder of a Scottish woman, a false conviction, and startling accusations that the FBI may have attempted to intervene in a Scottish perjury trial. And all this international intrigue was over a rather small thing: a thumbprint.
In January 1997, 51-year-old bank clerk Marion Ross was gruesomely murdered in the Scottish region of Strathclyde. David Asbury, a construction worker helping with remodeling work on her home, was quickly arrested and charged. Asbury left no fingerprints at the crime scene, but Scotland's famed national crime lab, the Scottish Criminal Record Office, the SCRO, matched one fingerprint lifted from a biscuit tin in Asbury's apartment to Ross. Asbury, they said, had stolen the tin and the money it contained after murdering his client.
The only print left at the actual crime scene was a thumbprint on the doorframe to Ross's bathroom. According to the SCRO, that print belonged to Shirley McKie, a Strathclyde police detective. McKie, incidentally, was the same investigator who lifted the print off the biscuit tin.
Leaving fresh prints at a crime scene can be a career-jeopardizing mistake for a cop. McKie insisted the print wasn't hers, and that she had never even been inside the victim's home. This presented a problem for Strathclyde police and the SCRO. Either the detective who had found the strongest piece of evidence in Ross's murder was lying, or fingerprint examiners in one of the most reputable crime labs in the world had made an incredibly embarrassing mistake.
The SCRO and Strathclyde police turned again against McKie. She was suspended. Whisper campaigns circulated. One implied McKie was somehow involved in Ross' murder; another that she'd had perverse sex with a married detective at the bloody crime scene and was attempting to cover it up.
David Asbury was tried in May 1997. Shirley McKie testified to the print she found on the biscuit tin, but when asked about the thumbprint left on the doorframe, McKie maintained that it wasn't hers. Her testimony directly conflicted with that of other investigators. Asbury was convicted anyway, but the SCRO now faced a reputation-staining scandal. So in March 1998, McKie's home was raided, and she was arrested and charged with perjury.
As the case against McKie began to make headlines in Scotland, fingerprint experts from the U.S. and Europe came forward to compare McKie's thumbprint to the print from the crime scene. One after another, they concluded the two were not a match. If the thumbprint came from someone else, it not only meant that David Asbury might be innocent, it would call the very credibility of the famed SCRO into question. McKie was tried for perjury in May 1999. Three renowned fingerprint experts testified on her behalf against four analysts from the SCRO. McKie was found not guilty.
But her legal battles weren't over. McKie was still fired six months later. Multiple investigations, lawsuits, and counter-suits followed. By 2002, McKie had assembled 160 fingerprint experts from around the world who attested that the print left at the crime scene wasn't hers. That same year, another bombshell: The conviction of David Asbury was thrown out, and he was released. The biscuit tin, it turned out, had been his all along. The SCRO had erred again, this time in matching the print found on the tin in Asbury's apartment to Marion Ross. Ross's killer still hasn't been found. In 2006, a day before her lawsuit was to begin, McKie settled with the Scottish government for £750,000.
Here's where the FBI comes in. As the perjury case against McKie unfolded, the FBI and Scottish officials were building their Lockerbie case against Megrahi and another Libyan, Lamin Khalifa Fhimah. (Fhimah was found not guilty.) One key piece of evidence was an incomplete fingerprint found on bombing-related documents matched to Megrahi by the SCRO. The McKie scandal now threatened not only the integrity of the famous Scottish crime lab, but the reputed infallibility of fingerprint evidence in general—and thus possibly the case against Megrahi.
According to an investigator for Pan Am Airlines, in 1999 FBI officials urged the SCRO to present a united front against McKie. David Grieve and Pat Wertheim, two American fingerprint experts who testified for McKie's defense, later told a Scottish TV program that the FBI also asked them not to testify at McKie's trial. In 2006, Wertheim and two other experts would publicly accuse the SCRO of intentionally manipulating evidence in McKie's trial to protect the reputation of the SCRO and the integrity of the Lockerbie investigation.
In June of this year, Scottish officials opened yet another inquiry into the McKie scandal—the FBI has an ongoing investigation as well—promising to look not only at possible criminal conduct by the SCRO, but the possible interference by the FBI and Scottish investigators looking into the Lockerbie bombing. As Megrahi returned to Libya to die last week, that inquiry continued. In the meantime, the FBI was embarrassed in another international terror case when its own vaunted crime lab falsely matched a print from the bombings in Madrid to Oregon attorney Brandon Mayfield. (For a more thorough summary of the McKie case, see Jim Fisher's excellent book Forensics Under Fire.)
The McKie case shows how far law enforcement agencies can be willing to go to protect a high-stakes conviction. The SCRO was willing to ruin the reputation of a police investigator, falsely try her for perjury, and let an innocent man rot in prison to cover up its mistakes. If the allegations against the FBI are true, its investigators attempted to suppress justice in an innocent woman's perjury trial to protect the Lockerbie investigation. As elements of the McKie case kept falling apart, and in an increasingly public manner, the previously sterling reputation of fingerprint analysis rightly underwent a correction.
If the world's most reputable crime labs can make such high-profile mistakes, it's a safe bet that just about any other police department could, too.
Radley Balko is senior editor of Reason magazine where this column originally appeared. The JFP Daily features his column every Tuesday.
More stories by this author
Support our reporting -- Become a JFP VIP.
The news business has changed dramatically in the past two years, and we need your help more than ever to keep bringing you important stories about Jackson and the Metro. Become a JFP VIP with an annual membership or you can Sign up as a monthly supporter. Thanks for anything you can do to empower our journalism!