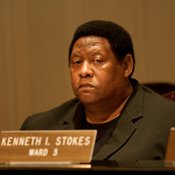 Two sides are fighting for a name for the library on Northside Drive, and both were divided along racial lines at today's special hearing. Ward 3 Councilman Kenneth Stokes, who heads the council planning committee, is advocating for the library to be named after African American Jackson Advocate publisher Charles Tisdale who died at the age of 80 in 2007. But members of the literary advocate group Jackson Friends of the Library want the library named after author Ellen Douglas, who is white.
Author Marion Barnwell said all 30 members of the group are unanimous in wanting to rename the Northside library for Ellen Douglas.
"I feel strongly that Ellen Douglas is the deserving recipient of this honor. She grew up in Natchez and now lives in Jackson. Her first two books were named among the 10 best books of the year in 1962 and 1963," Barnwell said
"Her name would be something that we could be proud of 100 years from now," said Lynn Evans, while Jackson resident Christine Wilson attempted to sell the Douglas name by bringing a number of the author's books to present to the council.
The Jackson/Hinds Library Board of Trustees voted unanimously in August to ask the Jackson City Council and Hinds County Board of Supervisors to consider naming local libraries after authors after the Jackson City Council failed that month to approve the Tisdale name for the Northside library. A majority of council members decided that the city did not follow procedure in advertising public hearings to address the renaming of the facility. The city held its first properly recorded hearing tonight and advertised the hearing Oct. 8 and Oct. 15. Stokes said all that's left to do now is to vote the issue out of the planning committee and allow the council to vote on it.
Library Board Chairman George Barnes acknowledged in August that the board "does not have the final authority" to name the buildings and that the naming is left to the council; however, he said he prefers the names to be from authors.
Advocates for the Tisdale name argued that Tisdale, while not an author, was a writer who had made a significant impact upon the city.
Jackson Public School Board member Ivory Phillips argued that the distinction between the title "author" and "writer" is fuzzy, and said that Tisdale deserved the honor.
"When I came to Jackson as a student a lot of African Americans literally ran away from the Jackson Advocate because it was a tool of the Sovereignty Commission. Tisdale literally turned that around, so that it became a powerful voice for black Americans in Jackson," Phillips said.
Jackson resident Ineva May Pitman agreed, arguing that Tisdale reversed the role of the Jackson Advocate as a segregationist paper and made it "a reliable voice for the black community."
"They would throw it in our driveways, and we would send it back. That's how effective that paper was at that time," Pittman said. "When Mr. Tisdale came and took over the paper, he turned that paper around and I now subscribe to it."
Stokes questioned advocates for the Douglas on their timing.
"Of all the time you had to bring it forward, you only brought it forward when Tisdale is brought up," Stokes said.
Evans denied that: "That's not true. When the library board discussed the idea of naming libraries after Mississippi authors with a connection to Jackson, her name came up. That was five years ago. I think what happened over the last four years was things were so chaotic down at City Hall that it kept getting pushed to the back of the plate. Then this new thing came forward, and we got the impression Stokes was trying to push it through without going through proper procedures, without talking to people who use the library and support the library."
Stokes argues that he had never heard of Douglas prior to July, after he became head of the planning committee and pushed for the Tisdale name.
"I never heard about it," Stokes said flatly. "Here we come naming something for Tisdale, and then here you come wanting to name it for somebody white. Ever since Northside Library was built, you had from then to two years ago to bring a name up. Was it done? No."
Previous Comments
ID

152826

Comment

No mention of the Brown Society?

Author

DonnaLadd

Date

2009-10-22T18:08:33-06:00
ID

152827

Comment

*sigh* Ellen Douglas deserves to have a library named after her, but she also deserves better than to have this honor bestowed upon her under circumstances that can be summed up as "Hearing on Renaming Library Racially Divided." Friends of the Library has just made it a lot harder to prevent the library from being named after Charles Tisdale, I think.

Author

Tom Head

Date

2009-10-22T19:20:11-06:00
ID

152829

Comment

True, Tom. They should have gotten creative and tried to de-racialize it, as happened with Willie Morris and Richard Wright libraries.

Author

DonnaLadd

Date

2009-10-22T19:33:23-06:00
ID

152835

Comment

With Stokes around, was there a doubt it was going to be anything but racial?

Author

Ironghost

Date

2009-10-23T09:45:48-06:00
ID

152840

Comment

Friends of the Library, indeed. More like "Friends of The Man." Thanks, Stokes, for pointing out that this is obviously a white-power conspiracy. Anyway, maybe they should just name it the Bank Plus Library and get some advertising dollars out of the whole deal.

Author

The Eskimo

Date

2009-10-23T10:19:26-06:00
ID

152845

Comment

Eskimo, you're being absurd. Being against renaming the library after one controversial non-author who put black people in a "Brown Society" isn't exactly the most conspiratorial thing ever. Many black people aren't in favor of it, either, and they're not part of some white conspiracy. These kinds of arguments are not helping your case (although I love the ad Kenneth Stokes ran about me in the Advocate -- does this mean he wants to take back the award he gave me back when I was one of the few white people who defended him (and endorsed him?). Of course, that was before he became Melton's lapdog, no matter what the late mayor did.) Isn't it degrading to imply that you're supposed to fall in line in support of renaming it for Tisdale *because* he's black? I don't have strong feelings either way about naming it after Ellen Douglas -- at this point, I'd probably not name it after either of them -- so it's not about that for me.

Author

DonnaLadd

Date

2009-10-23T13:39:06-06:00
ID

152846

Comment

Stokes has made a living out of stirring the racial pot, why should we have expected any thing different on this matter. It's a shame, I more or less grew up in that library. And not to go off topic, but, Tom- did I see you at Mass last Sunday? If it wasn't you the person was your clone- lol

Author

bill_jackson

Date

2009-10-23T14:06:16-06:00
ID

152847

Comment

Ladd, yes I was being absurd. It's called sarcasm.

Author

The Eskimo

Date

2009-10-23T14:08:02-06:00
More like this story
More stories by this author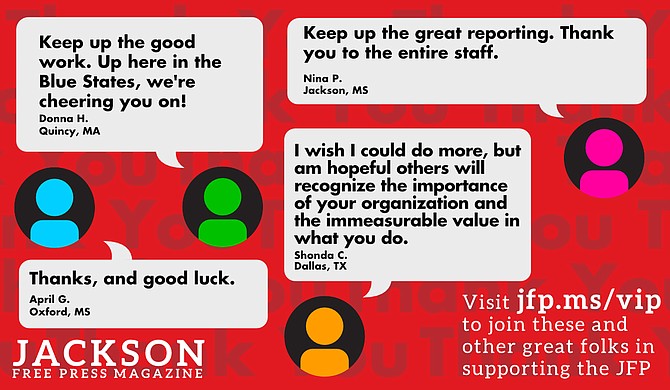 Thanks to all our new JFP VIPs!
COVID-19 has closed down the main sources of the JFP's revenue -- concerts, festivals, fundraisers, restaurants and bars. If everyone reading this article gives $5 or more, we should be able to continue publishing through the crisis. Please pay what you can to keep us reporting and publishing.