Legislators say the chances of the Mississippi Legislature approving funding to build levees in Jackson and surrounding counties are slim, especially since it has taken so long to reach consensus on how to mitigate flooding along the Pearl River.
"I don't see the state producing that kind of money for something like that," said Rep. Rita Martinson, R-Madison. "If only we could have done this kind of thing years earlier we might have stood a chance, but now that we're in such a money crunch I can't see the state anteing up the money. Long-term bonds may be able to handle it ... but even then I'm not sure if such a proposal would get all the way through."
The Pearl River, dividing Hinds and Rankin counties, experienced a "100-year" flood in 1979 that drowned Jackson's fairground area and many spots in North Jackson and Flowood, causing more than $200 million in damage. Since then, local politicians have battled over how to contain a future flood of that magnitude. The Rankin-Hinds Pearl Flood and Drainage Control District Levee Board is considering two alternatives to a U.S. Army Corps of Engineers-endorsed plan to expand local levees.
One project creates a 1,500-acre lake costing about $605 million, according to estimates, while an even bigger lake plan, proposed by Jackson oilman John McGowan, consists of a 4,133-acre lake with numerous islands, which McGowan claims would cost $400 million or less.
U.S. Army Corps of Engineers Chief of Project Management Doug Kamien made clear in September, however, that the Corps will not recommend lake plan because, Kamien says, it will require more environmental mitigation than a simple levee system.
"The federal government has very strict guidelines in how we're going to proceed, and we're going to base our decisions on what's in the federal government's interest," Kamien told levee board members last month.
The Corps estimates the levee plan will cost $206 million to build. The federal government, according to the Corps, will supply $115 million, meaning a $91 million match will be asked of state and local governments.
But local legislators say the chances of the state delivering $90 million, even for the sake of preventing a 1979 flood, are slim-to-none.
Rep. Bill Denny, R-Jackson, agreed with Martinson that a bond proposal would be more likely than a one-time allotment from the state, though Denny agreed that even the bond proposal would be unlikely.
"A bond project might be affordable...but the lower counties feel any mitigation up here is going to drown them. There's no way in the world the Legislature's going to fund this thing, because the downstream counties don't want their cows to drown," Denny said.
"I remember going to the podium when I was just a freshman in the House saying, 'you're worried about some cows getting wet when we've got 1,600 homes going under up here in and around Jackson.' Engineers have come in and given them models that show they won't suffer from either lakes or levees, but they won't hear any of it."
Monticello Mayor Dave Nichols fears that levees would send flood waters that normally fan out into the Hinds and Rankin wetlands flying down to Monticello with the full volume of the Pearl's rage behind it.
"I'm not against development in Jackson," Nichols said recently. "What I fear is the damage that could happen to my town. I've already got the banks of the river collapsing into the water in some places and erosion."
Denny said matching funds have always run up against "a disconnect between the counties and the supervisors" from different parts of the state. "Supervisors and mayors along the south of the river and here in town have never come together, which means any flood control is going to have to be funded on a local level right here in town," Denny said.
But the "local level" will have to agree to foot some sort of tax increase to support the $91 million levee. City Director of Administration Rick Hill said the average percentage on a Tax Increment Financing bond is 5 percent. Running $91 million through an amortization calculator with a 5 percent interest rate and a 15-year payment plan amounts to $38 million in interest over the lifetime of the loan. Property owners can expect to pay $4.5 million in interest alone on the first year.
Numbers McGowan submitted to the Levee Board in May say a mill increase for both Hinds and Rankin property owners can net $1.7 million. If accurate, the levee plan alone would require a 2.6 mill increase ($2.60 per $1,000 in assessed value) from Hinds and Rankin property-owners, just to handle 5 percent interest on the levee plan.
McGowan projects a $400 million price tag for his plan; assuming the federal government was convinced—over Corps objections—to pony up the $115 million it has earmarked for Pearl flood control, the resulting deficit, after a $50 million gift from the state in the form of in-lieu payments and fiscal incentives, appears to be $235 million.
Property owners will likely have to foot that bill through a general obligation bond and property tax hikes. That same theoretical 5 percent TIF bond on the $235 million McGowan plan results in more than $100 million in interest over the 15-year life of the loan, meaning a 5.8 mill increase to fund. Again, these numbers only reflect the property tax increases necessary to handle estimated interest on a TIF loan for the lake project. Property owners might expect to pay about $22 million annually to pay down the principal, a nearly 13 mill increase (roughly $1,300 on a $100,000 home).
McGowan argues that lower insurance premiums for flood-prone residents will mitigate the mill increase on those landowners. Denny said that if the premiums do indeed go down, it may make McGowan's lake more acceptable to local landowners: "McGowan's plan is more centralized, and the mitigation is important in Hinds and Rankin County."
Critics say any tax increase will prove a hard pill to swallow for local mayors serving on the Levee Board, however, who must face voters after approving a steep property tax to fund the lake construction.
Jackson resident Jack Westbrook said he was suspicious of the property tax cost increase of the levee plan and dismissed the tax increase for a lake plan outright, saying a lake plan would run him off his property.
"I couldn't afford to stay under those conditions," said Westbrook, whose home sits on stilts near the river, and never took water from the 1979 flood.
"I'd have to sell it all to some developer who, I imagine, would get to build on some very profitable lakefront property."
Richland Mayor Mark Scarborough, a levee board member, said people working for the board have estimated an increase between 5 mill and 20 mills for a variety of flood-control plans. He added that the board would not likely support anything carrying a property tax increase of more than 3 mills.
Denny said it would likely take a flood of desperation to break the stranglehold on any flood-control plan.
"One day, whether it's in our lifetime or not, we're going to have another Easter flood of 79, and when we do, it'll make the last one look like a bathtub, because that water has nowhere else to go because of all the development around here. It'll be like putting up a red light after 50 people just got killed at an intersection," Denny said. "It's a shame that that's what it's going to take to make flood control a reality for this area."
Previous Comments
ID

152832

Comment

Remarkably, the Northside Sun has finally left his denial cave over the chances of the Corps approving their precious Two Lakes plan. But what's confounding is how little of the whole story they will give their readers, spoon-feeding them McGowan's position and leaving out so much of the real story. This has on for years around here over this issue; somehow, the Lakes crowd has the media around here hypnotized. (Wyatt doesn't have Pearl-front property, too, does he?)

Author

DonnaLadd

Date

2009-10-22T20:09:52-06:00
ID

152843

Comment

The legislature and local governments should commit to the levee plan now while the federal money is still on the table. Moving dirt is energy intensive and energy costs could put the project out of reach in "good" economic times, while another flood like the 1979 flood would result in more than $1 billion in damages. Time is not on our side. As the USGS web site says: "The term "100-year flood" is misleading because it leads people to believe that it happens only once every 100 years. The truth is that an uncommonly big flood can happen any year. The actual number of years between floods of any given size varies a lot. Big floods happen irregularly because the climate naturally varies over many years. We sometimes get big floods in successive or nearly successive years with several very wet years in a row."

Author

gwilly

Date

2009-10-23T12:21:15-06:00
More like this story
More stories by this author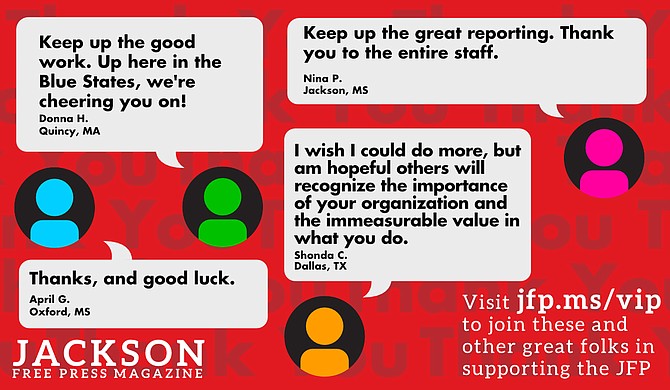 Thanks to all our new JFP VIPs!
COVID-19 has closed down the main sources of the JFP's revenue -- concerts, festivals, fundraisers, restaurants and bars. If everyone reading this article gives $5 or more, we should be able to continue publishing through the crisis. Please pay what you can to keep us reporting and publishing.