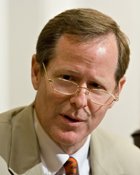 The Jackson City Council and Mayor Harvey Johnson Jr. got off on the wrong foot at the Monday work session after Ward 1 Councilman Jeff Weill inquired whether the city administration was spending a portion of a recent $26 million street-paving bond on budget items the council had not approved.
"I still don't have any clear idea, of the roughly $26 million raised, how much of it has been used to resurface our streets," Weill said, challenging the mayor. "I don't know if we've used $12 million, $17 million or $20 million. I don't know an answer to that, and I think members of the council would like to know to the penny how it's been spent, and we'll certainly weigh in on the administration's plan for spending it any other way than the manner in which it was intended."
Weill then requested more information on the $4.2 million in cumulative funds that the Johnson administration had used to plug holes in the current city budget. Johnson had previously described the cumulative fund balance as resulting from money unspent during the previous fiscal year by the last administration. Weill asked Johnson if any of the $4.2 million came from the street resurfacing bond money.
"Was any of that money (intended) for road resurfacing used to balance the budget this year, and if it was not, where did the $4.2 million in cumulative funds came from?" Weill asked Johnson.
Johnson was momentarily floored by the accusation: "It's going to take a little time for me to get over the fact that you or anybody would imply that we would do anything that would be illegal or not be called for in the bond issue," Johnson said.
"There's no implication there at all," Weill said.
"Well, there's a question there, and it sounds like an implication there, but I think that's up to you," Johnson argued. "The bond issue was not used to balance the budget, and I feel stupid even trying to sit here and say that. Why would anybody think we were trying to balance the budget with the bond issue?"
Weill then requested the council put the issue of the road surfacing expenditure in the budget committee "to see where the road surfacing money has been accounted for," he said.
Johnson would not commit to a deadline to provide the information, however. He said his administration was piecing together a detailed report on the city's spending of the bond money, and added that the council would obviously see the details because the council was the governing body that had to either approve or reject contracts for the paving.
Weill and Johnson did not immediately return calls for comment.
Previous Comments
ID

152759

Comment

Dang. Weill found a backbone. :) Color me impressed.

Author

Ironghost

Date

2009-10-20T13:22:15-06:00
ID

152765

Comment

Amazing...simply amazing! Jeff Weill couldn't stand Lumumba getting all the media attention. He had to grab the spotlight again! WEILL you please sit down!!

Author

GratefulJTE

Date

2009-10-20T16:10:12-06:00
ID

152772

Comment

If I were you, Iron, I'd hold back the applause until Weill coughs up the evidence behind his accusations. He's been very quick on the trigger; remember how it backfired when he put out his big study a couple months back about civilians in the police force. There was no there there. These are serious accusations, even if he tries to downplay them. Too bad we didn't have more of these kinds of public challenges from that ward and others when Melton was mayor.

Author

DonnaLadd

Date

2009-10-20T18:52:55-06:00
ID

152774

Comment

Does the council have oversight of the bond money? If so, then Weill seems to be in the right in simply wanting to know how much money has been spent, and where. With the financial situation the last administration left us in, oversight is crucial in terms of expenditures and government spending. I fail to see Weill's actions "accusations," but more of implementation of a type of checks and balances system (again, assuming the council has oversight of the bond money).

Author

RobbieR

Date

2009-10-21T08:17:43-06:00
ID

152775

Comment

Soooooo TRUE, Ladd. That is why it is hard to accept anything Weill says now. I wonder even what his purpose is now for being on the City Council.

Author

GratefulJTE

Date

2009-10-21T10:30:25-06:00
ID

152779

Comment

If it prompts Johnson to properly attribute his figures, it'll be a big start. My fear is that Johnson will just shrug it off and keep up with the "I'm running the show" attitude he's projecting now.

Author

Ironghost

Date

2009-10-21T10:46:19-06:00
ID

152781

Comment

I think he's running his part of the "show". Ironghost. He is definitely showing leadership - that quality in government we have missed now for four years. Weill and Lumamba are doing what Crisler did when he joined the Council, they are running for Mayor. Weill has been on a negative roll. First, he wanted to meet "privately" with Johnson's appointments of Chief of Police and Fire Chief. Why "privately." I don't think that "Dog will Hunt" this season. I get so tired of this because it is akin to what we are experiencing nationally with the Republicans trying so hard to discredit President Obama and other Democratics that they are attempting to unseat in upcoming elections. Let's try to get this thing right this time. There is so much work to do it we are serious about helping Johnson to keep Jackson moving in a positive direction.

Author

justjess

Date

2009-10-21T11:24:11-06:00
ID

152782

Comment

Oh lord. Just because someone questions the democrat in charge, they've suddenly become obstructionist? Give me a break. From what I've heard, everyone was given three (3) minutes to meet privately with both candidates. Weill objected, complaining he wouldn't hire anyone he couldn't talk longer with. Valid, as I know I've had interviews lasting up to an hour for lesser jobs I didn't get. If Weill won't vote for the candidate based on a lack of time to seriously interview, then that's his reason. Remember, no one would question Frank early on. Now we have people willing to do the job and they get jumped on?

Author

Ironghost

Date

2009-10-21T11:31:06-06:00
ID

152784

Comment

I am told that members of the Jackson City Council and members of the media, including the Jackson Free Press, were given a 472 page proposed budget book detailing how the administration was balancing the budget, department by department, division by division, category by category. This has already been explained to Weill and the council. Weill objected to balancing the budget using the reserve fund and wanted the Administration to slash JATRAN funding instead. That idea didn't fly with the majority of the council and now Weill has esentially "reframed" his argument. I think he missed his calling as a tabloid journalist or uptight socialite!

Author

thabian

Date

2009-10-21T12:34:38-06:00
ID

152788

Comment

Iron, whether Weill is an "obstructionist" is a matter of opinion. As someone who has worked frequently in situations where I've held the minority opinion, I can tell you that there are ways to get things accomplished in spite of being the dissenter, and ways to just turn people against you. From what I've seen of Weill, he seems to be in the latter camp. More and more, he comes off as someone who will simply "take his marbles and go home" if he doesn't get his way. That might work well for his Republican North Jackson constituents—and maybe in the courtroom—but it won't work in a predominantly Democratic-voting city where most voters support the Mayor. Seems to me he needs to be a little less the Republican lawyer and a little more the diplomat if he ever expects to win others to his way of thinking.

Author

Ronni_Mott

Date

2009-10-21T13:01:48-06:00
ID

152797

Comment

It is a good point about the council having oversight of the bond money; I'm vague on that. If they do, then it wouldn't be out of character to ask where the money's coming from. I don't see why only the Mayor would have oversight of it, but then weirder things have happened.

Author

Ironghost

Date

2009-10-21T14:01:12-06:00
More stories by this author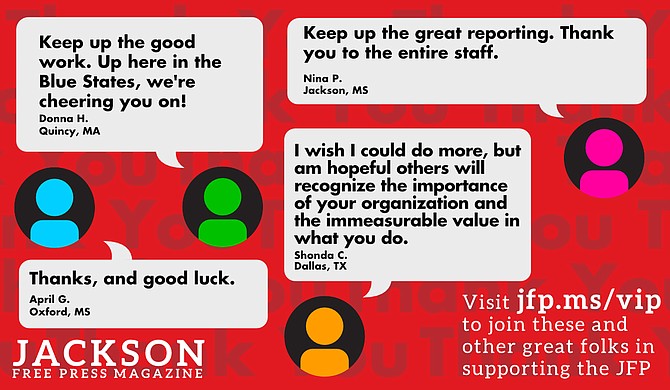 Thanks to all our new JFP VIPs!
COVID-19 has closed down the main sources of the JFP's revenue -- concerts, festivals, fundraisers, restaurants and bars. If everyone reading this article gives $5 or more, we should be able to continue publishing through the crisis. Please pay what you can to keep us reporting and publishing.