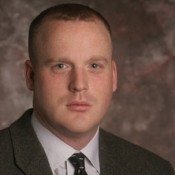 Last month, a jury in Prince George's County, Md., awarded Kimberly Jones $260,000 in a civil-rights suit. In 2006, sheriff's deputies from the county had forced their way into Jones' home, blasted her with pepper spray, beat her with batons, punched her in the face, then arrested her for assaulting a police officer. Though the charge resulted in Jones being fired from her job at a shelter for homeless children, it was later dropped. Reason? The cops had the wrong house.
In the ensuing civil case, the jury determined that the deputies were well within the protocols of the Prince George's County Sheriff's Department. It was the department's guidelines that the jury found unconstitutional.
Now the man who has overseen and implemented that policy for the last seven years, Prince George's County Sheriff Michael Jackson, wants a promotion to political office. He's running to become the chief executive for Prince George's County.
Police misconduct in Prince George's County has made national headlines for 25 years. The Washington Post reported back in 2006 that from 2000 to 2006 the county of about 800,000 residents paid out $16.3 million in police misconduct settlements and lawsuit awards. Jackson, who took office in 2002, can't be blamed for a legacy that extends back to the 1980s and also includes the troubled history of the county's separate police department. But Jackson hasn't done much to diminish the bad reputation, either.
A year after the wrong-door assault on Jones, Jackson's deputies conducted another botched raid, this time on Accokeek couple Pam and Frank Myers. The two were home watching TV when the deputies came into their home and held them at gunpoint. The police were looking for a man wanted on drugs and weapons charges. They had the wrong house. The correct house was clearly marked, two doors down. During the raid, one of the deputies went out into the Myers' backyard, despite warnings from the couple that their 5-year-old boxer Pearl was outside. The raid team shot Pearl dead. According to the Myerses, the deputies left without even an apology.
Jackson's department is also facing a lawsuit stemming from a May 2007 warrantless raid on the home of Upper Marlboro resident Amber James. They were looking for James' sister, who didn't live at the house. According to the lawsuit, the deputies told James they'd be back the next day, and when they returned, they'd kill her dog.
In 2008, Jackson's department made international news when deputies raided the home of Berwyn Heights Mayor Cheye Calvo. The police had intercepted a package of marijuana addressed to Calvo's home. When Calvo's mother-in-law brought the package into the house, Sheriff Jackson's SWAT team pounced, sending heavily armed agents into Calvo's home, where they shot and killed his two black labs, then detained Calvo and his mother in law in handcuffs for several hours. Calvo and his family were later cleared of any wrongdoing. The package was part of a drug distribution scheme that included accomplices working for shipping companies.
As noted above, the mistaken raid on Calvo's home wasn't an isolated mistake. It was also completely avoidable. Jackson's deputies didn't bother contacting the local Berwyn Heights police chief, who would have notified them that they were about to raid the town's mayor—who, by the way, wasn't a drug dealer. They also failed to consult other police agencies in the area, who could have informed them of an ongoing investigation into a drug distribution scheme in which drug dealers' accomplices working for shipping companies intercepted drug packages before they were delivered to addresses picked at random.
In his dogged efforts to determine the extent to which these sorts of tactics are used, Mayor Calvo has since found that aggressive SWAT raids are the preferred method of serving warrants in Prince George's County, not a tactic of last resort. The killing of dogs in the course of these raids is nearly an unspoken policy. As Calvo wrote in a recent Washington Post op-ed, "In the words of Prince George's County Sheriff Michael Jackson, whose deputies carried out the (raid on Calvo's home), 'the guys did what they were supposed to do'—acknowledging, almost as an afterthought, that terrorizing innocent citizens in Prince George's is standard fare." (Jackson's office did not return calls requesting an interview for this article.)
In the days after the raid, Prince George's police first claimed to have a no-knock search warrant, then acknowledged that they didn't, but claimed—falsely—that Maryland has no law requiring such a warrant (the state Legislature passed a no-knock law in 2005). Incredibly, Jackson's deputies and his department weren't even aware of their own state's laws governing the service of search warrants.
Months later, Jackson's department released a report claiming that Calvo's dogs "engaged" the raiding officers, therefore justifying the shootings. But according to Calvo, the report is inconsistent with the layout of Calvo's home, and misstates the positions of the dogs' bodies. Calvo has asked Jackson to release the details of report, including photos of the slain dogs, but Jackson has refused.
When Jackson's department then released a more thorough review of the entire raid almost a year later, investigators found, unsurprisingly, that their fellow deputies did nothing wrong. At an accompanying press conference, Jackson was downright callous. He commended his deputies, stating, "My deputies did their job to the fullest extent of their abilities." In deflecting blame from his own department, Jackson added, "I'm sorry for the loss of (the Calvos') family pets. But this is the unfortunate result of the scourge of drugs in our community. ... In the sense that we kept these drugs from reaching our streets, this operation was a success."
Of course, the drugs were kept from "reaching the streets" the moment the package was intercepted by police at the shipping warehouse. Everything after that—the overly aggressive tactics, the failure to notify local authorities, the slaying of two harmless family pets, the failure to conduct the slightest bit of investigation into who might live at the residence and the sending of a heavily armed police squad into an innocent family's home—was the result of bad decisions and bad policy. Instead of admitting to those mistakes, Jackson has taken the position that everything was done correctly and that because of the "scourge of drugs," the terrifying result—as a matter of policy—was perfectly acceptable.
Recently, conservative commentator Armstrong Williams hosted a fundraiser for Jackson's budding political career at Armstrong's home on Capitol Hill. Williams told The Washington Times he supports Jackson because: "I truly believe in (Jackson's) cause. We are gun-toting, God-fearing folks, and we believe in law enforcement and support law enforcement."
It's good to know that Jackson supports the Second Amendment, but Jackson's belief in the aggressive service of drug warrants for nonviolent offenders sounds like a recipe for disaster if inflicted on armed citizens. It certainly would have been for Calvo, who has said his first thought during the raid was that his home was being invaded by criminals. Calvo declined to comment on Jackson's political ambitions. But when I asked him last year what would have happened if he'd had a gun in his home for self-defense at the time of the raid, his answer was chilling. It was also probably correct.
"I'd be dead," he said.
Jackson now wants to bring his misguided sense of proportion, priorities and accountability to higher office, where he'll be making policy on a wide range of issues for a large county just outside of Washington, D.C.
Here's hoping the Prince George's electorate shows better judgment.
Radley Balko is senior editor of Reason magazine where this column originally appeared. The JFP Daily features his column every Tuesday.
More stories by this author
Support our reporting -- Follow the MFP.