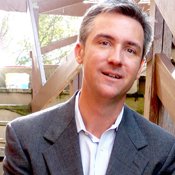 Quentin Whitwell, 37, is a local political advisor and the go-to guy for many campaigns in the state. He co-founded the largely Republican government-relations firm The Talon Group in 2004, along with political strategist and former Jackson City Councilman Chip Reno. Jackson law firm Brunini, Grantham, Grower & Hewes acquired The Talon Group last year, and Whitwell is now a senior government-relations advisor at the law firm.
After graduating from Oxford High School, Whitwell received his bachelor's degree in 1995 and his law degree in 1998, both from Ole Miss. He married Ginger, his first college date, in 1997, and they have two children—a daughter, Davis, 9, and a son, Gordon, 6—and an English springer spaniel named Churchill. The family lives in Jackson.
Whitwell recently published his first novel, "If By Whiskey," about one young woman's attempt to forge her own path amid the highly politicized atmosphere of the University of Mississippi during the presidential candidate debates between Barack Obama and John McCain last year. He'll be signing the book tonight, Oct. 15, at 5 p.m. at Lemuria Books (202 Banner Hall, 4465 Interstate 55 N., 601-366-7619), and on Friday, Oct. 16, at 5 p.m. at Barnes & Noble (1000 Highland Colony Parkway, Ridgeland, 601-605-4028).
How long did it take to write the book?
What is now Section 2 was my idea for a book many years ago. I worked for several years outlining the book, working on chapters, but it never really clicked until I was at (last year's presidential) debate in Oxford. That's when I knew I had the perfect Southern story that would flow. I encapsulated the work and research I'd done over the years in Section 2. But for the most part, the majority of this book was written within the last five or six months. Anyone who knows me knows I tend to be obsessive. When I do things, I don't do it halfway. My wife called me at 2 or 3 (o'clock) in the morning asking me what I was doing. I had a 445-page manuscript for my editor who slashed it and did an excellent job of touching it up.
Tell me about some characters.
Section 2 is the section in which I'm a first-person, whisky-drinking lobbyist. Know any of those in their mid-thirties around here? But in Sections 1 and 3, I depict, in first-person, a sorority girl. I spend a bulk of time in the shoes of Anna Neimus, although I also spent some time in the shoes of Lindsey, a Madison County girl who thinks college is a five-letter word spelled P-A-R-T-Y. She probably grows as much if not more than anyone in this book. Her character really turned out well.
What's your overall message in the book?
I titled the book "If By Whiskey" because Anna is caught between recognizing some of the legitimate honor of the Old South, yet knowing that the New South that has emerged is a much needed, joyful thing to celebrate. In this book, I think my message is one of racial tolerance and it recognizes that we have come a long way—but certainly it is not to insinuate that we have arrived.
How would you sum up the New South?
I didn't want to get too philosophical in the book. When I characterize the New South I'm talking about 2009. I assume, in 2009, that this is the New South. These girls are living in a sorority house. One lives in a condominium in Oxford, Miss., which is a very progressive southern town, but at the same time they're bound by traditions like sororities, for example. There are all of these dichotomies and paradoxes. Although this book may seem simplistic to people who like to analyze things, they'll discover dozens of paradoxes throughout the whole story.
Did you intend for politics to suffuse every last page?
People say you write what you know. Politics is certainly something I know about, but I didn't want to limit myself to politics, otherwise I wouldn't be able to entertain people—they'd get bored. But I think the social spectrums that are found in the book are probably the more important themes. Politics runs in the book for the sake of good stories and to expand the plotline, but regarding the social fabric of America and the new South, I don't think the timing could have been any better. We're looking at a country that is consumed with race issues and race politics, and I think people will be surprised when they see some of my conclusions. Especially given the number of assumptions people make about me, including assumptions made in your paper. Based upon the message I'm delivering, I think your readership will be surprised that someone of my (conservative) background has grown as a person over the years.
You've said growth happens through experience. What experiences have prompted your growth?
You'll notice I put a fictional disclaimer in the book. It is fiction, but I drew heavily from my life experiences. None of the events happened as occurred, but there are times in my life, some of which I could describe very similarly in the book, that you would recognize, as enlightening experiences. But as a person, there were events in my childhood that affected me. I went from a very sheltered private school in the Memphis suburbs to a high-school that had a majority African-American population. I was thrust into that new environment, and adapted quite well, being elected student body president by my peers in a majority African-American school.
Which character in the book do you think you identify with the most?
Er. Hmm. Well.
Go on: Say the chick. Just do it.
Okay, people may get the biggest laugh out of this, but I don't think I'm the only guy who might say if they could come back as anybody on this earth they'd come back as a college sorority girl.
Well, most of your drinks at pubs would be free.
Hey, I'm just putting that out there. But I think everyone will feel a kinship with Anna Neimus. She's the Eastern girl who's come to the South. Everyone has been put into an environment in which they feel they were the right fit, yet their circumstances weren't going to change except by what they did and how they chose to make their decisions. Anna is put in the position of choosing an easy path for immediate success, or taking the difficult road that she knows she will be castigated for, and proving who she is as a person. I hope this book challenges the reader to not take the easy path, to take the road less traveled and to do it their own way. They'll be better, stronger people as a result.
Tell me more about Anna.
Anna has a penchant for controversy. The first article the book discusses is when she declares the presidential debate a historic bore. But sequentially, the second article referenced in the book is when she writes a sexual freedom piece in which she describes sexual experiences she thinks the college reader will enjoy. It made her famous, but also infamous. She discovers that while she has the ability to catch people's attention, it doesn't always help her cause or position. So when she writes her clarification piece, after she is interviewed by the lobbyist, this time she has done her research and her homework, and she knows all the ins and outs, and she's armed to make her case. I think that demonstrates, in and of itself, her growth. Some of her conclusions are telling and insightful, though we find that even that isn't enough to solve all her problems and quiet all the grumbles.
And in so doing it speaks on society?
It's very difficult to describe what still needs to be accomplished and yet appreciate without being naive how far we've come. That was the greatest challenge to write in this book. In this book, there are triumphs, as opposed to many other books about the South that have a negative message. The fact that the book has a positive tone is something readers will appreciate.
Do you consider the New South a finished product?
I absolutely do not consider the New South a finished product. We've come a long way, but that doesn't mean we have arrived.
What is another aspect of growth the South should undergo?
One of the difficulties of being a writer is that if you lay out all your pontifications, from a philosophical standpoint, the readers don't see the necessity of reading your book. This book addresses the broad issue of tolerance, not just in a racial connotation, but also in the context of a woman's freedoms and a woman's powers. There are a number of tolerances this book either specifically addresses or alludes to that are in line with progressive social thought. Although the book doesn't make moral judgments, it talks about the issue of being tolerant and respectful of other people's views.
More like this story
More stories by this author