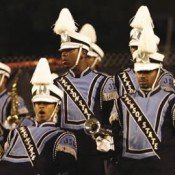 Jackson State University freshmen, including victims of beatings at an alleged Sept 18 off-campus hazing ceremony, are facing judgment at a Student Life Disciplinary Committee hearing today. The committee is continuing a days-long investigation of reports that bandleaders ordered underclassmen to endure beatings with mallets, 2-by-4 boards, baseball bats and bottles. One attorney representing a student involved in the hazing says the beatings occurred at an undisclosed location along High Street, and involved some JSU graduates.
Students reported bruising and swelling. One band member reported a broken clavicle, but even students who reported the violence will face fines and probations. Anthony Dean, director of University Communications, said the hazing victims had violated JSU commitments by attending the ceremony.
"Students who complained will go through a hearing for minor infractions," Dean said. "Depending on the hearing, they could be fined or put on probation because they all signed letters saying they would not go off campus and participate in these kinds of activities."
Jackson police say no student, so far, has stepped forward to file charges against their assailants. Still, JSU Associate Vice President of Academic Affairs Marcus Chanay confirmed the committee's belief that the abuse occurred. A similar hearing yesterday concluded with the suspension of 27 students until fall 2011 for their role in the violence. Unlike expulsion, a suspension means the students will not qualify to attend a different college for the duration of the suspension without beginning anew as freshmen, because the university will not release their transcripts. The Jackson State University Office of Communications said some students have appealed the Student Life Disciplinary Committee's ruling today.
"While we are very disappointed this event of hazing took place, we hope the suspension sends a message to all current and future members of the Sonic Boom as well as fraternities and sororities that hazing is simply unacceptable," Chanay said in a statement.
Jackson State President Ronald Mason Jr. also disavowed the hazing, proclaiming that "true learning cannot take place in an environment of intimidation or fear."
Former JSU band member and director assistant Sgt. Kevin Robertson said he did not recall band-related hazing being so violent in the 1990s.
"They told parents up front that their children were moving into something like a military environment with push-ups and running track, but what they're doing now, that's something we didn't do," said Robertson who attended the school from 1989 to 1992 before entering the military. "They already had a problem with hazing allegations in 2007."
The university reports no disciplinary actions against students involved in the 2007 alleged incident. The school would not identify either the perpetrators or the victims in either of the hazing incidents.
Dean said the Sonic Boom will continue to participate in events like the weekend football game against Southern University, but with a reduced drum line.
Previous Comments
ID

152386

Comment

1) The punishment for the freshman seems overbearing.. Just because they signed a letter stating that they would not participate in off campus activities, do you think these Freshmen thought about that letter when they were told by their section leaders to report to that apartment - HECK NO! JSU, if you were serious about hazing, you would have more measures or steps in place to help students manage these types of situations, rather than a lousy letter that releases the university from any responsibility for hazing incidents that happen off campus.

Author

lanier77

Date

2009-10-01T13:05:59-06:00
ID

152389

Comment

I think that JSU has done an honorable thing. Hazing is an awful thing that hurts so many people. I was a part of a sorority in college, and I know first hand what happens when the advisors are not around. It's so sad that people can lose their life (and their GPA!) over silly things. Someone has to take a stand! Hazing doesn't make you a better sorority/fraternity member, and it probably doesn't make you a better band member. Most importantly, band members and sororities/fraternities are in college primarily for education! They should be focusing on becoming top graduates and future leaders! They should be doing more planning for their future and less worrying about petty college things that won't really matter after graduation. Most of the biggest hazers in my day aren't even active in their respective organizations after graduation. I really hope all sororities and fraternities are paying attention. This WILL affect them too in the long run. People will be watching! Unfortunately, these band members have learned a hard lesson that will affect their academic and professional careers forever.

Author

News Junkie

Date

2009-10-01T14:25:23-06:00
ID

152397

Comment

Any "bandleaders" [leaders?????] that "ordered underclassmen to endure beatings with mallets, 2 x 4 boards, baseball bats and bottles" should be sent home and never allowed back on campus. They aren't ready for college. They are ready for prison. Criminal charges should be brought against them. And, they should be prosecuted to the fullest. Any leniency in this matter is counterproductive. Being a "leader" does NOT carry with it the authority to harm others. If these students don't know that, they are in basic training for being future dictators, business bullies, and abusive spouses and parents.

Author

J.T.

Date

2009-10-01T17:46:36-06:00
ID

152404

Comment

amen

Author

Izzy

Date

2009-10-02T08:06:07-06:00
ID

152434

Comment

I agree, that's why I'm speaking to the case of the Freshman only who were subject to the hazing, and then ultimately fined by the University. I just thought it was overbearing to the freshman who had to endure the abuse...

Author

lanier77

Date

2009-10-05T10:52:45-06:00
ID

152435

Comment

Lanier77, I appreciate your position. Being a freshman in college is a time of vulnerability, in so many respects. It is a time of trying to fit in and figure out the new environment. That makes the actions of the "bandleaders" so deplorable and the actions of everyone--freshman to senior--frightening. However, I disagree with your position that the freshman should get off without punishment. A fine is certainly not overbearing. In fact, I am surprised that the whole group involved, in whatever respect, were not kicked out of the school for good. A person can say "no." Or "I will not participate in this." If the participants don't know that yet, this incident and any fine of any kind should help begin to teach them. That is what going to college and growing up is about. If those who participated in any respect are totally freed from responsibility for their actions, they are taught exactly the opposite of what responsibility for making choices in life is all about.

Author

J.T.

Date

2009-10-05T11:31:45-06:00
More stories by this author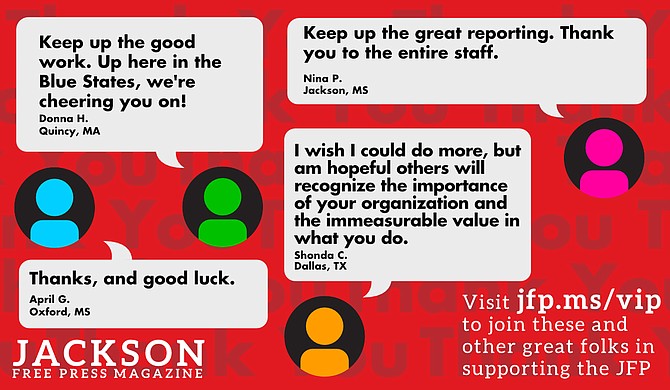 Thanks to all our new JFP VIPs!
COVID-19 has closed down the main sources of the JFP's revenue -- concerts, festivals, fundraisers, restaurants and bars. If everyone reading this article gives $5 or more, we should be able to continue publishing through the crisis. Please pay what you can to keep us reporting and publishing.