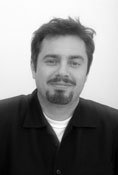 Since I'm one of those folks who was "brought back" to Mississippi by a native, I sometimes feel like I have a unique vantage point. Mississippi reminds me enough of my boyhood Texas to be a second home to me, and yet it's weird enough to feel like "a whole'nother country."
I have to admit that a local grocery store֖part of a Texas chain֖cemented my ability to stay in these parts. It stocks salsa from my favorite Tex-Mex restaurant in Dallas, El Fenix.
And given my love of salsa, you can imagine my excitement when I learned that this week's "Food" issue had as one of its primary stories an exploration of Mississippi's Mexican food culture. (Ah, Mexican food.)
But I digress.
I'm asked often when I travel on business or visit family what I like most about living in Mississippi, and I generally respond by talking about the culture in general—and the music in particular. I can honestly say that I've never lived anywhere else where musicians are so universally talented. Almost without fail, if you walk into a Jackson nightspot and there's live music going, it will be good.
That is not true in Denver or L.A. or San Francisco or even New York City. I've heard bad bands in all of them and more often than you might think.
We know about that base of talent—we live here—and we know about the food, because we're all packing it away every day. What we may not realize or remember on a regular basis is how important that "unique" flavor is to our quality of life, and how important it is to support those businesses, restaurants, bars and other venues that make it possible.
Yes, I'm a firm supporter of the Think Local First movement, in part because it causes money to be re-circulated in the local community instead of profits being ferried off to Bentonville or Wall Street or even Arlington, Va.
Those circulating dollars mean more work for other local businesses such as suppliers, accountants and law firms, and it means those suppliers offer more local jobs.
That also means more tax dollars that specifically benefit the region, and it means—on balance—more charitable, church and community donations from those local owners and the dollar "multiplier" they're putting into place.
But aside from the money, I think the most important reason to Think Local First is the uniqueness that local businesses have to offer. Local restaurants give you an experience—even a risk factor—that you don't experience at Olive Garden or Ruby Tuesday. Local bars support local musicians (and, of course, the good regional acts) that make a place like Jackson different from a place like Colorado Springs or Tucson.
Indeed, aside from climate, road quality and politics, it's the local businesses that really cement the notion of "uniqueness" that makes a place stand out. Think about it—unless you're talking about heading to Greenville Avenue in Dallas, there's clearly no reason to visit another city in order to visit a Chili's restaurant. (And even the original store—assuming it's still standing—doesn't serve food that's any different from the one on Interstate 55.)
This past weekend we were in Asheville, N.C., which gave us the opportunity to experience a small town that was "local" through and through. While Asheville is something of a destination—just off the Blue Ridge Parkway, it's a popular spot for folks who seek "the fall colors"—it's also a small town that does "local" very much on purpose, with a vibrant, walkable downtown area, tons of unique restaurants (I counted at least four Thai places), local boutiques and antiques, artisans and artist co-ops, city parks, restored five-and-dimes, street vendors, drum circles, wandering entertainers and more.
In Malaprops, their local bookstore on the square, the community bulletin boards overflowed with local professionals, events, musicians and offers. The public walls were decorated with signs like "No Wal-Mart in Asheville." On the way out the door, we read in the Malaprops newsletter all the reasons why they appreciate and foster a Think Local mentality, including the jobs they could create as a local business and the opportunity that the bookstore has, as a local gathering place, to create something unique for Asheville—something that draws people to the city as visitors or residents.
We're talking about a city with a population of 75,000 and a metro area that—if you stretch it—reaches upward of 300,000. It's not a huge college town, not even the capital of the state and not particularly beholden to any particular industry. It's just focused on local—and, yes, it's temperate and pretty.
Here in the food issue of the JFP, you'll find plenty of ideas for cooking in, and plenty of ideas for heading out on the town and around the region. While I know you're going to occasionally find yourself in Fresh Market or Biaggi's, a Think Local First approach means you'll at least consider what might be better bought at McDade's or Rainbow Whole Foods.
What dining experiences might be possible at Bravo!, Fratesi's or Cerami's? What takeout dinner is available at Foodies or Broad Street or Hal & Mal's? How about coffee or finger foods from Koinonia or Wired or Cups or Sneaky Bean instead of Starbucks? Why not drive out Northside Drive for fried fish or a donut from Monroe's.
Yes, the dollars you spend locally return to the community; $100 spent locally results in $68 of local impact, while money spent at a chain averages $45 in impact.
But perhaps even more to the point is the fact that these local businesses are what make our city unique—and that uniqueness is one of the few things that will encourage more people to visit or re-locate to Jackson, thus giving a boost to the economy and to the quality of our lives.
So whether you're heading out for dinner or gearing up to buy holiday gifts for family and friends, consider your choices with a Think Local First mentality.
Don't beat yourself up for being in a chain—hey, a man's gotta have his childhood salsa—but remember that every dollar spent in a local business helps our community thrive, keeps profits here at home and, ultimately, contributes to the uniqueness that is Jackson and Mississippi.
More like this story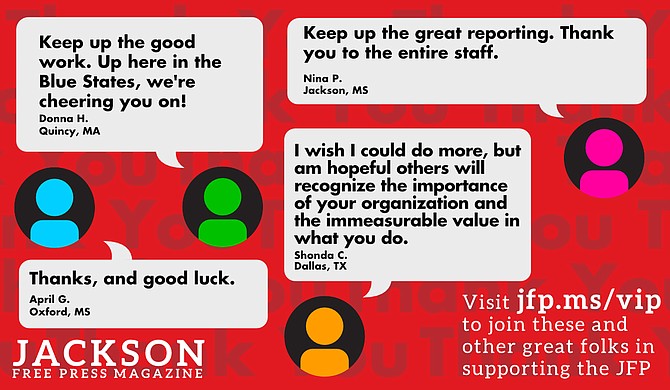 Thanks to all our new JFP VIPs!
COVID-19 has closed down the main sources of the JFP's revenue -- concerts, festivals, fundraisers, restaurants and bars. If everyone reading this article gives $5 or more, we should be able to continue publishing through the crisis. Please pay what you can to keep us reporting and publishing.