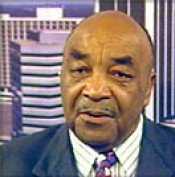 The Jackson City Council voted 5-to-2 this morning to name the city library on Northside Drive after former Jackson Advocate Publisher Charles Tisdale, who died at age 80 in 2007. The council voted along racial lines, with black members Kenneth Stokes, Charles Tillman, Frank Bluntson, Chokwe Lumumba and Tony Yarber voting in favor of the decision and white members Margaret Barrett-Simon and Jeff Weill voting against.
Weill said he supported naming the library after author Ellen Douglas. Prior to the vote, the councilman said he was backing a large petition organized by literary advocate group Jackson Friends of the Library, which advocated for the Douglas name.
"I think it should be named after Miss Douglas, and I continue to support that, along with the other roughly 1,000 petitioners who asked to do that," Weill said.
Barrett-Simon said the city council had strayed from protocol in seeking to name the building after somebody other than an author.
"In the past, we were in accordance with (the county) that we would name the library for authors who had brought world recognition to our state—like Richard Wright, Willie Morris, Margaret Walker Alexander and Eudora Welty. We deviated from that policy only one time, at the request of the council member who represented that ward. I supported it because the councilman requested it," Barrett-Simon said, explaining that the library sits in Weill's ward and that Weill clearly does not support the Tisdale name.
"Our actions should bring people together, not divide them, but I believe this action this morning does that," Barrett-Simon added. "People who support (the Douglas name) said that the majority of the council is not listening to the people, and there's no reason to show up this morning to argue. We always supported each other very much on zoning issues, and I'm sad to see that we are throwing all protocol out of the window."
Tisdale was a combative figure among some Jackson residents. The publisher had a habit of labeling some African Americans who crossed him as members of the "Brown Society"—a reference to what he perceived as their overly white-friendly attitude. Many notable residents found themselves in Tisdale's derogatory category, including Mayor Harvey Johnson Jr.
Stokes brought the issue of the library name out of the planning committee almost as soon at he took on the role of planning committee chairman this summer. He had attempted to hold a vote earlier this year to change the name, but a majority of the council voted against the move, arguing that Stokes had ducked municipal procedure in holding the vote without recording any public meetings to discuss the name change.
After today's vote, Stokes pointed out that he had a right to push the issue of the name change, even though the library was not in his ward.
"Over 80 percent of the city that uses that library are in Ward 3," Stokes argued, adding that if supporters of the Douglas name had wanted to name the library, they could have "filed the paperwork at any time."
Jackson resident Lynn Evans denied that in October, arguing that she and others had begun pushing for the naming of the library after Douglas five years ago.
"I think what happened over the last four years was things were so chaotic down at City Hall that it kept getting pushed to the back of the plate," Evans said. "Then this new thing came forward, and we got the impression Stokes was trying to push it through without going through proper procedures, without talking to people who use the library and support the library."
Previous Comments
ID

153029

Comment

Kenny is still pushing hate, I see. Way to pander to the constituents while dividing the city!

Author

Ironghost

Date

2009-11-03T15:51:35-06:00
ID

153030

Comment

Yep, Ironhost, this is one you and I are going to agree on. The irony is, Ironhost, that one would think that naming a library could be a bridge builder, an event that would gather together the diverse and introduce them to each other and send them off together arm in arm, smiling from ear to ear. Councilman Stokes appears to have excelled at tainting the process with division, leaving a bad taste in everyone's mouth, and making the naming a negative rather than a positive thing. A person has to work real hard to make such a negative out of what could have been such a positive.

Author

J.T.

Date

2009-11-03T16:50:10-06:00
ID

153032

Comment

I agree with J.T on so many things, but not on this. Kenny has just as much right to name the library after Tisdale than Ill Weill and Barrett does of Douglas. If Douglas hasn't done anything worth mentioning in 40 years why name anything after her. After alll, she's a writer and knows intimately about the evils of Mississippi. I question how dedicated or even interested she was at changing the image and conditions of Mississippi and Mississippians. This shallow mentioning of a book she wrote 40 years ago is a pathetic attempt to give her worth and standing that is non-existent or accidental, to say the least. For me personally, you gotta show me more than that. I disagree that Kenny was trying to be divisive. Tisdale spoke out against racism more vehemently than ayone else I knew of for years when he could have said y'all go to hell and gone after the money. Sure, he tried to Brown-Society a few people for actions he disagreed with. Some of the crticisms was justified and well-placed. Some of it wasn't, no doubt. All and all, I rather name something after Tisdale than Trent Lott, Ross Barnett, Jim Eastland, even Thad Cochran, than known racists with a long record to prove it. Personally, I say Weill and Barrett are the ones being divisive here. Didn't Kenny follow the rules in place. Kenny won and many are crying wolf because things didn't go their way. With this said, I'm not against naming a library after Douglas. How about the next one? I like writers. I'm even an avid reader, believe it or not!

Author

Walt

Date

2009-11-03T17:34:38-06:00
ID

153033

Comment

I understand there are frost warnings in hell, J.T. ;) I'll still call it Northside, regardless.

Author

Ironghost

Date

2009-11-03T17:46:27-06:00
ID

153036

Comment

I know you will, Ironghost, and I bet you would object to naming the reservoir after Medgar Evers or Bob Moses instead of Ross "the boss" Barnett. I understand there are many who disagrees with me. I accept it kindly or warmly, without any hard feelings whatsoever.

Author

Walt

Date

2009-11-03T17:55:36-06:00
ID

153037

Comment

If Kenny is pushing hate by his standard of conduct here, and as as usual, Ironghost, what is your political party pushing by theirs of the last score or so? What is Rush, Sean, Anne, Michelle, Bill and Foxx pushing? Kenny, like me knows that unless he tries to please, placate and otherwise suck up to certain kinds of people (not all bad, and as a fact many are very good), he's likely to be called callously divisive at best, and worse a racist. I certainly don't put J. T. in this catergory of shallow individual who callously label people. Her thoughtful and considerate comments and opinions can stand on their own. Needless to say, I don't understand Ironghost. Never have and never will, I suppose. I wish I knew what motivates him, and I certainly hope it's not what it looks like to me.

Author

Walt

Date

2009-11-03T18:05:53-06:00
ID

153038

Comment

I hear you, Walt. Let me clarify: I have no horse in the race for who the library was named after. I don't care who it is named for. What I think is important is having books in the library and making it available to all of us. My point is that something so mundance that could be so positive for everybody (naming a library) turned out to be a huge dramatic issue. Which is so Stokes. And,the library is not even in his ward. **** And, Ironhost, my toes are freezing. :) :) Cold air in here is something I'm not used to.

Author

J.T.

Date

2009-11-03T18:09:17-06:00
ID

153042

Comment

I'm very easy to understand, as long as you take off the democratic glasses Walt. :) You want to rename the Rez? Fine. Come up with something the state would agree on and we'll be in business. :D I bet you won't get past that requirement, however.

Author

Ironghost

Date

2009-11-03T20:17:36-06:00
ID

153046

Comment

AMEN, Walt!!!!!!!!!!

Author

Queen601

Date

2009-11-04T08:55:55-06:00
ID

153047

Comment

I have no problem with the renaming. I agree with Walt. If we have a problem with the "Tisdale library", then let's rename our city. After all isn't our namesake "the father of Indian Removal" and an individual who owned a plantation called the Hermitage? Then let's be honest most counties, cities, and towns that do not have nature names or Native American names are named after segregationlists, chauvanists, racists, and bigots. I find it interesting that Tisdale raises such excitement; however, the other names don't matter.

Author

Powerman

Date

2009-11-04T09:22:21-06:00
ID

153048

Comment

Then let's be honest most counties, cities, and towns that do not have nature names or Native American names are named after segregationlists, chauvanists, racists, and bigots. I find it interesting that Tisdale raises such excitement; however, the other names don't matter. Powerman: I don't think it's fair to say those other names don't matter -- Tisdale's happens to be in the news because it's something that actively being named right now, ergo, people are discussing it. It's like saying we shouldn't discuss health care reform right now because the Clean Skies Act needs to be reworked. I personally would LOVE to see the city and state look into renaming a few things like the Rez (I like to call it the "Welty Reservoir" just to see people react).

Author

Todd Stauffer

Date

2009-11-04T09:30:18-06:00
ID

153049

Comment

I find it interesting that Tisdale raises such excitement; however, the other names don't matter. Agreed, Powerman. Except with many of us who have raised a stink, and awareness, over what stuff is named for in this state. Consistency is key, no matter who you are, as I say above. And I'll repeat that it didn't matter to me whether it was named for Ellen Douglas. Considering how many whites have fled from that immediate area, it makes a certain amount of sense to name it for an African American. I wish it had been someone less divisive, but hey, Hattiesburg's county is named after a Klan leader.

Author

DonnaLadd

Date

2009-11-04T10:14:49-06:00
ID

153050

Comment

In response to Powerman's "I find it interesting that Tisdale raises such excitement; however, the other names don't matter." Excuse me! Are you God of the Universe sufficiently omniscient to judge who does and who does not matter? Wow, such craziness I identify as being a core belief of people propagating racism, sexism, religious intolerance, etc. etc. etc. I wouldn't expect, Powerman, you to fit in that category. But, even so, I cannot stand by and not respond to your remark, on that account, not because the library was or was not named after a particular person. As I have stated above, the name didn't matter to me. What does matter, when you get it down to where the cow ate the cabbage, this library is not in Stoke's ward. It seems it might have been a courteous, mature, strong, leadership like thing for Stokes to have done to have conferred with the councilperson in the ward--who I don't happen to be a great big fan of--and the residents "in the ward" who had a desire to honor someone and come to some consensus for the betterment of race relations in the community, if saluting Tisdale and his work in regard to race relations was really what Stokes was about, rather than just getting his (Stoke's) way, regardless of the topic or issue or consequences or divisiveness resulting from the process he uses. But, then that would have been a total 180 for Stokes and I don't perceive that as consistent with his approach.

Author

J.T.

Date

2009-11-04T10:17:56-06:00
ID

153051

Comment

This has been done before and handled better. They did name a library after Richard Wright, after all.

Author

Ironghost

Date

2009-11-04T10:40:22-06:00
ID

153054

Comment

In re. to the article's "He [Stokes] had attempted to hold a vote earlier this year to change the name but a majority of the council voted against the move, arguing that Stokes had ducked municipal procedure in holding the vote without recording any public meetings to discuss the name change." Surely he knew how not to duck municipal procedure. Bullying by any other name is bullying.

Author

J.T.

Date

2009-11-04T11:38:48-06:00
ID

153055

Comment

That one wasn't as simple as it sounds, Iron. There was a controversy over naming what is now the Willie Morris library after Willie rather than Richard Wright. After a contentious council meeting, I suggested in passing to the library group that they name the library in Ward 6 after Richard Wright, which seemed to be an obvious solution. There was also a component in there where the Bluntson crowd was trying to stop the Willie naming. I can't remember exactly how it went, but I thought it made sense that both literary giants get their own library. The compromise seemed to make everyone happy in that case. I mean, compromise is the way, but too often people (of all races) just want it to be their way. I do have sympathy, though, for African Americans who have put up with racist naming for so long. I still think Tisdale was a poor choice, though, just as Barnett, et al, are embarrassing choices for those institutions. But, again, it was inevitable, and it's time to focus on the present and the future, which means in large part healing division and pointing out the divisive among us, regardless of race. Sadly, Stokes has made some unfortunate turns, especially in his support of anything Melton did to people in his ward. I used to support Stokes despite his lesser moments, and even endorsed him, but seeing him (and Tisdale) support the violation of the constitutional rights of African Americans was simply too tragic for me to maintain respect for either.

Author

DonnaLadd

Date

2009-11-04T11:40:25-06:00
ID

153058

Comment

Ellen Douglas is progressive on race, and she has written quite a few post-1963 novels. She's excellent. She also holds the trivial distinction of being the only "famous" Mississippi writer I've ever met (though I was a kid at the time), and I remember her being very nice. However... Responding to the Tisdale suggestion by going "oh, he's not a real author, and by the way let's pick this white novelist" was not a smart strategic move, and led to this result pretty much inevitably. I don't think anybody should stop supporting the library just because it's named after Charles Tisdale--we'd have to pack up and leave this city named after that genocidal beast Andrew Jackson if names mattered so much to us, as somebody else pointed out--but a black author, or black civil rights activist (as in the case of the Evers and Hamer libraries), or even a blues artist (libraries have multimedia sections, after all, and who wouldn't want to go to the B.B. King Library?), would have been preferable to this racially divisive outcome. Nobody needs to bash Ellen Douglas; it's not her fault any of this happened. The fault lies with Kenneth Stokes and the predominantly white folks in the library community who responded to Stokes' proposal in a really ineffective way. And in the grand scheme of things, this is not by far the worst name choice for a Jackson landmark we've had; it just happens to be the most recent, the one we could have avoided if cooler heads had prevailed. No matter. One day the library's name will be changed again, probably sometime after Ross Barnett's wicked name is taken off the reservoir. Meanwhile, the Raymond Library still needs a name, and the Ellen Douglas Library does have a nice ring to it.

Author

Tom Head

Date

2009-11-04T12:04:15-06:00
ID

153064

Comment

J.T. I believe you missed my point. I am not claiming to be God over anything. I am simply saying that there are several public places that are named after people who are "divisive". Among those are our capital city, Jeff Davis county, Forrest County (just to name a few). I can't say what's in people's heart; however, I can't recall any public discussion or article about those names from any source or group. Most people write the names on their envelopes and go about their lives. As for the Weil argument. I think it's weak. There is no city ordinance that says that Ward representaves have the exclusive right to name places in their ward. The reality is most of Weil's constituents do not want the library named for Tisdale because they view him as either racists or too extreme. I have two children who are very intelligent. If I can shoulder the responsibility of explaining to them why we still have the flag we have and their home town is named after a person who organized the legal obliteration of Native Americans and help give continuity to the enslavement of their ancestors, then others can explain who Tisdale was and discuss what creates a person like that and the times he lived in.

Author

Powerman

Date

2009-11-04T16:34:41-06:00
ID

153065

Comment

For what it's worth, do you know anyone who refers to it as "The Ross Barnett Reservoir"? I live there, and most people don't even call it the Reservoir, just "the rez". Stokes was just being Stokes. This whole episode is just a different version of all his resolutions honoring people in his ward. I need to remember and go swipe one of those signs he (illegally) nails to utility poles every year wishing everyone a "happy Valentines Day from Kenny Stokes", those will be quite a keepsake one day. Only in Jackson...

Author

bill_jackson

Date

2009-11-04T16:58:32-06:00
ID

153069

Comment

Thanks, Powerman, I hear your heart in this blog. I appreciate what you are saying and I agree with you that racism in our past infects us everywhere in our nation, still today, and as we move forward, if we are to heal, we are all charged with upholding the best in each of us of every race, color, creed, gender, sexual preference, age, disability, religion, etc. Doing so is a challenge at best. Your response to me attempted to meet that challenge. It honored us both. Thank you, again. I cannot propose to understand the pain you have felt because of racism, but I apologize if my response to your blog caused you anymore. But, it was unacceptable to me for anyone to say that names other than Tisdale's didn't matter. I was so offended. And, I try again, with all openess and respect to you, Powerman: I believe you also missed my point. I am not saying Tisdale's name is divisive--it may or may not be. I honestly don't know enough to know whether it is or not. I can say--from reading this article--that the PROCESS used for arriving at the name appears to have been divisive. And we need to hold our council accountable for racial healing, not exacerbating racial divide. I suspect there were lots of people at fault. Clearly, Stokes's attempt to push the matter forward at the outset without following the prescribed procedure (as mentioned in the article) would fall into that category. And, my perception of that is that he was bullying. That is simply not acceptable to me as a voter, a Jacksonian, an advocate for human rights. The evening news regularly reports incidents of bullying in our schools and newscasters report on and on about the schools looking for ways to eliminate bullying. I'd say a good way to start would be for our elected leaders who proport to mentor youth to set a good example. And, if they don't understand that their antics are bullying, they need some bullying sensitivity training. Peace.

Author

J.T.

Date

2009-11-04T19:43:55-06:00
ID

153071

Comment

Rex, there are huge green signs hanging above the interstate that call it by its real name. It's disgusting. Tom, I admire Ellen Douglas, too; my point was that I wasn't against the Tisdale naming because I wanted her on there; I was against the Tisdale naming because I think his newspaper was poor quality and he was racially divisive even toward people of his own race. And I agree, Tom: Some library should be named after Douglas.

Author

DonnaLadd

Date

2009-11-04T21:11:20-06:00
ID

153078

Comment

Was the rez named for Barnett as some sort of tribute, or because it was created under his direction/initiative? I was only a kid back then? And we need a Walker Percy Library while we're at it.

Author

bill_jackson

Date

2009-11-05T09:58:29-06:00
ID

153079

Comment

Rex: best I can tell is that it was named for him because he signed the bill that finally started the project. It had languished since the 30's as a project that needed to be done but wasn't even put into motion. The Rez was constructed as a water supply for Jackson, finally built for it, then it wasn't actually used as one until the 90's, if I'm thinking right.

Author

Ironghost

Date

2009-11-05T10:01:40-06:00
ID

153080

Comment

Thanks, IG, I"ve always wondered about that. So that leads us to the question of whom we should rename it for. Maybe the Kenneth I. Stokes Reservoir? LMAO

Author

bill_jackson

Date

2009-11-05T10:08:46-06:00
ID

153086

Comment

Considering how many people just call it "the Rez"? I think if anyone seriously wanted to call it Stokes Pond, no one would go there anymore.

Author

Ironghost

Date

2009-11-05T10:36:47-06:00
ID

153087

Comment

A sad but true statement: I have no idea who Ellen Douglas is.

Author

golden eagle

Date

2009-11-05T11:10:14-06:00
ID

153090

Comment

To Reximus's "And we need a Walker Percy Library while we're at it." Rave on. Rex, his "The Last Gentleman" is so top knotch. Thomas Merton called it "one of the most intelligent and sophisticated statements about the South and about America.. . .I would call it one of the sanest books I have read in a long time." Though Percy was born in B'ham, after his dad's suicide and his mother's death, he became an orphan at age 16 and was adopted by his older cousin went to high school in Greenville, MS. He was highly educated, had an M.D., got TB and had to leave his medical practice. Eventually, he and his wife settled in LA.

Author

J.T.

Date

2009-11-05T11:50:40-06:00
ID

153091

Comment

Rex, I think I inadvertently mis-stated: Percy left his residency with TB, I think; I don't think he was every able to actually practice. I might be wrong. The way I said it implied he was actually in practice when he became ill.

Author

J.T.

Date

2009-11-05T12:00:39-06:00
ID

153093

Comment

Percy contracted TB from performing an autopsy while interning at Bellevue Hospital in 1941. His personal library of 2500 books was given/purchased by the Univ. of NC library in 1999. I met him once when I was in high school at the Percy's farm. Had no idea he was a writer at the time, thought he was just another farmer like the rest of the Percys.

Author

BubbaT

Date

2009-11-05T12:21:53-06:00
ID

153095

Comment

when I was in high school, one Christmas my uncle gave me 3 books, all set in New Orleans (he lived there at the time) One was "Love in the Ruins" by Walker Percy, the other two were "Interview with a Vampire" & "A Confederacy of Dunces". The latter should be required reading,

Author

bill_jackson

Date

2009-11-05T12:43:05-06:00
ID

153096

Comment

Cool, Bubba, that you met Percy. Wasn't his cousin a lawyer, writer/poet, farmer/planter? Rex, what a Christmas gift.

Author

J.T.

Date

2009-11-05T12:56:12-06:00
ID

153098

Comment

I'd heard that John Belushi had purchased the film rights to "Dunces" shortly before his death. That would have been great if he had played Ignatious...

Author

bill_jackson

Date

2009-11-05T12:58:42-06:00
ID

153099

Comment

J.T. they have a farm near Hollandale my father and uncles use to do work for them on their cotton gin.(I don't think they run the gin anymore) I guess he was visiting when I was introduced to him at their farm headquarters, Daddy told me who he was after we left.

Author

BubbaT

Date

2009-11-05T13:06:53-06:00
ID

153112

Comment

Rex, there's an urban legend that the role is cursed because John Candy purchased rights to play Ignatius after Belushi died, and then he died before he could do the role, too. Then Chris Farley purchased the rights, and he died. So that's three people in a row who purchased the film rights and planned on playing Ignatius, but died before they could make it happen.

Author

Tom Head

Date

2009-11-05T14:19:45-06:00
ID

153114

Comment

Hollywood is going to run out of funny fat men-LOL

Author

bill_jackson

Date

2009-11-05T14:40:03-06:00
ID

153165

Comment

Rex and Ghost, Stokes Pond is a big step up from lots of things named after horrible people around the south and throughout the world. I'd like to meet you Gentlemen some day. How about we get together at the Tisdale Library, Stokes Pond, or the R. Jess Brown new Federal Building, the Frank Melton Convention Center, or Walt City, Jackson's new name after I finally blow up, hopefully not from any help from Ironghost.

Author

Walt

Date

2009-11-07T16:43:11-06:00
ID

153167

Comment

[quote]hopefully not from any help from Ironghost. [/quote] Walt, you're not worth the dynamite. :)

Author

Ironghost

Date

2009-11-07T17:37:02-06:00
ID

153168

Comment

Thanks, Iron. Good looking out. I know you meant to say you wouldn't harm people you have affection toward. Tell LH I said hello.

Author

Walt

Date

2009-11-07T17:55:03-06:00
More stories by this author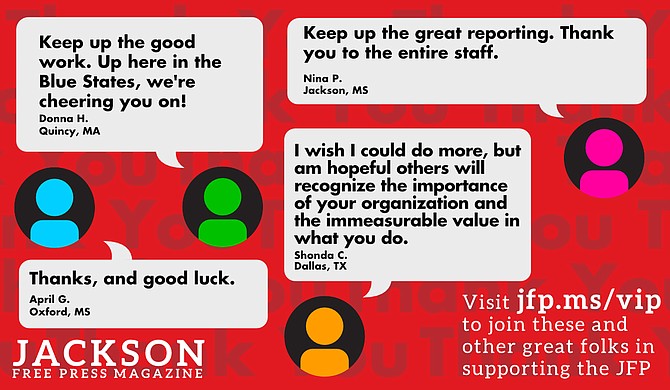 Thanks to all our new JFP VIPs!
COVID-19 has closed down the main sources of the JFP's revenue -- concerts, festivals, fundraisers, restaurants and bars. If everyone reading this article gives $5 or more, we should be able to continue publishing through the crisis. Please pay what you can to keep us reporting and publishing.