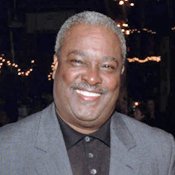 Jackson's two Democratic candidates for mayor seemed to be working hard to deliver attacks at Thursday's run-off debate. The candidates drew a crowd of about 200 at Jackson State University's Rose Embly McCoy Auditorium. Two-term councilman and former Council President Marshand Crisler, who has been much more at home attacking the questionable decisions of former Jackson Mayor Frank Melton, attempted to dig at his opponent's age and the perception of him being slow moving. Former Mayor Harvey Johnson Jr., who was slightly more aggressive, went after Crisler's lack of experience and his loyalty.
The first question, from Jackson Free Press editor Donna Ladd, asked how the candidates would determine the viability of flood-control/development proposals for the Pearl River, including the controversial Two Lakes project, a plan to flood the Pearl River and to inundate local wetlands and a park to create expensive lakeside real estate.
Crisler said he was in full support already and had "had extensive dialogue about how to move the plan forward," said that he supported the project, and called it "an economic development enhancer." He also assured the audience that he would personally attend meetings connected to moving the project forward.
Johnson was more guarded in his support, pointing out that he had earlier been an advocate but that the U.S. Corps of Engineers cited serious issues with the plan, which could cost up to $1.2 billion, and provide unpredictable flood control.
The former mayor lodged the first notable attack, however, in responding to Ladd's question about what he would do to change his alienation of the city's white population—a voting group who supported Crisler by huge margins during the recent primary.
Johnson said that he "made sure diversity in city (government) was real," and said many white voters' rejection of him stems from his being the city's first black mayor.
"(After my arrival) City Hall did not look how it looked previously, and that perhaps created some anxiety in the white community. The decision-makers did not look how they did previously," Johnson said.
Crisler responded that he was "excited" that he enjoyed "broad support" all over the city and pointed out that it was "important for the next mayor to go beyond color."
Moderator Eric Stringfellow pointed out that Crisler enjoyed wide support from Republicans, and asked if he would be independent of that money if elected to preside over a primarily Democratic Jackson.
Crisler responded that "people are making an investment in the leadership of the city of Jackson," that "everybody is interested in a better Jackson" and that they generally show their interest through campaign contributions. He added that he would "be responsible to the citizens of Jackson. Not one citizen, but all citizens."
Johnson pounced on the issue, pointing out that Crisler amassed a $350,000 to $400,000 campaign fund, and guaranteed that Crisler's supporters in the less affluent Washington Addition neighborhood "didn't give him that much money." He also opined that he still managed to best Crisler by about 200 votes in the primary, even though Crisler "out raised me 4-to-1." He vowed to run the city as frugally and efficiently as he ran his campaign.
Crisler responded with arguably his first attack of the night, arguing that "frugal is not asking the citizens of Jackson to foot the highest property tax increase since 1989," a decision that he accused Johnson of making his first week in office.
"Tax increases are not frugal," Crisler said, and answered the moderator's question about his campaign loyalties by explaining that "there's not enough money to buy Marshand Crisler. I am my own person. I'm going to represent with distinction and honor, like I've done in the military and the council."
Johnson immediately pointed out that Crisler had already changed his loyalties after one particular donation: "I can recall a time when Mr. Crisler did not support the Two Lakes plan, but I now know that he does support Two Lakes. I suggest you look at his contributor list to see who the author of Two Lakes has contributed to. He has not contributed to me. He's contributed to Mr. Crisler. So you have to follow the money," Johnson said, referring to $5,000 in donations from fierce Two Lakes advocate Leland Speed.
In response to Crisler's barb about the tax increase, Johnson pointed out that Crisler supported a recent resolution pushing the state Legislature to pass a referendum bill allowing a one-percent sales tax increase to support the city's fire and police departments and road paving.
Crisler explained that the tax increase is just a referendum vote that Jackson residents still have to approve, and then referred to local media columns describing Johnson as "arrogant and aloof" and said the city required partnerships to move forward.
Moderators hovered around the issue of a Legislature-mandated commission that would determine how the city could spend the revenue generated from the 1-percent tax increase, however, and questioned both candidates on their support of the issue.
Both Johnson and Crisler vehemently opposed the idea.
"I don't think there should be a commission. … I don't think a commission should ever be involved in spending your money," Crisler said, while pointing out that the bill making the commission a reality had been authored by Johnson's "No. 1 endorser," state Sen. John Horhn.
Later, when it came to the question of spending city money, Johnson criticized Crisler for his lack of experience and described Crisler as "treating a $350 million city budget like cutting up a cake."
Crisler took offense and retorted that "I've commanded three military combat units with $50 million budgets. One of the biggest accomplishments of my life was leading 70 people to combat and bringing 70 back home." He then accused Johnson of ignoring the City Council—something he wouldn't do, Crisler said, because he would be "the first councilman ever to serve as mayor in a mayor/council form of government."
Johnson's reply reminded Crisler that the council had approved 97 percent of his proposed programs when he was mayor. "In fact," Johnson added. "I would bet my last dollar that Crisler, as a council member, voted 100 percent in favor of my programs."
Stringfellow then asked the 62-year-old Johnson, if it were "time to pass things off to a different generation?" an obvious reference to Crisler's relatively young 40. The question pushed Johnson into a veritable explosion that largely summed up the eternal war between old and young men.
"It doesn't matter how old you are. If you aren't prepared for the job you're not going to do the job," Johnson said, before rolling out a monologue of his accomplishments, including his time on the state tax commission, the state gaming commission, the accreditation board for southern colleges and universities, various civic organizations, his two political science degrees, his time as a public administration teacher and a flurry of other things.
"It's not about youth," he said. "It's about bringing energy and commitment to the job. I've never had a job outside public service, outside the non-profit sector. I will not tell you that I've been on one job for 17 years or that I've been in the serve for 21 years. I can tell you more than that."
Crisler took offense to Johnson's critique of his staying power with the Hinds County sheriff's office, and called making light of his 17 years with the county and 21 years in the military "a stretch."
"Seventeen years of law enforcement experience shows commitment," Crisler said, reminding the audience that he also had spent eight years in city government as a councilman and had "the experience to lead."
"Our elders raised us to take their place" Crisler said and added that when they "passed the baton, it is the next generation's opportunity to lead the city, and I'm trying to do that right now." Crisler added that Johnson was kicking him for try to take the baton.
Moderator Scott Simmons of 16 WAPT News then asked Crisler if he would bring Hinds County Sheriff Malcolm McMillin back on as police chief. McMillin served more than a year under Mayor Frank Melton, but left days before announcing he would be endorsing Crisler as mayor.
Crisler said he would "do an evaluation" to pick a new chief and said it was overzealous to make a decision at this point of the campaign. He said he would work with McMillin, however, in bringing down crime.
Johnson said he too would "evaluate everybody" but pressed the issue of Crisler's relationship with the sheriff.
"There's a difference between working with the sheriff and working for the sheriff," he said, suggesting that Crisler's 17 years in the sheriff's department would create a relationship of "superior and subordinate."
"We need to make sure that the mayor can represent the citizens of Jackson and be able to look the sheriff or any other elected official square in the eye based on the power invested in him as mayor, and not based upon the power that's invested in him working 17 years for one person," Johnson said.
Crisler fumed at the suggestion, and after assuring that he was not interested in bringing the sheriff back as a sheriff/police chief combo "at this time," called the suggestion "a stretch."
"The idea that when I become the mayor, that (McMillin) is still in charge is ridiculous," Crisler said. "I don't think that anybody who knows Marshand Crisler can say that he'll be controlled. … I think the relationship has to be the sheriff's department and police department working together."
"The stretch," countered Johnson, apparently still in attack mode, "is a city councilman who chairs the budget committee during the day and still has that (deputy's) brown shirt that Crisler is talking about. What master do you serve? Do you serve the citizens of Jackson, the citizens of Ward 6, or the master that writes your paycheck? … It's an unfair question for Crisler because the sheriff is his friend, he has worked for him for 17 years, but when I meet with the sheriff I'm not meeting with him as a subordinate. I'm meeting with him as an elected official of Jackson who is serving the interest of the citizens of Jackson."
Crisler then essentially called Johnson an old codger for still thinking along the lines of race: "This whole notion that your boss is your master is an old way of thinking. I can't imagine somebody saying that in the 21st century. I guess all of your bosses are also your masters," Crisler told the audience. "That's a way of thinking that the city needs to get away from. We're still trying to rekindle (our racist) reputation tonight, on this stage."
Student Tonya Hadrin said the debate had not changed her mind on who she was voting for.
"You could say either one of them won the fight," Hadrin said. "It doesn't matter, though. I'm still voting for my guy."
Former JSU student Shameka Reed also said the debate had not altered her vote. "I'm still going to vote for the person I was voting for before I walked in," She refused to say who she was supporting.
Previous Comments
ID

147462

Comment

I voted for Frank Melton because Leland Speed supported him. I won't vote for Crisler because Leland Speed supports him. I really didn't know anything about Frank Melton. We all know how well that turned out. I knew things were going very slowly under Mr. Johnson. I thought his administration lacked the resolve to do what it takes to bring people back to Jackson.(better streets and infrastructure). I still think he is a one tune candidate. He hasn't gotten any new ideas in the last four years. I hate to think that he is our best option.

Author

Slider

Date

2009-05-16T10:56:45-06:00
More stories by this author
Support our reporting -- Follow the MFP.