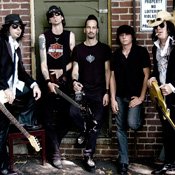 With summer upon us, we are faced with the dilemma of whether to hit up a summer blockbuster movie or support the local music community. I advocate the latter.
D'Mar has the day off drumming for Little Richard and will put on a free show with the Nu Funk Society this Friday night, May 15, at Freelon's, 8 p.m.-10:30 p.m. Young Dro will perform at Freelon's Saturday night. For modern alternative Brit-rock fans, Ape Champ and The Gills perform at Martin's this Friday night. Ape Champ has the talent and originality to take off and explode onto the national scene. See them hone their music while it's still here to enjoy. Cross Canadian Ragweed is at Fire downtown Friday night. It's $23 at the door if you over age 21, $30 if your age 18-20. Dr. D will join Bernard Jenkins and Jackie Bell at the 930 Blues Café Friday and Saturday nights.
If you dig the North Mississippi hill country southern-rock blues, be sure to check out The Hill Country Revue at Hal & Mal's this Friday night. This is the side project of Cody Dickson and Chris Chew of the North Mississippi Allstars. Dickson formed the group last year, and the duo just released their debut album this month. It's a more raw and rootsy side of the Allstars than you may be used to hearing, but it's fresh, and their new material is smoking. Check it out online at http://www.hillcountryrevue.com.
If you haven't gotten your Saturday night Fire tickets for the shock metal spectacle that is Gwar, it's not too late. This is the one show you'll be talking about at work on Monday. It's ages 18 and up. Electric Mudd returns to their southern rock fans at Martin's on Saturday, May 16. The band's tight jams are worth trying out.
Flash forward to next Wednesday, May 20, when alt.rockers 12 Stones perform at Fire; $20, $25 if you're 18-20. Also next Wednesday, be sure to check out The Pack A.D. at Ole Tavern on George Street. They're a small up-and-coming female punk-garage-blues duo from Vancouver, British Columbia. They thrash it up at a velocity that surpasses The White Stripes, The Black Keys and Jucifer combined, but they hold true to the head-bobbing blues as much as any Canadian can. This is going to be a fun night that will put the bump in your hump day. Dan Sartain, Two Tears and the Party Dots will open, $5.
Another must-see show that is new to Jackson happens next Thursday night, May 21. Psycho-billy/punk band The Hot Rods, from Atlanta, will bring their Musical Mayhem Traveling Rock and Roll Burlesque Review to Hal & Mal's next Thursday. The show starts at 9:30 p.m., $12. Imagine a high-energy Cramps show with leather-and-laced Suicide Girls putting on a vintage burlesque road show. Social D and Brian Setzer may be a fun rock 'n' roll show, but they don't have the Pretty Things Peep Show with ladies from HBO's "Real Sex" and "Miami Ink" who have toured with OZZfest. Check them out at http://www.thehotrodsband.com.
If you're looking for a reason to take a road trip, TV on the Radio will be at House of Blues New Orleans this Friday night, and Her Space Holiday hits the Bottletree in Birmingham Saturday. Newcomer's Manchester Orchestra will be at Proud Larry's in Oxford May 30. The Black Crowes are at Beau Rivage in Biloxi June 12. Coldplay tickets are going fast for the New Orleans Arena Tuesday, June 9. Green Day/Kaiser Chiefs tickets for the Aug. 7 New Orleans Arena show are on sale now.
More stories by this author
Support our reporting -- Follow the MFP.