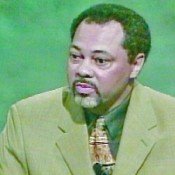 Attorneys for Harrison County Circuit Judge John Whitfield, convicted of bribery alongside Mississippi attorney Paul Minor, filed a motion for review with the 5th U.S. Circuit Court of Appeals yesterday, citing flaws in U.S. District Judge Henry Wingate's refusal to grant Whitfield's motions for release pending his appeal. 
A federal jury convicted Whitfield in 2007, as well as Minor and former Chancery Court Judge Wes Teel, for allegedly making decisions favorable to Minor on cases before them. Congress is investigating whether the Minor case was a politically motivated prosecution. Some members of Congress suspect that the U.S. Justice Department under former President George W. Bush targeted Democratic politicians and Democratic fundraisers such as Minor to swing elections toward Republicans.
Former Mississippi Supreme Court Judge Oliver Diaz—who was acquitted of charges in 2005—said he suspects that former U.S. Attorney Dunn Lampton renewed prosecutions against Minor and the Mississippi judges to stay off a list of U.S. attorneys being considered for firing by the Bush White House.
Prosecutors had failed to win bribery convictions for Teel, Whitfield, Minor and Diaz in 2005, with all of the cases ending with hung juries except Diaz, who was found not guilty. Lampton then announced a round of retrials, and Wingate—the presiding judge and a Reagan appointee—helped prosecutors by removing the necessity to show actual proof of bribery. Under Wingate's relaxation of evidentiary standards, prosecutors could more easily push successful convictions against people who donate to the U.S. Chamber of Commerce, which seeks to swing courts in favor of business defendants by campaigning for anti-plaintiff judges.
Wingate, in no hurry to see Whitfield out on bond (the judge spent seven months mulling Whitfield's most recent motion), denied the former judge's last motion on the basis that "evidence supported the verdict rendered."
Attorneys for Whitfield point out, however, that basing a decision of release upon a successful conviction means no one who has ever been convicted would be eligible for bond.
"...(T)he District Court troublingly focuses its attention not on the statute or precedent regarding release pending appeal, but on the fact that Mr. Whitfield was convicted, in essence pre-judging the results of the appeal. ... Under the District Court's reductive and simplistic syllogism, any person who was convicted could not make bail because the conviction was simply correct. Under such reasoning no person would ever be free on bond," attorneys argue.
Attorneys also dispute Wingate's dismissal based upon Whitfield's lack of a compelling case. The same district court, they argue, has already implicitly recognized in related civil litigation involving Minor that there are "substantial questions of law or fact" pending on appeal, which, lawyers say, might materially affect any related proceedings.
Previous Comments
ID

150078

Comment

Former Judge John Whitfield is where he needs to be - in prison. He was taking money from Paul Minor when he ruled on my case, against me and in favor of Minor. Minor repeated told me, on audiotape, that that he could get Judge Whitfield to rule the way he wanted. If only Whitfield could be charged with all the other illegal acts he did, he'd be in prison for the rest of his life. Whitfield was Minor's paid servant, pure and simple. The writer of this article carefully crafted it to appear that there is reason to doubt Whitfield's and Minor's guilt. There is no doubt of their guilt in my mind, nor was there in the minds of the jurors convicted them.

Author

Story Teller

Date

2009-07-25T10:11:09-06:00
ID

150079

Comment

Could you give your name, Story Teller, since your talking about your case? That would help us understand what you're saying. And were those audiotapes in the trial? Remember, the real issue is about selective and political prosecution, regardless of levels of guilt. And the proof that the judge required and how that compares to other cases.

Author

DonnaLadd

Date

2009-07-25T10:17:04-06:00
ID

150082

Comment

Audio tapes of Paul Minor and then judge Whitfield in Whitfield's courtroom. If the real issue was selective prosecution which is a defense only for rich and powerful political contributors. If not then any and all Democrat, including those that remotely supported the Democratic party, who were prosecuted during the Republican administration ( 2000-2008) should be allowed this defense. You are right, as our courts see it now, they are not concerned with guilt or innocence with respect to the law. (Somehow, if grammer school children learn that principle) They are engaged in inventing a defense to protect generous political contributors. If I a criminal under suspicion, I would seriously consider donating to the Republican party at this time, so that I could raise this defense, selective prosecution, if I am prosecuted. Then of course, there are wealthy people who donate to both parties. What I am saying here is our laws are operating under a double standard, one for the rich and influential and one for the rest of us, including you. Our judges stand to benefit with the political prosecution defense. By protecting political contributors they ensure the continuation of their appointments or election to the bench.

Author

Story Teller

Date

2009-07-25T15:27:18-06:00
ID

150101

Comment

Answer Donna's question "Story Teller" please.

Author

blkjazz

Date

2009-07-27T09:49:50-06:00
ID

150105

Comment

The editor has my name in the login info, which is the information I believe you are requesting. I answered one question about the audiotapes, which were later verified and secured. Whitfield and Minor both admitted in court record that the tapes existed. What is your interest in accessing information about my case? What good will that do now? The full story is soon to be published in a book, so it would be best to wait and get the all the details rather than a piecemeal story. The book will leave no doubt about Paul Minor's and former Judge Whitfield's guilt, and give reason to question the guilt of others, who were involved and benefited from the bribery. This article is about Whitfield's motion to grant exception to the law against bribery to generous political contributors and the judges and political servants who receive them.

Author

Story Teller

Date

2009-07-27T10:23:40-06:00
ID

150112

Comment

The point, Story Teller, is that you are referencing your own case, indicating you don't mind speaking publicly on this; it would give you a lot more credibility if you publicly identify yourself by name. Maybe it would be good publicity for your book. (smile) Regardless, if you're going to bring supposed new evidence to the table, you need to identify yourself so we can ascertain your credibility, as well as ask you real questions. This isn't one of those blogs where anyone posts anything they can pull out of thin air anonymously and expects everyone to believe them without question. Otherwise, don't twist my points, please. Of course, guilt matters -- and it has to be proved. Whether it is or not, the issue of selective political prosecution is huge, regardless of guilt or innocence, and should worry everyone regardless of political party leaning. And it is very interesting that Wingate made it easier to "prove" a bribery case, saying that you don't actually have to prove an act of bribery, I believe it was, once the feds lost the case the first time and retried them. This should worry everyone.

Author

DonnaLadd

Date

2009-07-27T11:16:33-06:00
ID

150115

Comment

Judge Wingate did not make it easier to prove a bribery case, he removed the barrier erected by the lawmakers insuring corrupt public officials a "get out of jail pass." Minor, Diaz, and Whitfield's motions are proof that that defense exists - but only for those wealthy and influential enough to claim and pursue it. Although Judge Wingate should have called a mistrial on the first trial which ended with an acquittal of Diaz, he did do it right on the second trial. My credibility is not at issue in the above article. For the rest of the story, you will have to wait for the book. http://www.tulanelink.com/stories/swan_09a.htm

Author

Story Teller

Date

2009-07-27T11:39:36-06:00
More like this story
More stories by this author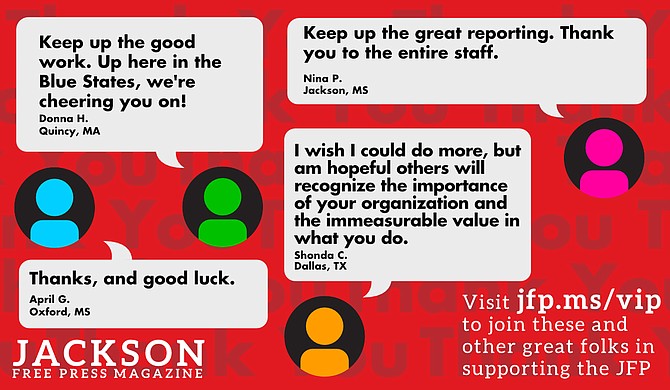 Thanks to all our new JFP VIPs!
COVID-19 has closed down the main sources of the JFP's revenue -- concerts, festivals, fundraisers, restaurants and bars. If everyone reading this article gives $5 or more, we should be able to continue publishing through the crisis. Please pay what you can to keep us reporting and publishing.