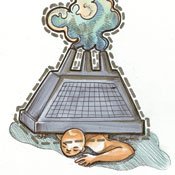 The former mayor of Tupelo is heading a new energy advocacy group that critics say is pushing for a prohibitively expensive lignite coal plant and expansions of the Grand Gulf nuclear facility.
Advance Mississippi is a new coalition of state energy, business, community and academic leaders that announced its existence earlier this month. Heading the group is Chairman Glenn McCullough, former Tupelo mayor and chairman of the Tennessee Valley Authority from 2001-05.
The group's stated purpose, according to its Web site, is to "advocate for sensible energy policy ... and educate policy makers, business and community leaders, and the general public about superior energy policies that will foster economic growth."
The organization also released its first brief this month: "Keeping Mississippi Powered: A Snapshot of Mississippi's Growing Demand for Electricity." The report claims the state's electrical needs will grow considerably in the near future, with the rise of suburbanization and industrialization.
McCullough wrote in a Clarion-Ledger column that Mississippi's annual average increase in electricity consumption from 1980-2005 was 2.6 percent, and that the commercial and industrial sectors consume 61 percent of the electricity produced.
"Our electricity grid strains under this demand. Mississippi will without question need new sources of power to keep up with this growth in the years ahead," McCullough wrote.
But the information runs counter to predictions from energy professionals who reported in a 2008 Wall Street Journal article that the nation is trending toward a drop in energy use.
Jim Rogers, chief executive of Duke Energy, said fuel consumption was falling even in areas where fuel prices were altogether flat and unaffected by the dipping economy, and that "something fundamental is going on" with how people use electricity.
Advance Mississippi's push for more power production also contradicts critics' claims that the state already contains more power companies than it can reasonably use.
Power plants in the state are capable of producing about 14,000 megawatts on any given day if power companies open the spigot on their existing plants. Mississippi Power and Entergy power plants produce about 6,000 megawatts each, but power plants owned by independent power companies like K-GEN (which currently owns a spanking new—but largely unused—natural gas plant in Jackson near Highway 220) can produce a total of 7,993 megawatts. Mississippi Power explains in its company profile that it sells considerable energy produced in the state to neighboring states like Florida.
Mississippi Sierra Club Director Louie Miller said the electricity already available to the state is three times what the largely rural state needs, even on peak demand days, and calls Advance Mississippi a front created to sell the need for new power plants like the embattled lignite plant in Kemper County.
"They want the public to buy into their purchase," Miller said. "This proposed coal plant is dirty and expensive. In a lot of circles they're even saying this type of plant is more expensive than a nuclear plant. So they create a front group for Entergy and Mississippi Power, so they can build lavish, expensive power plants, and tick them into customers' rate base."
Contrary to Miller's statement, however, founding members of the group include Entergy Mississippi among others, but not Mississippi Power. Mississippi Power spokeswoman Cindy Webb did tell industry periodical Electric Power Daily in June that Mississippi Power representatives met recently with Advance Mississippi representatives and is "currently evaluating" its involvement with the group.
If the organization does exist to promote the construction of a lignite coal plant in Kemper County and expansions to Grand Gulf, it will have a steep hill to climb.
Mississippi Power filed a failed motion in January for the state's Public Service Commission to fast-forward deliberations on development of the $2.2 billion integrated gasification combined-cycle (IGCC) power plant. The PSC stepped away from fast-tracking the program because of perceived rate increases to energy ratepayers.
Opposition to the 582-megawatt Kemper County plant, including the Sierra Club and AARP, claims the plant could raise ratepayers' utility bills by up to 15 percent, and that ratepayers would still be responsible for financing a portion of the plant even if the project is scrapped.
The cost effectiveness of nuclear energy is in hot dispute this year, with nuclear-plant proposals getting erased from the drawing board due to projected high costs, which can approach $7 billion or more. Entergy subsidiary Entergy Nuclear suspended reviews of its own nuclear-license applications to add another reactor to the Grand Gulf power plant this January.
Instead, it is considering expanding the current reactor, providing an extra 18 megawatts of power at a cost of about $470 million. System Energy Resources, another subsidiary of Entergy, submitted the petition in May to the Public Service Commission for permission to work with South Mississippi Electric Power Association to upgrade the reactor.
Michael Morris, chief executive of American Electric Power Co., one of the country's largest power producers, warned in The Wall Street Journal that utility industries should be slow to break ground on expensive new projects. "The message is: Be cautious about what you build because you may not have the demand" to justify the expense, Morris told The Wall Street Journal.
McCullough did not immediately return phone calls.
More stories by this author
Support our reporting -- Follow the MFP.