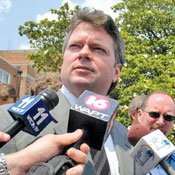 Updated Jan. 14 with Entergy response.
Attorney General Jim Hood and Public Service Commissioner Brandon Presley hammered Entergy Corp. with one of its own admissions last week, arguing that an Entergy correction to Mississippi Public Service Commissioners is the first step in an even bigger lawsuit Hood's office launched against the power company last fall. The letter ultimately stems from a Louisiana Public Service Commission decision that Entergy must refund $72 million to that state's customers because it had inflated fuel adjustment charges to customers' in 2000.
LPSC reports show Entergy Louisiana had opted out of a contract with NERCO Oil & Gas in favor of a new gas supply contract between Entergy and Evangeline in 1991. Entergy then paid fines resulting from the subsequent breach-of-contract suit through fuel-adjustment charges, even though state law in both Louisiana and Mississippi says the only thing the company can pass through fuel-adjustment charges are actual costs for fuel.
Louisiana commissioners fined the company for the behavior, but Entergy assured Mississippi commissioners last year that this state's customers had not suffered any fuel adjustment hikes as a result of the Evangeline contract, even though the state had some access to power generated through the contract.
Entergy attorney Henderson Hall changed the company's statement in a Jan. 9, 2009, letter, however. "In the course of the continuing review of the facts in connection with this matter, Entergy Mississippi and Entergy Services now have reason to believe that beginning in January 2005, energy produced by the Evangeline gas contract has been sold in the Entergy Exchange and may have an effect on the costs paid by Entergy Mississippi customers," he wrote.
Public Service Commissioner Brandon Presley said the admission represents "a seismic turnaround."
"The company's been saying forever that nothing going on in Louisiana was happening here, and now there comes this big midstream change. Suddenly they say they might have been wrong about that," Presley told the Jackson Free Press. "It could have been an error, but it still brings about more questions than answers."
Hood said the letter added weight to his argument that Entergy has been bilking money out of Mississippi customers using the same practices it used in Louisiana.
"I'm delighted they've admitted to this much, but it's unfortunate they've driven this out for six months," Hood said. "They said under oath that they didn't do that, that they didn't pass those charges on to Mississippi, but now their own lawyer is admitting in a letter that they've done exactly what we said they did. I just hope they'll come forward and admit to the other allegations, because the Evangeline thing is just one small part of our suit, which covers a lot of other causes of action."
Entergy Spokeswoman Mara Hartmann was reached for comment just before going to press, and said Hood was trying to mislead the company's customers.
"Today (Jan. 13), for example, he's stating that the Evangeline contract was eight percent one year and 10 percent another, and he's either playing fast and loose with the facts or he doesn't know how to read the documents because eight and 10 percent are the total fuel purchases for that year from the Entergy system exchange—of which the Evangeline gas comprised less than one percent," Hartmann said.
Hood could not be reached for comment Tuesday before going to press.
Hood filed a lawsuit against Entergy in December, accusing the company of deceptive-trade practices, antitrust behavior, accounting manipulation and unlawful enrichment, among other charges. He said Entergy "transformed Mississippi into a dumping ground for high-cost electricity" by buying more expensive energy from Entergy affiliates, instead of cheaper, independent sources, as demanded by the company's regulatory compact with the state of Mississippi, and that the company fraudulently claimed to the Mississippi Public Service Committee in 2008 that it was purchasing the cheapest power while engaged in the discriminatory behavior.
The attorney general also asserts that the company used its captive customers' money to finance the expensive operation of nuclear plants in the Northeast and that it also diverted to the Northeast nuclear facilities $71 million in federal tax refunds related to the Gulf Opportunity Zone Act of 2005. (The company received a $344 income tax refund through the act to rebuild power grids inside Hurricane Katrina's hard-hit targets, but only used $273 million of that on hurricane-affected affiliates—with 21 percent going to the Northeast nuclear plants.)
Hood launched his lawsuit in response to an August PSC hearing on a 30-percent rate increase that Entergy Mississippi was attempting to clear with the commission.
More stories by this author
Support our reporting -- Follow the MFP.