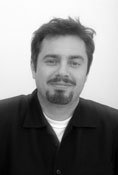 Last weekend, David Hampton, editorial director of The Clarion-Ledger, wrote what could have been an important first step for the newspaper that did a fair bit to help get Frank Melton elected.
In the waning days of Melton's first federal trial, Hampton penned a "mea culpa" of sorts, in which he owned up to the paper's foibles in tripping over itself to support Frank Melton's candidacy (and his early months as mayor).
Unfortunately, Hampton did this with too wide of a brush, saying essentially that the media were just as charmed and confused as other supporters of the mayor, who has a gift for telling people what they want to hear, according to Hampton.
That's not an excuse. It's an admission of guilt and journalistic omission.
For starters, let's get in the way-back machine, when The Clarion-Ledger drummed up a marketing campaign I call "Perception Gate" during the Harvey Johnson administration. Going after then-Police Chief Robert Moore, a Clarion-Ledger reporter (and/or editor) misquoted the chief as saying that a "perception of crime" was causing panic in the community.
Moore was actually trying to communicate a common, sensible notion about community policing. A "perception of fear" can take hold when the media misreports or over-reports crime; at the time, The Clarion-Ledger and other media failed to notice that Jackson was statistically in a crime "bubble" where current quarter vs. year-ago quarter comparisons couldn't tell the whole story, because the year-ago quarter had been abnormally low.
On average, crime figures were getting better every year in Jackson at the time. But instead of contextualizing crime, Clarion-Ledger columnists and writers beat the drum of "PerceptionGate" and Morgan-Quitno "dangerous" rankings, paving the way for Mr. Melton's primary victory over Johnson.
According to Mr. Hampton's column Sunday: "This newspaper endorsed him. Now we know that was a mistake. Melton has been a disaster. We can look back now and see the signs, but we all let it slide because we liked what he said."
If the excuse really is that simple, then readers should be outraged. Why? Because The Clarion-Ledger extracts millions of dollars from this community and has the resources to look into this sort of thing without simply "letting it slide" because they find the politician likable. Hell—politicians are designed to be likable!
This is the height of irresponsibility for a professional news organization, and particularly egregious for the community's only daily newspaper.
And, of course, it isn't really that simple.
After all, during the campaign, The Clarion-Ledger failed to report everything it knew about Mr. Melton at the same time it was endorsing him. What they knew is this: Melton had lied to a judge in Meridian about whether he had leaked documents to the press—a report that he had fabricated during his 18-month tenure as head of the Mississippi Bureau of Narcotics.
And The Clarion-Ledger knew he was lying to the judge, because it was their reporter to whom he had given the report.
So, when they sat down to endorse him, they privately knew he was capable of perjury. Sitting in their archives was plenty of material on how many cases of his "boys" Melton had involved himself in at various levels of law enforcement. The C-L could easily have noticed how many prosecutions Melton had muddled by playing a TV cop while at MBN.
Fast-forward to 2006, and you have another interesting problem on your hands—The Clarion-Ledger apparently didn't want to report the Ridgeway incident that has Melton in federal court as I type. Although people in the community had tipped them off earlier in the week, we still beat the Ledger to the story when Adam Lynch set out to answer Donna Ladd's question after she'd seen footage of Melton that night at the Upper Level.
"Adam, find out how Melton cut his hand," she said.
So he did. The result was a Friday afternoon scoop posted on the Jackson Free Press Web site. The Clarion-Ledger half-heartedly followed up that Sunday. Why?
The truth is, The Clarion-Ledger still hasn't taken a hard look at how its editorial management decided to coddle Melton, although that's exactly what they did for years and early in his administration, only turning on him when he got huffy with a Clarion-Ledger reporter in City Hall in early 2006.
The Metro section has regularly held back on Melton, while over on the Op-Ed page a telling sign—they stopped reporting Morgan-Quitno numbers. (We're currently the 23rd "most dangerous" city, according to the flawed study designed to sell books.)
The Clarion-Ledger has a responsibility to the citizens of this city and the surrounding counties. As the "Fourth Estate" of government, the press has a responsibility to inform the citizenry in a democracy, which is why the Founding Fathers wrote freedom of press into the First Amendment.
The Clarion-Ledger seems more than happy to exploit that right in the interest of selling circulars on Sunday and shied away—by admissions from its editorial director—from printing all it knew about a mayoral candidate and, later, a mayor. Why the oversight? Well, he charmed them, they say.
Melton did not charm the JFP. Watching recordings of his old "Bottom Line" messages during the campaign, we noted that they were often illogical and demagogic, when they weren't outright slander.
Following him around during the campaign, we heard him say one thing in Highland Village and another on Farish Street. We noticed that his theories about crime fighting were not sound or credible when he was running, and we noticed that his tactics as mayor were not constitutional once he had the job.
Writing "weren't we all just fooled?" isn't good enough. C-L editorial management needs to tell this community what dramatic fail-safes you're going to implement—what drastic changes you're going to carry out—in order to absolutely ensure you get the story right in the future, and not be easily fooled.
Hampton tells us that the C-L ignored the warning signs on Melton because they "liked" what "Frank" said.
I encourage the C-L to aim higher next time. Shoot for the truth.
Previous Comments
ID

144126

Comment

Well said, Todd! While it is very big of them to admit a mistake, they helped in ratcheting up the fear of crime in Jackson in order to sell a few papers and to put their man in office. This is exactly what this city didn't need: a daily paper working against the interest of its own hometown. Waving the banner of fear help get us to where we are now. I hope now they learn their lesson and not let certain things for certain candidates slide by just because they simply like them.

Author

golden eagle

Date

2009-02-26T13:35:20-06:00
More like this story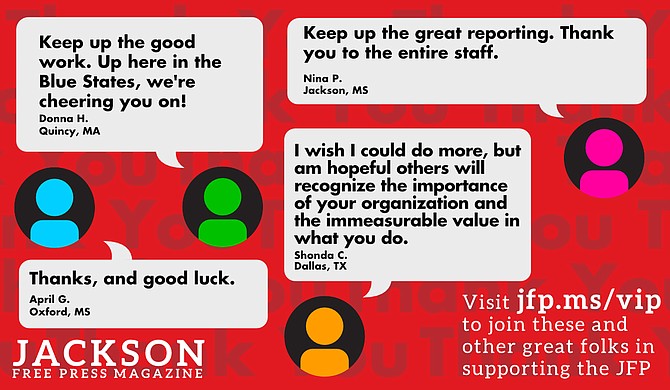 Thanks to all our new JFP VIPs!
COVID-19 has closed down the main sources of the JFP's revenue -- concerts, festivals, fundraisers, restaurants and bars. If everyone reading this article gives $5 or more, we should be able to continue publishing through the crisis. Please pay what you can to keep us reporting and publishing.