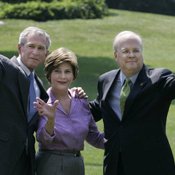 Of all the interesting odors hovering in the wake of the exiting Bush administration, the most pervasive smell could prove to be the sickly scent of corruption. The reek sank as far south as Mississippi, and will likely take Congress years to clean, if it manages to get its hands on a big enough mop.
Congressional Democrats are repeating a failed 2007 effort to drag former White House Chief of Staff Karl Rove to testify on the alleged politicization of the U.S. Department of Justice under former Attorney General Alberto Gonzales.
Rep. John Conyers, the Democratic chairman of the House Judiciary Committee, fired off another subpoena to Rove last month, demanding his presence at a Feb. 2 hearing.
Conyers also wants Rove to address questions on the Justice Department's firings of nine U.S. attorneys in 2006, an issue that first prompted suspicion about the politicizing of the Justice Department.
A series of DOJ internal e-mails contains a list of targets, rated first to last according to their sense of "loyalty to the President and Attorney General."
Rove Goes Local
Mississippi U.S. Attorney Dunn Lampton was one of the names on a 26-member hit-list, but Lampton held his job after bringing a series of indictments aimed specifically at Democratic judges and a prominent Democratic fundraiser.
Lampton unleashed several indictments for corruption against Harrison County Circuit Judge John Whitfield and Chancery Court Judge Wes Teel, Mississippi Supreme Court Judge Oliver Diaz and Mississippi attorney Paul Minor in 2005. Prosecutors alleged that Minor had purchased favors from the three judges by insuring campaign donations for the judges. Lampton's team could not find a way to actually link any specific case with a monetary donation, however. Diaz had never overseen any of Minor's disputed cases, and the other judges had been assigned to Minor's cases, not requested them. Teel told The Biloxi Sun-Herald in 2007 that the parties in Minor's case had even "reached the settlement on their own."
The prosecution could not prove to a jury that Teel and Whitfield had behaved illogically in any of their court decisions over Minor's cases. It was a tough sell, and a jury acquitted Diaz in August 2005, and could not reach a verdict on the other three defendants.
That didn't stop Lampton. Three days later, he launched a second indictment against Diaz and his wife for tax evasion and announced he would retry the cases against the other three.
Teel's wife, Myrna Teel, told the Jackson Free Press that Minor had been Lampton's biggest target all along, and that the other defendants, including her husband, had been collateral damage in the battle to get Minor.
"Wes and I were never big Democrats, but Paul was a big Democrat and had co-signed a loan for Wes," Myrna Teel said, adding that her husband had told her that federal prosecutors wanted "some dirt on Paul Minor," something that Teel said her husband couldn't provide.
Myrna Teel, who suffers from multiple sclerosis, said that prosecutors brandished the threat of indictments against her husband if he did not give them something on Minor. She recounts that her husband had nothing to offer and summarily faced indictment weeks later.
Diaz told the Jackson Free Press that, like Teel, Lampton may have trampled him in order to get to Minor.
"The tax trial was a separate case, but Lampton might have just been mad at that point and wanted to go after me, but it originally started because of Paul," Diaz said. "After all, Paul was one of the largest donors for the John Edwards campaign, and the Bush administration perceived Edwards, at that time, as a very likely opponent in 2004, so they started investigating all of Edwards' donors. I was one of Paul's beneficiaries, and they used that as the vehicle to go after Paul."
Lampton's office did not return calls, although Lampton denied in 2007 that the prosecution was biased. "It was absolutely not political. The jury heard all the evidence and convicted Minor, and I feel real comfortable about that. What Minor did was reprehensible," Lampton told the Jackson Free Press, then.
With Help From Friends
Lampton had an easier time of chasing Minor in the 2007 retrial, however. The prosecution followed federal requirements in Minor's 2005 trial to show quid pro quo in jury instructions. Specifically, the quit pro quo requirement demands proof that "monies were provided" and "unlawful favors received."
But Ronald Reagan appointee U.S. District Judge Henry Wingate made the fight easy for Lampton's people the second time around, allowing that "there need not be a mutual intent on the part of both the giver and the offeree or acceptance of the bribe," according to Minor's 2008 appeal.
Wingate also allowed the jury to find Minor guilty "even though you find that the (defendant judges') rulings were legal and correct, that the official conduct would have been done anyway, that the official conduct sought to be influenced was lawful and required by law, and that the official conduct was desirable and beneficial to the public welfare."
Now that no proof of the bribe was necessary, even Lampton proved capable of pushing a case for bribery against Minor . A jury found Diaz not guilty of Lampton's tax-evasion charge in 2006 (he had corrected his tax filings prior to the trial), but a different jury had no problem finding the other defendants guilty on their first charges in 2007.
Wingate sentenced Minor to 11 years and ordered him to pay an exorbitant fee of more than $4 million in fines—15 times the recommended amount in federal sentencing guidelines. Whitfield got nine years in prison. Teel got five.
The House committee notes that the Minor indictments followed a disturbing trend of high prosecution rates for Democrats as opposed to Republicans under the Bush administration.
The act of using the DOJ as a brass knuckle to beat Democrats did not begin and end with Mississippi, according to University of Missouri communications professor Donald Shields. Shields told the Jackson Free Press last year that Minor, Diaz, Teel and Whitfield are only case samples of a much bigger movement that may have proliferated under the Bush administration.
Shields and John F. Cragan, professor emeritus in the department of communication at Illinois State University, compiled a 2007 academic study—slated for final updates this year—and published by University of Missouri communications that suggests the U.S. Department of Justice had a dangerously strong preference for Democratic targets. The report found that of 375 investigations released to the public, 10 involved independents, 67 involved Republicans—but a jaw-dropping 298 involved Democrats. The numbers amount to the DOJ investigating seven times as many Democrats as Republicans.
Many of the investigations never culminated in indictments, but Shields told the Jackson Free Press in 2008 that politically motivated prosecutors didn't have to take a case to court in order to impact a local election. The U.S. Attorneys office made a habit during the Bush years of building a rapport with some local reporters who receive DOJ leaks on ongoing investigations.
Myrna Teel said local newspapers regularly reported her husband's investigation long before it officially hit the courts. The Clarion-Ledger also regularly received case information before the Minor trial progressed.
Even if a grand jury had chosen not to indict Minor or the judges, news of their investigation had already been leaked months in advance, potentially tainting any political race connected to Minor, such as that of former Democratic Gov. Ronnie Musgrove.
Conservative Web sites howled over Minor's campaign donations to Musgrove as recently as Musgrove's 2008 race for the U.S. Senate, even though Musgrove said he took the donations years prior to Minor's 2007 conviction.
National Impact
The combination of intentional leaks, facilitated by one or two helpful judges, broke the back of Democratic political funding in Mississippi. Myrna Teel links the whole movement back to the White House and said she looked forward to Rove coughing up more information on the DOJ in February.
"I know Rove had a hand in this. It was all political and coming from Washington," she said.
It would not be the first such accusation. Former Alabama campaign volunteer Jill Simpson told Congress in a sworn 2007 statement that she had overheard a conversation that Rove, operating from the White House, was involved in the prosecution of former Democratic Alabama Gov. Don Siegelman. Simpson relayed a Nov. 18, 2002, conference call between the son of Alabama's new Republican governor, Bob Riley, Riley's political operatives and members of Alabama's U.S. Attorney's office that Rove "had spoken" with the U.S. Department of Justice about pursuing Siegelman with prosecutions.
Simpson also said she had overheard Rove telling Riley's people "not to worry" about the Democratic governor because Alabama U.S. attorneys working for Republican operative Bill Canary "would take care of" Siegelman. Simpson also told Congress that the attorneys would install a judge over the Siegelman case that would "hang" the Democrat.
The House subpoenaed Rove in 2008, but Bush hid Rove under the rock of "executive privilege" to keep him from slithering up before the House. Bush also blocked congressional demands for testimony from Rove and other administration aides like Miers.
Democratic President Barack Obama has come to Washington, however, and Conyers is hopeful the stalled investigation can continue.
"Change has come to Washington, and I hope Karl Rove is ready for it," Conyers told The Wall Street Journal. "After two years of stonewalling, it's time for him to talk."
Rove's attorney, Robert Luskin, told the Post that he would appeal to the new president to preserve his predecessor's use of executive privilege, but assured reporters that "at the end of the day, Rove will do what he is told."
Perhaps aiding in the investigation is the nation's first black attorney general. The Senate Judiciary Committee kicked things off last Wednesday by voting 17-2 to endorse Obama's nomination of Eric Holder, with only conservative stalwarts John Cornyn, R-Texas, and Tom Coburn, R-Okla., opposing the nomination.
Holder is showing more investigative interest in the alleged politicization of the DOJ than his predecessor. The Huffington Post reported that Holder promised senators this week that he would review why career prosecutors in Washington had decided not to prosecute the former head of the department's Civil Rights Division after an inspector general's report found that former division head Bradley Schlozman lied to lawmakers about whether he politicized hiring decisions.
Holder is also in a position to reverse Bush's order to protect Rove, Miers and Bolten from testifying before Congress.
Minor's attorney Hiram Eastland said he is encouraged by the new make-up of the Justice Department and the president's office, and felt Rove's testimony could have "huge" consequences.
"We think they're going to find out that Karl Rove was actually involved with the Justice Department and countless cases of political prosecution, and in the creation of nothing less than political prisoners," Eastland said. "Congress is addressing the U.S. attorneys firing and all, but they've yet to get down to the questions that were raised about whether these prosecutions were political. We're not aware that they've gone around and questioned anyone. There's been very little follow-up after our letters to the Office of Inspector General and Office of Professional Responsibility. We're not saying the investigations won't happen. They may have ultimately planned to get around to them anyway, but this was never meant to be a country where we take political prisoners and we're encouraging Congress and the Justice Department to get to the bottom of these issues."
Diaz said he was not confident Rove would be speaking before a House committee anytime soon.
"I'm still doubtful that he's going to testify. I think he's still going to assert some form of executive privilege," Diaz said. "Even if Obama doesn't respect the last president's executive privilege—and I don't think he will—Rove will probably get Bush to reassert it and take that to court and tie it up even longer."
Diaz said the issue of a former president trying to exert executive privilege has never directly been addressed in court, with fledgling presidents often refusing to press the matter. Even Bush, who worked overtime to undo Clinton's accomplishments, put his heel on congressional investigations into Clinton's storied affairs.
"It's a legal question that's never been litigated. It was tried once by (President) Harry Truman, but the issue was dropped before it ever went to court, so it's never been litigated in the courts as far as I know, and this may be where this one's headed," Diaz said.
TPMMuckraker reported this week that Rove planned to cooperate with a federal criminal probe of the firings being led by Acting Connecticut U.S. Attorney Nora Dannehy.
Luskin said Rove has already been cooperating with an OPR probe of the DOJ's prosecution of Siegelman, telling reporters that Rove claimed to investigators "that he absolutely [has] nothing to do with [Siegelman]."
A new president also gets to appoint a new round of U.S. Attorneys, and Lampton may have thought his chances for reappointment slim under the Obama administration. The Republican donor announced his retirement from the U.S. Attorney's office Jan. 31.
The outgoing Lampton said in a press release that the Southern District of Mississippi has received "two Attorney General Awards, ten Executive Office for U.S. Attorneys Director's Awards, a national Department of Justice 'Weed and Seed' Award, and the office has been listed by the Department of Justice in its Best Practice Publication for Anti-Terrorism Initiatives."
He is leaving out that the Department of Justice's Office of Professional Responsibility and the U.S. Treasury Department are investigating allegations that Lampton inappropriately shared private income tax information on Diaz and his wife with the Mississippi Commission on Judicial Performance and with one of its then-commissioners—his cousin Leslie B. Lampton. Leslie Lampton may not have recused himself from the 2006 MCJP meeting, even though his cousin had been chasing a well-publicized conviction against Diaz only weeks prior to the meeting.
Jackson attorney Kevin Watson may be representing Leslie Lampton in the matter, though the attorney did not immediately return calls to confirm his representation of Lampton.
Diaz refused to comment on the Lampton investigation.
Previous Comments
ID

143299

Comment

Thank you Adam Lynch for The Sour Smell of Corruption, a very brave, powerful piece of reporting on this scandalous abuse of power by Rove/Lampton and their confreres in Alabama. The latter dragged a great man Don Siegelman off to prison in shackles after a KANGAROO trial laced with poisonous conflicts of interest, from the prosecutor through the jury room to the judge. Your article lays bare the same illegal and dangerous misconduct in your great state. Let justice roll down! The eyes of the nation are upon you.(I write from CT.)

Author

phsheets

Date

2009-02-05T07:55:15-06:00
More stories by this author
Support our reporting -- Follow the MFP.