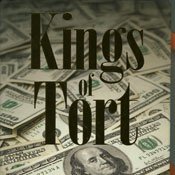 The authors of the recent book "Kings of Tort: The True Story of Dickie Scruggs, Paul Minor and Two Decades of Political and Legal Manipulation in Mississippi" don't mince words when trying to convey a white-trash tale of former attorney Paul Minor, who was convicted on federal bribery and honest services fraud charges in 2007.
"Minor, who was married, was observed alone at the (Jackson Marriot Hotel) bar after having consumed at least five drinks and told a young attractive black female next to him that he wanted to 'stick his *ick in her *ss.' Minor had the misfortune of having two off-duty DEA agents in the bar purely by coincidence," states the self-published "Kings of Tort," which then goes on to say that hotel security escorted Minor to his room "after words were exchanged with the bartender over the inappropriate remarks."
But Paul Minor's attorney Hiram Eastland said the evidence of that account didn't stand up in the court that convicted him.
"There's no factual support for some of the things (the authors are) saying," Eastland said. "The quote they say he made to that black lady at the bar wasn't even admitted as evidence, because the bartender they claimed had the exchange with Minor self-testified that that didn't happen—and they didn't even point that out."
This is one of the many advantages a book has over a courtroom, which has to determine the use of evidence and testimony based upon the legality and, most importantly, the stability of the allegations.
In the book industry, "Kings of Tort" would be considered a "clip job"—it draws on an exhaustive body of research from court documents and media "clips" on the Paul Minor and Dickie Scruggs saga. Having the sources referenced in one volume isn't uncommon and can be handy, but Eastland isn't the only voice crying foul on the heaping helping of political bias that prevents the book from reading like an authoritative account. Critics, in fact, abound for "Kings of Tort," a book co-authored by Jackson right-wing blogger Alan Lange and federal prosecutor Tom Dawson, who prosecuted the Scruggs cases and just retired last January 2009.
Blogger's Revenge?
"Kings of Tort" lumps together the rise and fall of two of Mississippi's most notorious attorneys, Richard "Dickie" Scruggs and Minor. Scruggs pled guilty in 2009 to trying to corrupt Circuit Court Judge Henry Lackey, while a federal jury found Minor guilty of federal corruption and honest services fraud in 2007 for the loans he guaranteed for former judges Winston Teel and John Whitfield.
The book also touches on attorneys Joey Langston, Timothy Balducci and convicted Hinds County Circuit Court Judge Bobby DeLaughter, although Scruggs is the main focus. Dawson was lead prosecutor for the U.S. attorney's Office in Oxford during the course of the Scruggs case, and provides a point of view nearly exclusive to the prosecution.
Jackson Attorney C. Stevens Seale makes clear his disapproval of Dawson's delivery of information, arguing that Dawson bumped up against an ethical line in using his role as federal prosecutor to create a money-making venture.
Seale bit deeply into Dawson's use of his old job for book fodder.
"He's a lawyer, but he's also a specific kind of lawyer. He's a prosecutor for the federal government. What I said was I don't think it's right for anyone in that specific status to profit from the information that he gained on behalf of his client, the U.S.," Seale said.
Former Supreme Court Justice Oliver Diaz fought off a 2003 indictment that named him as a co-defendant with Minor, and former judges Teel and Whitfield. Diaz, who also enjoyed Minor's campaign donations, beat back prosecutors' accusations because he had refused to preside over any cases involving Minor. U.S. Attorney Dunn Lampton kept swinging punches at Diaz after his acquittal by immediately—and unsuccessfully—charging the judge with tax fraud.
Diaz calls the book "a pitiful bid to profit on the part of an irresponsible right-wing blogger and a partisan prosecutor who may have improperly used his office and now seeks to personally profit from his position of public trust."
The former judge also railed against what he says is false information in the book regarding his living conditions: "Why did the authors feel compelled to state as fact that I lived in a condominium owned by Paul Minor free of charge when prosecutors offered no proof of this because they discovered that it was not true?" Diaz demanded.
The Angelic Chamber
The book is not above stretching the big picture, as well. Authors describe the state of Mississippi as the seat of "record-setting judgments of tens and even hundreds of millions of dollars," without mentioning the fact that higher courts regularly slimmed down huge rewards granted by local juries against organizations.
Nevertheless, the U.S. Chamber of Commerce, according to the book, saw fit to "step in and actively promote the campaigns of judicial candidates with a business-friendly judicial philosophy," almost as if it were a selfless endeavor by the Chamber.
But the book stops far short of explaining the full extent of the Chamber's involvement and the firestorm it created because the Chamber does not reveal the sources of the money it pours into the campaigns of anti-plaintiff judges. Nor does it remark upon the imbalance at the other end of the spectrum resulting from Chamber influence, as the Mississippi Supreme Court—now stuffed with heavily biased anti-plaintiff judges—spent four years overturning verdicts in favor of defendants and refusing to consider verdicts favoring legitimate plaintiffs.
Semi-retired attorney Alex Alston, for example, revealed in 2008 that between 2004 and 2008—the years when the Chamber successfully carried the campaigns of a host of pro-defendant judicial candidates—the state Supreme Court reversed 88 percent of all jury verdicts in favor of victims. During that same period, plaintiffs' success rate in reversing a jury verdict for the defendant in the court was zero, regardless of the severity of the infraction.
The book describes Minor's case as "a cause celebre among liberal Democrats who consider Minor to be a 'political prisoner,'" without touching upon the very reasons Democrats interpret Minor's incarceration as suspicious. For example: U.S. Attorney Dunn Lampton's removal from a 2006 26-member White House hit-list after he brought a series of indictments aimed specifically at Minor—who was also the biggest single-handed Democratic donor in the South.
The book left out the relevant issue of Lampton's family owning the Forbes 500 company Ergon, which Minor had sued for millions of dollars before Lampton prosecuted him twice. In fact, Minor was still working the Ergon suit in 2002, the same year the investigation began.
Et Tu, Witch Hunts?
The book stalwartly ignores reports of Republican witch hunts against Democratic fundraisers under President George Bush. University of Missouri professor emeritus Donald Shields and Illinois State University professor emeritus John F. Cragan compiled a 2007 academic finding that of 375 investigations released to the public, 10 involved independents, 67 involved Republicans—while a jaw-dropping 298 involved Democrats. The numbers amount to the DOJ investigating seven times as many Democrats as Republicans.
"Kings of Tort" was likely bankrolled locally. Canadian company Pediment Publishing, which bills itself as a "custom publishing company specializing in high quality coffee table books," printed the book. National online booksellers do not sell the book, but Amazon does give a link back to the Pediment site as it often will for self-published books. (A search at bn.com just brings up John Grisham's best-seller "King of Torts.") The book is available locally at Lemuria Books.
Pediment, which refused comment, is not a typical political book publisher that pays authors advances based on a juicy proposal; its bread and butter is in publishing pictorial books for newspapers, such as those owned by Gannett, including The Clarion-Ledger. Currently, the company Web site's home page describes its typical offering (mistakes and typos are theirs):
"Tradgedy struck again in 2008 when Hurricane Gustov and Hurricane Ike battered the Gulf coast. The devastation and peoples indomitable will to survive are chronicled in three books: "Wind and Water", which we produced for Houma Today, the Beaumont Enterprise book "In Ike's Wake", and "Hurricane Ike", a beautiful 208 page book and DVD we produced for The Houston Chronicle." (sic)
Conservative Northside Sun commentator David Sanders largely praised the book in a recent column, but reflected upon the book's many text errors, calling them "minor quibbles."
"[T]he text is plagued by a plethora of small usage errors. Pronouns in the wrong case, 'effect' consistently used when the authors mean 'affect,' mistaking $3 million for '3 percent of a billion,' when it is actually three tenths of one percent, to cite just a few," Sanders wrote.
"Kings of Tort" could have been a useful clip-job about the Scruggs case, but the authors seemed bent on turning it into a blunt political weapon, cherrypicking convenient facts and ignoring inconvenient ones.
Students of Mississippi corruption will be better served waiting for a journalistic treatment of the subject, due out from famed journalist-turned-Ole Miss journalism professor Curtis Wilkie, a former White House correspondent, this year.
Previous Comments
ID

154638

Comment

Is there any truth in the book? I've read excerpts from the book and the string of "coincidences" in the "personally guaranteed loans + no loan payments + no legalally mandated disclosure of loan guarantees" chain of events seem a little too........ "coincidential"

Author

FrankMickens

Date

2010-01-03T10:08:14-06:00
ID

154642

Comment

you'd think the writer of this would have actually told us who wrote the book...

Author

bill_jackson

Date

2010-01-03T22:07:38-06:00
ID

154643

Comment

Sounds like you need to read the piece, Rex. If you do, the mystery will be solved.

Author

DonnaLadd

Date

2010-01-03T22:19:45-06:00
ID

154654

Comment

Yep, that information is conveniently placed at the end of the 6th paragraph for easy reference.

Author

Mark Geoffriau

Date

2010-01-04T11:05:54-06:00
ID

154656

Comment

Sorry, mgeo, we lean toward narrative openings here—storytelling that gets people to read to the 6th paragraph and beyond. It's not like our readers aren't smart enough to figure out who wrote the book. I prefer not to insult them by assuming they need or want every single fact possible in the opening graf.

Author

DonnaLadd

Date

2010-01-04T11:12:20-06:00
ID

154657

Comment

No need to apologize. I don't take issue with the style of writing, only the execution of that style. I just find it a bit sloppy to begin the article with "The authors..." and then take 6 paragraphs before revealing who those authors might be.

Author

Mark Geoffriau

Date

2010-01-04T11:16:23-06:00
ID

154661

Comment

I wasn't really apologizing, mgeo. ;-) If the name of the book hadn't been so damn long, maybe we could have fit the two names sooner in the opening sentence! But the piece isn't really about the two men; it's about the book and what isn't in it, and what the mistakes are that make it less credible even on the stuff that they probably got right (like the highly publicized Scruggs case). We hadn't really planned to write about the book, but realized that the mainstream media are frothing at the mouth over it without showing concern about the way facts are framed and how apologist it is over the U.S. Chamber's role in judicial elections (amazing that they treat the U.S. Chamber's bankrolling judges as an angelic thing!). And then we started hearing people who know a lot about these cases talk about how selectively it treats these cases, especially Minor's. People need the whole story, even here in our wonderful home state where many aren't that fond of hearing the whole truth (can we say Two Lakes? Frank Melton?). I haven't read it, and don't intend to, but from talking to Adam, it sounds like the book should have been a straight-ahead clip-job about the Scruggs case, without trying to shoehorn the Minor case in with equal billing as it does. It sounds like they're using the Scruggs case, where the levels of straight-ahead corruption and bribery pay-offs are much less murky than in the Minor case, to justify the fact that Minor is in prison for many more years than Scruggs. When Minor was prosecuted the second time, the JFP called for the feds to look closer at Scruggs and not selectively prosecute lawyers who used the state's stupid campaign-finance laws to Democrats' advantage. At the time, we believed quite strongly that Trent Lott's brother-in-law was getting a pass. Adam wrote this piece to add needed perspective to the glowing (and extremely slanted) reviews of this book that are out there. And I'm quite confident that people who are interested in it are going to get at least to the sixth paragraph. So you and I will have to agree to disagree on our editorial decisions. I'm feeling pretty good about them. ;-)

Author

DonnaLadd

Date

2010-01-04T12:39:16-06:00
ID

154662

Comment

Appreciate the lengthy reply over a relatively minor point I raised -- and you're correct, we'll have to agree to disagree. I see nothing sinister or slanted in the decision to delay naming the authors to 6th paragraph (just unhelpful and awkward), so examining the perspective of the article itself in further detail isn't a particular concern of mine.

Author

Mark Geoffriau

Date

2010-01-04T12:49:01-06:00
ID

154663

Comment

No problem, mgeo. Actually, I was responding to Frank above, who asked if there is anything true in the book. Often I combine responses in one post as I don't have time to be on here all the time.

Author

DonnaLadd

Date

2010-01-04T12:53:51-06:00
ID

154667

Comment

Makes sense. Frank's comment was not visible to me at the time of my reply, so I assumed that your response was entirely to me and/or reximus.

Author

Mark Geoffriau

Date

2010-01-04T13:11:17-06:00
ID

154669

Comment

I know. I realized I hadn't turned it on as I was typing my response to you. No problem.

Author

DonnaLadd

Date

2010-01-04T13:16:10-06:00
ID

154879

Comment

I can't wait for Wilkie's piece. If I were Scruggs, I'd be quite pleased to have a family friend-an internationally renowned journalist, no less- writing a kinder, gentler account of what took place in Lafayette County.

Author

jbreland

Date

2010-01-07T11:12:06-06:00
ID

154880

Comment

As for Scruggs, Jackson, I don't think there is a kinder, gentler account, and Wilkie is too much of a journalist to let his bias take over like Lange and Dawson did. And even if he wanted to, the evidence on Scruggs is too strong for him to get away with it. Scruggs' shenanigans are all over the public record, and it's not like there was ever a quid pro quo problem. Remarkable that he is in prison for much less time than Minor, considering. Of course, Scruggs wasn't nearly as partisan in his dealings. Maybe that helped. Oh, and I bet the U.S. Chamber doesn't get the glowing pass the right-wingers gave them. Besides, considering that they didn't see fit to mention Mr. Lampton's family's lawsuit that Minor handled *before* Lampton indicted him (twice), it seems unlikely that they would want to even touch the issue of family bias. ;-)

Author

DonnaLadd

Date

2010-01-07T11:16:44-06:00
More like this story
More stories by this author