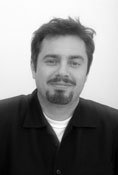 Before I was a newspaper publisher, I spent most of my time as a freelance writer and book author, which meant, largely, that I was alone in my office (wherever it happened to be). My focus was primarily on my career—looking for opportunities to speak, teach, write articles in glossy magazines, appear on television, and work on book projects that would further my expertise and allow me to win better projects and more favorable contract terms.
One thing I didn't know much about was "getting involved." While I had been involved in magazines and local media, my newspaper experience had been limited largely to my role as business manager and humor columnist for my high school newspaper in Dallas. (To this day I'm surprised that my senior superlative wasn't "Least likely to ever want to be business manager of a newspaper again.") Later, when I moved to Colorado, I wrote freelance stories for the daily paper as a car reviewer and technology columnist.
After I met Donna Ladd in Colorado, I started to learn more about the investigative side of local journalism—the "make a difference" angle. I watched her report stories about the sheriff, white supremacists, the ambulance service, the local electric utility—and I started to see the value in that "get involved" kind of journalism. Later, I met others at the Colorado Springs Independent, the Boulder Weekly, Denver's Westword and elsewhere, where the primary mission of the journalists on staff was to build context for a story and help communicate important information to readers. (Their other priorities included great music, books and food, which I thought was pretty cool.)
After a few years in New York City (where our apartment and social life was immersed in the "biz" while Donna attended Columbia and wrote for the Village Voice), I found myself in Jackson, willing (if wary) to attempt to turn my prior experience in publishing into something more local, urban and, perhaps, meaningful.
In the early days, I did a lot of stuff I was more comfortable with—I wrote for the paper (car reviews, tech, cover stories), edited pages, made changes on layouts and set up the Web site. And I made some sales calls and (tried to) manage salespeople. As the paper grew, so did the need for specialization, so I found myself spending less time in front of the computer and more time out and about—slowly but surely figuring out how to get more involved.
One thing I learned along the way: While you can hire and delegate any number of tasks in business or in organizational work, you can't really hire someone else to get involved for you. You've got to do it yourself, even if you come to it kicking and screaming.
Remember that lonely office back when I was a writer? While I still love to close my office door (particularly on the rare occasions when I'm writing) my work days now are much more about meeting and talking—with our staff, with local business owners, with nonprofit board members, with other media or marketing professionals.
The funny thing is, I've learned to enjoy it, in part because it's the only way you can get something like "change" done. It may only take a small group, but groups are what get things done.
Back in 2006 when The Clarion-Ledger introduced its Total Distribution Network (TDN) scheme, I got a huge lesson in getting involved. After meeting with The Clarion-Ledger distribution manager, I was back in my office—livid (and scared). Here was "Goliath" telling my small, struggling, cash-strapped publication that it had contracts with our distribution points, and we were going to have to pay the Ledger in order to put the JFP in places where we had already been distributing with success. This had happened in other parts of the country, and my gut instinct told me we'd probably have to give in.
Back in the office, though, JFP co-founder Stephen Barnette started picking up the phone and calling some of his advertisers who were on "the list." A few of us pitched in to call other publications that The Clarion-Ledger had told us they were talking to. (Others at those publications, in turn, started burning up their phones.) Scant days later, a group of us local publishers found ourselves in a borrowed conference room in Fondren, all recounting our stories and wondering what to do next.
In a nutshell, we decided to get involved. We agreed not to cave in to the pressure from The Clarion-Ledger, and we agreed that simply turning the problem over to a lawyer wouldn't work. Instead, the group divided up the list and went out to talk to all of these distribution locations. We showed them how to get out of their contract with the C-L, and we bought our own group boxes to place at their gas station, grocery store or business. We sold the value and uniqueness of our individual, local publications. We organized, got involved and stuck together.
End result? As far as we can tell, the C-L quietly folded the TDN program and picked up their multiboxes this fall. Meanwhile, MIPA—the Mississippi Independent Publishers' Alliance we all created—now manages over 100 group distribution locations in the Jackson metro.
I write that not to crow, nor do I suggest our effort was textbook, or that our energy or determination never waned. I write it only to make this point—anyone can get involved. Even introverted book writers. You don't have to be perfect at it (I'm not), and you don't have to have a lot of money, or permission, or a government grant or a college degree. You just need the desire to change your situation and just enough bravery to get over your fears.
When you do, you'll make a difference. And the best part? You won't have to do it alone. Others will help. Just ask David Watkins about the King Edward—he'll tell you about the fear, the worry, the setbacks, the times he wanted to give up—and the bravery and determination that got him through it. Perhaps most importantly, because of his doggedness, he also got critically important help along the way.
Result? Go see for yourself.
As you peruse this copy of the Winter GOOD issue, I hope you'll think of ways that you can get involved and make a difference. Because getting you involved is the best way we can all make progress in Jackson.
More like this story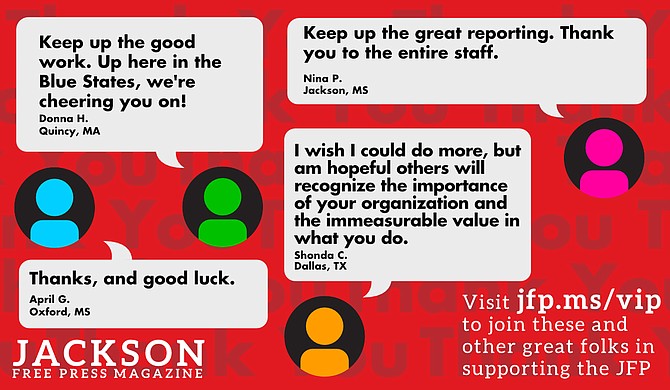 Thanks to all our new JFP VIPs!
COVID-19 has closed down the main sources of the JFP's revenue -- concerts, festivals, fundraisers, restaurants and bars. If everyone reading this article gives $5 or more, we should be able to continue publishing through the crisis. Please pay what you can to keep us reporting and publishing.