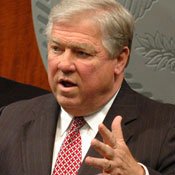 Gov. Haley Barbour is working hard to keep non-economic damages caps on lawsuits thoroughly capped. Barbour's office submitted a Dec. 17 amicus brief to the Mississippi Supreme Court, arguing that plaintiff Ronnie Lee Lymas should not be able to challenge the constitutionality of non-economic caps the Mississippi Legislature established in 2004.
Lymas sued Double Quick Inc. after he was shot in 2007 while leaving a Belzoni store, claiming the company didn't ensure his safety. A jury awarded Lymas about $4 million in medical costs and non-economic damages for pain and suffering. Humphries County Circuit Court Judge Jannie Lewis lowered the non-economic damages to $1 million to match the cap put into law by the Mississippi Legislature in 2004. Lymas' attorneys then challenged the constitutionality of the cap.
Barbour says the statutory cap limiting non-economic damages to $500,000 on pain-and-suffering in medical malpractice cases and $1 million on damages in all other cases was an important part of tort reform led by himself and the Mississippi State Chamber of Commerce, and that Lymas' appeal to the Supreme Court threatens to reverse it.
"Tort reform, including the non-economic damage cap, has worked," Barbour wrote. "Thousands of jobs have been created. Premiums have been lowered. Competition is returning to the market. As chief executive of the state, the governor has a strong interest in seeing that the recent progress is not undermined."
Barbour's argument, which is similar to a September amicus brief he filed with the Mississippi Supreme Court regarding a medical malpractice case, claims that 
the judicial repeal of the non-economic damage-cap provision of tort reform would have "a devastating effect" on state businesses.
"Insurance premiums for health care providers and businesses will dramatically increase. The state's ability to attract and retain businesses that create jobs and economic opportunity will be significantly hindered," Barbour wrote. To back up his argument, the governor quoted sources that have campaigned heavily for corporate immunity to lawsuits since 2000, such as the American Tort Reform Association.
ATRA's "2002 American Judicial Hellhole" report ranked Mississippi's 22nd Judicial Circuit as the "third worst in America," thanks to class-action lawsuits and "high jury verdicts."
Critics, however, call ATRA's "Judicial Hellhole" reports highly inaccurate.
The 2008 West Virginia Law Review described the same 2002 report that Barbour referenced in his amicus brief as "fall(ing) squarely within (the) tradition of scaring the public, but with a twist—this time the explicit goal is to appeal to the public as voters, to scare state politicians into making pro-defendant changes in the law in order to make the label go away, and to get rid of judges whose rulings made ATRA members unhappy."
Southern Methodist University law professor Elizabeth Thornburg joined critics in her report "Judicial Hellholes, Lawsuit Climates and Bad Social Science: Lessons from West Virginia."
"Judicial Hellholes are selected in whatever way suits ATRA's political goals," Thornburg wrote. "The choice is not based on research into the actual conditions in the courts."
Chamber nemesis, the American Association for Justice, further derides the "Judicial Hellholes" reports as a present "for its tobacco and insurance financiers."
"This report is another reminder of how corporations use front groups like ATRA to undermine the civil justice system," American Association for Justice CEO Jon Haber wrote in a 2008 press statement. "ATRA's drug, tobacco, and insurance financers spend millions on junk reports so they can continue their negligent behavior and avoid accountability."
AAJ cited a Charleston Gazette's report that ATRA refused to update West Virginia's ranking in its 2005 Judicial Hellhole report, even after the court case that served as the major basis for the bad ranking was proved to have never been filed in the state. ATRA placed West Virginia as the third worst in that report because of a lawsuit filed against DuPont regarding exposure to a chemical used to make the non-stick coating in Teflon pans, but it retained West Virginia in that spot after later admitting on its Web site that the case wasn't filed in that state.
Barbour remains resolute that the high number of malpractice lawsuits raised the cost of medical malpractice policies so high that many doctors abandoned some fields of medicine.
"The legal climate was so bad and malpractice insurance rates were so high that many physicians had to stop practicing in certain specialties," Barbour wrote, a statement that runs counter to information compiled by the American Medical Association itself.
AMA reports that Mississippi gained doctors more quickly during the years leading up to tort reform in 2001 and 2004, with the state recording no increase over the 5,872 doctors counted in 2004, and adding only 18 new physicians in 2006, while the state enjoyed a 145-increase in doctors getting their medical license between 2000 and 2001 and the 99-doctor increase between 1998 and 1999. Even the time between 2002 and 2003—arguably the years of the worst tort abuse, according to ATRA and other tort-reform proponents—experienced a growth in the state doctor population of 140.
Still, Barbour touts in his brief an incredible reduction in medical insurance costs for Mississippi doctors as a result of tort reform.
"After years of double digit premium increases, Medical Assurance Company of Mississippi (MACM) has reduced its rates six times. In fact, MACM refunded 15 percent of its insured's premiums for 2005 policies and 20 percent for its 2006 policies. It also reduced rates by 5 percent in 2006, 10 percent in 2007, 15.5 percent in 2008, and 20 percent in 2009," Barbour wrote, adding that "the reforms have resulted in a 42.2 percent reduction in professional liability premiums for Mississippi physicians since 2004."
Government watchdog group Public Citizen proclaims tort reform in neighboring southern states a failure at lowering health-care costs. A Dec. 17 Public Citizen report revealed Texas' medical costs outpaced the national average, that the uninsured rate remained the worst in the country and that the shortage of doctors in rural Texas areas was getting even worse, despite the state's Legislature adopting a $250,000 per defendant liability cap in 2003.
The report "Liability Limits in Texas Fail to Curb Medical Costs" does say that the state of Texas, like Mississippi, enjoyed a decline in doctors' liability insurance premiums since 2003—although this appears to be the only positive effect of the damages cap. The Texas numbers suggest insurance companies and the medical community are the only ones deriving any benefit from this situation, and have not passed savings on to Texas patients.
Mississippi Health Advocacy Program Director Roy Mitchell told the Jackson Free Press last month that health-care costs don't appear to reflect any reduction in insurance fees in Mississippi, either.
Updated Dec. 23 to correct information from the cited Charleston Gazette's report.
Previous Comments
ID

154458

Comment

The statutory damages cap is ridiculous. Review the Seth Becker decision http://www.ca5.uscourts.gov/opinions/pub/01/01-31420.cv0.wpd.pdf and look at the facts. Were that case decided under Mississippi law rather than the general maritime law, he would have been stuck with the $1 million statutory cap for noneconomic damages.

Author

QB

Date

2009-12-23T13:06:58-06:00
ID

154476

Comment

If jobs have been created because of this, where are they?

Author

golden eagle

Date

2009-12-24T12:45:22-06:00
More stories by this author
Support our reporting -- Follow the MFP.