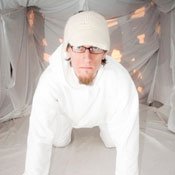 News footage from the last nine months fills a television screen with quick cuts from image to image. A dancer moves across the stage in curious confusion. A figure in white emerges, weaving his way toward and around the dancing woman.
Representing the oppressing ideals of opinionated news media, daniel johnson improvises his performance as mr. muddle, a character he created.
johnson has spent the last few years looking for ways to improve the community of Jackson and the surrounding area with his artistic talent.
In 2007, johnson founded the Mississippi Improv Alliance, a group of local performers looking for an exciting outlet.
"It really just gave us a platform to work from," johnson says about his team. "(The MIA) is a tool to connect the improv that is already happeningin Jackson."
Their performance, "mr muddle's Song and Danceaganza," at the Lewis Art Gallery at Millsaps Dec. 4, will demonstrate mankind's struggle against the media's desensitizing influence.
johnson, a 30-year-old junior at Millsaps who prefers that his name not be capitalized, created the performance as part of the Mississippi Improv Alliance. While most improvised performances involve spontaneous dialogue in a structured setting, "mr muddle" is a unique collection of unplanned music and dance expression.
johnson created the show to visualize the struggle against media bias.
"People deal with media saturation all the time," johnson explains.
"So it makes sense for them to develop an identity around that and not with each other. The audience gets to see that in real time."
Marlena Duncan, a dance instructor at Power APAC, brings her own interpretation to the show as the focal dancer in the production. A talented dancer and improv performer, Dunca genuinely appreciates the collaborative effort that goes into a piece like this.
"As an artist, you're always looking to find a new way," she says. "We're very excited. This show will be an experiment, a nice test for all of us."
The performance of "mr muddle's Song and Danceaganza" will feature performances by Steve Smith, Jamie Weems, Jarad Wilson and Duncan at the Lewis Art Gallery at Millsaps College on Dec. 4 at 7 p.m. The gallery is located on the third floor of the Academic Complex. The event is free and open to the public.
More stories by this author
Support our reporting -- Follow the MFP.