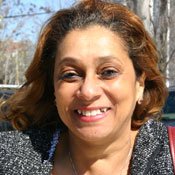 Oleta Fitzgerald, director of the Children's Defense Fund's Southern Regional Office, says she is concerned over the welfare of Mississippi children if either of the two health-care reform packages considered by the U.S. House and Senate ever make it into law.
The House passed H.R. 3962 earlier this month, and Senate Democrats managed to beat back the threat of a Republican filibuster a few weeks ago, allowing the Senate to move forward with debate on the Patient Protection and Affordable Care Act, H.R. 3590. Both bills promise big reforms in the health-care and health-insurance industries. The Association for American Medical Colleges states that nearly 15 million people will be newly eligible for Medicaid and the Children's Health Insurance Program under H.R. 3590, at an estimated cost of $374 billion over 10 years.
Fitzgerald says both bills contain huge holes regarding CHIP coverage for Mississippi children: "Right now, the fight over health-care reform in the House and Senate is all about abortion and the public option, but the children are getting lost in this discussion," Fitzgerald said.
The issue, she said, centers on Mississippi's unconventional requirement for CHIP eligibility.
Many states recently expanded their Medicaid program requirements to accept people who are a little further from the federal standard for poverty. Eleven states recently extended CHIP-eligible families' income levels up to 200 percent of the federal poverty level, or higher. ($20,800 for an individual or $35,200 for a family of three).
But instead of expanding Medicaid, Mississippi set up a new health insurance program that contracts with private insurance companies. The states that expanded Medicaid will continue to receive federal support for those programs under both the bills under discussion in the House and Senate. But in Mississippi, all children and their families over 150 percent of the federal poverty level ($16,245 a year for an individual and $27,465 a year for a family of three) would go into an insurance exchange created by the House and Senate bills. The Senate bill plans to put CHIP-eligible kids in an exchange by the year 2019, while the House bill has them transferred by 2013.
Insurance exchanges do not promise the reliability of a government health program, Fitzgerald warns.
"Going into the exchange could require co-pays and premiums, the children would get lumped in with adults, and it's not clear what requirements the insurance companies would have for their benefit packages," she said.
There is also the question of permanence. Exchanges like the ones proposed by the House and Senate bills have not always been long-lasting. Texas, Florida, North Carolina and California all attempted—and failed—to create enduring insurance exchanges, primarily because private insurers tampered with the market.
A July report issued by the California HealthCare Foundation tried to pinpoint some of the factors that killed the California insurance exchange, which closed its doors in 2006. According to the report, the California exchange became too expensive when the clients it served became too costly. An exchange requires a certain number of healthy individuals to complement the more sickly participants of the exchange's customer base; otherwise the cost of participation becomes too high for all participants.
But insurance companies in California lured healthy customers with lower premiums and steered the more sickly individuals into the exchange, creating a disproportionately expensive customer base.
"People involved in operations of the California exchange agreed that when there is competition for the same customers within and outside the exchange, the exchange is in 'extreme peril' of becoming a victim of adverse selection," the report states. "If an exchange attracts a disproportionate share of higher risk individuals and groups as the California exchange did at various times, it cannot succeed."
Fitzgerald said Mississippi's eagerness to boot CHIP-eligible children from the program to keep down state costs is another factor complicating the new bills.
"Another problem is enrollment. We need enrollment in the exchanges to be simplified, because enrolling in state health programs have a history of being anything but simple in Mississippi," Fitzgerald said, referencing a Medicaid policy championed by Republican Gov. Haley Barbour, which requires Medicaid recipients to meet Medicaid personnel "face-to-face" to be considered for program renewal.
CDF is working with its national office in trying to insert an amendment in the Senate bill though Democratic Sens. Robert Casey and Jay Rockefeller, which would keep all children up to 300 percent of the federal poverty level in the CHIP program until the new insurance exchange is thoroughly vetted.
Previous Comments
ID

154067

Comment

Looks like the health-care reform CHIP problem, reported above by Adam last week, is getting some deserved attention. Just came in e-mail, verbatim: ____ To: Editorial Board Editor From: Marian Wright Edelman, President, Children's Defense Fund Date: December 7, 2009 Re: Invitation to Join an Urgent Conference Call with Senator Bob Casey of Pennsylvania on his Children's CHIP Amendment to Prevent Millions of Children from being Worse Off in the Senate Health Reform Bill. ________________________________________________________________________ If the Senate doesn't take a stand for children in the next days or weeks, our worst fears could clearly come to pass. As Congress debates national health reform, providing affordable, accessible and comprehensive health coverage for all children should be a no brainer and a top priority in a moral and economically sensible nation. Instead, 10 million children are in serious danger of being worse off after health reform if the successful and cost-effective Children's Health Insurance Program (CHIP) is abolished as the House bill proposes. Thankfully, children's champion Senator Bob Casey (D-PA) has filed an amendment to protect and improve CHIP for the millions of children whose health and future depend on it. However, its consideration and passage are far from certain despite the fact that caring for children is strongly supported by the American public.

Author

DonnaLadd

Date

2009-12-07T15:26:07-06:00
ID

154068

Comment

(MORE) EDITORIAL BOARD CALL Please join Senator Casey and I on an editorial board conference call to discuss the purpose, the politics, and the imperative of passing the Casey Children's CHIP Amendment on Tuesday, December 8th at 11:30am EST at xxxxxx. BACKGROUND: The popular CHIP program was enacted in 1997 with the bipartisan leadership of Senators Ted Kennedy and Orrin Hatch to provide health insurance coverage to children in working families not poor enough to qualify for Medicaid but unable to afford private health insurance. President Obama signed a bill to renew CHIP in February after two vetoes by President Bush. At that time he said: "We fulfill one of the highest responsibilities we have: to ensure the health and well-being of our nation's children" and "No child in America should be receiving her primary care in the emergency room in the middle of the night. No child should be falling behind in school because he can't hear the teacher or see the blackboard. I refuse to accept that millions of our kids fail to reach their potential because we fail to meet their basic needs. In a decent society, there are certain obligations that are not subject to tradeoffs or negotiations – health care for our children is one of those obligations." Yet ten months later, as Congress debates and prepares to vote on urgently needed national health reform for all, the House of Representatives has approved a bill that abolishes the proven and cost-effective CHIP program and that would turn millions of CHIP children over to a new, untested, more expensive Health Insurance Exchange the day the system becomes operative (January 1, 2014). This new Exchange is driven largely by insurance companies and fails to provide the cost sharing and benefit protections CHIP children currently enjoy. Millions of CHIP children would be worse rather than better off as parents are forced to pay more for less. CASEY AMENDMENT: Congress has another chance to right this wrong and let children keep a program that works, at least until 2019, since CHIP is more cost-effective than the proposed new and untested Exchange. We should wait and see whether the new Exchange is safe, more cost-effective, and will make children better off than they are in CHIP. Senator Casey's amendment would:

Author

DonnaLadd

Date

2009-12-07T15:27:11-06:00
ID

154069

Comment

1. Extend CHIP to 2019 and fully fund and improve it. 2. Establish a mandatory, affordable national health safety net in CHIP for all children in working families with incomes between $30-55,000 (133-250% of the federal poverty level). Thirty-one states and the District of Columbia already have 250% percent eligibility and we should make it a national standard since the annual premium for family health coverage purchased through an employer is $13,375. 3. Guarantee children access to the full range of health and mental health benefits they need now provided to all children in Medicaid but only some children in CHIP. Every child's life is of equal value. All children deserve equal protection and equal access to all essential services. 4. Cut the red tape that keeps 2 out of 3 of the more than 8 million uninsured children already eligible for CHIP or Medicaid from actually getting the care they need. A simple, seamless enrollment process would ensure children are covered and cared for. For years, officials in every state have said they would fix the problem but far too few have actually done so. The Casey amendment will ensure that best practices that we know work are actually implemented. We have found a way to automatically enroll all older Americans in Medicare. The Casey amendment would ensure a family-friendly way to ensure that all eligible children are enrolled and actually get the coverage they need and deserve. Children are the only group in national health reform being denied the right to keep the health coverage they have. Senator Casey has rightfully said that we are not asking seniors to give up their Medicare or veterans to give up their care through the Veterans Administration and move into the Exchange. We should not ask children to give up CHIP until we know they will be safe and better off in a new Exchange. CONFERENCE CALL: It is time to bring children and their health care needs out of the shadows of the health reform debate and shine a bright light on what is happening. We hope that you will join Senator Casey for the conference call tomorrow. It is unclear how quickly this amendment could come up or a compromise on other issues could be reached, and thus the sense of urgency is real. Thank you very much for your time and attention. _____ We'll report back when we know more.

Author

DonnaLadd

Date

2009-12-07T15:27:27-06:00
More stories by this author
Support our reporting -- Become a JFP VIP.
The news business has changed dramatically in the past year, and we need your help more than ever to keep bringing you important stories about Jackson and the Metro. Become a JFP VIP with an annual membership or you can Sign up as a monthly supporter. Thanks for anything you can do to empower our journalism!