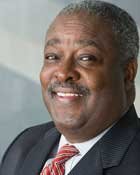 Jackson Mayor Harvey Johnson continued to push back this afternoon against a report commissioned by Ward 1 Councilman Jeff Weill on the Jackson Police Department's staffing. The report, authored by Millsaps College professor Bill Brister, pointed out that Jackson has a higher ratio of civilian employees to sworn officers in its police department than other comparable southeastern cities. Weill has argued that the police department could hire 100 new police officers by cutting its civilian staff to the southeastern average.
At a public safety sub-committee meeting this afternoon, Johnson requested that people reading the report "look behind the numbers."
Johnson drew a comparison to the city of Montgomery, Ala., which has a population comparable to that of Jackson. He pointed out that a number of employees working at the city's holding facility, in community improvement, or as school crossing guards are not listed as employees of Montgomery's police department.
Johnson says the Millsaps study amounts to a comparison of apples and oranges.
"Don't ignore that the police department is doing a lot," Johnson said. "We have 184 civilians in the department that Montgomery doesn't have in its police department."
Professor Brister agreed with the mayor's assessment that the report was a preliminary work.
"I competely agree with Mayor Johnson," Brister said. "This was very much a starting point. It's only a data point that jumped out at us. Please remember that this was done by a student team at Millsaps. It's limited in how far it can go."
Previous Comments
ID

151436

Comment

Bump. Update on the Johnson-Weill dust-up.

Author

DonnaLadd

Date

2009-08-31T20:14:42-06:00
ID

151439

Comment

It's starting to sound like the folks who actually did the study are not comfortable with the way Weill is citing it. Dunno. I like the fact that there is a policy issue under discussion--the number of civilian employees useful to a police department--independent of other factors. And I like the fact that a member of the City Council is acting like a watchdog. And I do think that Johnson needs to address this issue directly, which he seems to be beginning to do. But I'm beginning to wish I didn't commend Weill quite as much as I did. I'm beginning to get that feeling you get when you walk into a room or building and for the first half second it smells like roses, then you realize no, it definitely ain't roses.

Author

Tom Head

Date

2009-09-01T01:50:13-06:00
ID

151445

Comment

I previously lived in one of the so called comparable cities the study refers to, and I can tell you their crime is just as bad as ours. The difference is the civilian employees are paid twice the payrate Jackson's are and get regular cost of living raises and pay increases. The dispatchers top off making 40 thousand a year, whereas Jackson's don't get close. I think the issue her is not the number of civilian employee's but the amount of money being wasted in areas that are not accounted for. I am glad Harvey is handling this in a professional manner rather than causing a brawl at city hall.

Author

classy

Date

2009-09-01T08:00:46-06:00
ID

151446

Comment

I, for one, am glad that Mayor Johnson is speaking out and addressing the issues that come up regarding the functions of the City of Jackson. Jeff Weill should learn something from this debacle! The Mayor ain;t playin dis time!!

Author

GratefulJTE

Date

2009-09-01T09:26:34-06:00
ID

151465

Comment

it sure is a lot better to be focsuing on policy, to rid the "Wood Street" possee - instead of conjuring up ideas of grandeur to demolish the neighborhood around them! baquan, I was just about to say something similar. The city definitely should be focused on policy and infrastructure issues. Slashing jobs at the behest of a preliminary study could be very risky. If the city government decides to do so, they need to have all of their ducks in a row to justify it. We don't want a bunch of former employees saying that Johnson fired everyone who was a friend of Melton.

Author

LatashaWillis

Date

2009-09-01T14:22:21-06:00
ID

151473

Comment

I'm going with Johnson on this. He knows the needs of Jackson better than any Jeff will ever know. Weill is up to something not yet known or fully realized.

Author

Walt

Date

2009-09-01T16:39:21-06:00
More stories by this author
Support our reporting -- Follow the MFP.