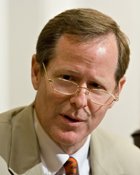 Jackson Mayor Harvey Johnson Jr. is implying that Ward 1 Councilman Jeff Weill has sidestepped the traditional administrative process by commissioning a survey related to the numbers of police officers in the city.
Weill will introduce the study he commissioned from Millsaps College at a council subcommittee meeting today. Weill wants the city to cut the number of civilian employees in the Jackson Police Department and increase the city's sworn police officer head count, based on the study.
"This survey appears to be an attempt to carry out a function of the administration, or it seems, at the very least, to be mixing the administrative and legislative functions," Johnson commented to the Jackson Free Press via e-mail. "When these types of surveys are done using sources outside the city, the results are shared with the legislative branch after the Administration reviews the findings and asks questions. There is no indication that this occurred. It appears that this survey was done at the request of one member of the City Council."
Weill has invited Millsaps professor Bill Brister, the author of the study in question, to speak at a public safety sub-committee meeting today around 4:30 p.m. Weill says he hopes Mayor Harvey Johnson will view this report as an opportunity to "increase the number of sworn police officers in the city."
He said the city could achieve a police head count of nearly 600 officers if the city reduced the number of unsworn employees in the police department to numbers achieved in other cities in the southeastern area of the country. The mayor, however, is questioning how and why the study was completed.
"We are unaware of any formal agreement between the city of Jackson and Millsaps to commission a survey," Johnson said. "Additionally, we are unaware of the scope of the study and we are certainly unaware of the motivation."
Johnson's budget proposal for the upcoming year includes about 800 staff positions for the police department. Weill said JPD is "hugely overstaffed" with civilians, however, and believes that Johnson's new budget only continues that trend.
"On average, 20.6 percent of police departments in nine comparable cities in the southeastern U.S. are comprised of civilians. In contrast, approximately 38 percent, almost double, of the Jackson Police Department will be made up of civilians if the mayor's new budget is approved," Weill said. "If JPD could reduce the number of civilians—through attrition, transfer, etcetera—to the southeastern average, it could hire 100 new police officers and give all 600 officers a $2,000 annual raise."
Weill also pointed out that reducing that number to about 20 percent—the civilian/sworn officer ratio for the cities of Memphis and Nashville, according to the report—could allow the city to retain almost 650 officers using projected budget numbers.
The report, compiled in December, reflects police staffing according to 2007 statistics the city sent to the Federal Bureau of Investigation. In 2007 the city had a total of 617 full-time employees, 429 of whom were sworn officers and 188 civilian support staff.
The city of Jackson has the highest ratio of civilian workers to officers of all cities cited in the report, including Little Rock, Birmingham, Montgomery, New Orleans, Baton Rouge and Shreveport.
The report indicates that if Jackson followed the formula of other cities in the southeast, the city would have 159 civilians supporting 612 sworn officers—a shift of about 144 positions from civilian to officer.
Weill told the Jackson Free Press that it was fitting to release the report at budget time, in hopes that the mayor and council could hammer out solutions and improvements during the budget cycle.
Jackson Police Officers Association President Juan Cloy would not officially comment on the report's results or its suggestions.
"I can't say anything about the report right now. Right now, though, I think other issues are more pressing with the department," said Cloy, who refused to go into detail this early in the administration.
Previous Comments
ID

151401

Comment

Makes sense to me.

Author

QB

Date

2009-08-31T13:50:12-06:00
ID

151402

Comment

Adam, I don't think that Johnson is just simply "Implying" that Weill "sidestepped the traditional administrative process.......". He has called it for what it is; a typical example of a Bush, Chaney, Rove maneuver: FIRE, READY, AIM. If Weill thinks that his methadology in arriving at his conclusion is so correct, let's just pose the results another way: A Jackson State University Professor was comissioned by Kenny Stokes to do a survey on the number of civilian employees at JPD because he thinks that there should be more sworn officers. Are there any more questions from the council? Just asking.

Author

justjess

Date

2009-08-31T14:23:38-06:00
ID

151405

Comment

i agree, Weill is trying to win this public policy battle in the public eevn before its discussed before the council. Im not saying weill cant have suggestions about this and that but if he wanted to be mayor he should have ranned for the job. He needs to stop acting like he can do whatever he wants its a chain of command in places if weill likes it or not. Justjess im with you if stokes and JSU was invovled they would be laughed out the building.

Author

NewJackson

Date

2009-08-31T14:34:08-06:00
ID

151406

Comment

It does seem strange to not have discussed this with the administration already and then to release it to the media as a done deal. That almost seems political, even if it ends up containing good ideas. Talk about starting out on an adversarial foot.

Author

DonnaLadd

Date

2009-08-31T14:38:41-06:00
ID

151408

Comment

The more of Jeff Weill I read about the more I see him as an opportunistic, egotistical individual. In my opinion, he seems like an individual who wants to show how much more "intelligent" he is than any of those other people (the City Council and the Mayor), and that if it is his WILL to do so, he WILL do what he wants, when he wants, with total disregard to a systematic approach to city government. Quite frankly, it's just doing what is right and respectful to have at least notified the council and the mayor of his intent. His commissioning of this study shows his lack of respect for his colleagues. He wants to save the City all by himself. He has been involved in more overstepping of boundaries than the entire council combined. I would applaud his efforts had they been done in the right vain. However, it is blatantly obvious that Councilman Weill feels he's the sharpest knife in the drawer. I say don't get cut!!

Author

GratefulJTE

Date

2009-08-31T14:56:58-06:00
ID

151409

Comment

Haven't we heard these numbers before? I don't have the resources to look, but I know I've heard those ratios somewhere before. As for the study, I'm glad someone's going to challenge Harvey. Got to keep him on his toes this time around! Edit: Ah! It's mentioned elsewhere Weill commissioned this back in Dec of 2008, and it did come up in his re-election in April.

Author

Ironghost

Date

2009-08-31T14:57:02-06:00
ID

151410

Comment

Study points out wasteful inefficiencies in city government and budget-neutral ways to improve public safety. City government calls study irresponsible because it didn't go through all the red tape and bureacracy. Typical.

Author

QB

Date

2009-08-31T14:57:23-06:00
ID

151411

Comment

It's amazing how Mayor Johnson was attacked for performing "studies" yet, it's okay for Jeff Weill. Amazing, huh?

Author

GratefulJTE

Date

2009-08-31T15:01:35-06:00
ID

151413

Comment

Ironghost and GB: Your responses are so typical and so predictable. Johnson was on his toes trying to make Jackson a City to be proud of. There were too many people crushing his toes and as a result of that, he was pushed down. Now that he has brushed himself off and is working from sun up to sun down often burning midnight oil (He and His Staff), there are people already poised to push him down again. I have heard this story too many times and it has become a polular slogan, even for Obama. If our leaders fail; so will our communities.

Author

justjess

Date

2009-08-31T15:08:28-06:00
ID

151414

Comment

Yeah we all know irognshot wanted crisler to win, watch next will be bubbaT and others basing harvey on this. Its called respect and yall need to learn that, like i said weill was trying to fund crisler with the whole northeast Jackson money men, if he want to be mayor he should have ranned other than that sit his butt down.

Author

NewJackson

Date

2009-08-31T15:14:16-06:00
ID

151415

Comment

I'm commenting on the Study. I'd really rather not make this another debate about Harvey's fitness to be Mayor.

Author

Ironghost

Date

2009-08-31T15:37:14-06:00
ID

151417

Comment

so irongshot do you think this blindsided study was done professionally, why didn't he come to the mayor of the city. To me weill has no respect and if i was HJ i would tell weill to kiss my azz until he learns the correct protocall, they gonna call HJ arrogant anyway something that a black man dare not be.

Author

NewJackson

Date

2009-08-31T15:53:11-06:00
ID

151418

Comment

The report was compiled during the Melton administration, so this isn't a case of Weill going after Johnson. This is a case of a member of the legislative branch (the City Council) analyzing executive branch policy, which is his job. As much as I hate to support a Ward 1 Republican over the Democratic mayoral candidate I voted for, this is exactly the sort of thing we need to see more of from the Council, not less. We have seen--under Bush and Cheney at the national level, and Melton at the local level--the dangers of an unchecked executive branch. Good on Weill for exercising due diligence. Now there is an actual policy issue to discuss, and it's Johnson's job to either defend the policy or change it.

Author

Tom Head

Date

2009-08-31T16:03:22-06:00
ID

151419

Comment

Millsaps did the study. I believe they did it in a professional manner. I do not believe there is a limit to who can commission a study, certainly not in government. I'm not responding to the rest of your commentary.

Author

Ironghost

Date

2009-08-31T16:04:15-06:00
ID

151420

Comment

How many of you would have agreed if stokes would have did this.

Author

NewJackson

Date

2009-08-31T16:14:39-06:00
ID

151421

Comment

I agree with Tom and IG, but I can't blame Johnson for asking how this study came about since he wasn't involved. I'm curious as to whether Millsaps was paid to perform the study. Seems like that would have to have been voted by the council. If it was pro bono, that's great for taxpayers and Weill should be commended not condemned for that. Considering Jackson's need for more officers, rather than bash who commissioned the study, for once how about working together to determine if the findings have merit?

Author

Jeff Lucas

Date

2009-08-31T16:19:20-06:00
ID

151422

Comment

motive to me, i dont have anything against milsaps but if weill had nothing to hide why didnt he inform the mayor of this city of his "good" intentions.

Author

NewJackson

Date

2009-08-31T16:24:25-06:00
ID

151423

Comment

I'm not entirely sure if it was complete in December, for one. Two, I'm not aware of a law that says the council must keep the mayor informed when they're doing research.

Author

Ironghost

Date

2009-08-31T16:28:40-06:00
ID

151424

Comment

I would have most definitely still supported the study if Stokes had been the relevant councilperson. I would have preferred that, actually, because it would remove some of the perception issues that we're dealing with now. But it remains Weill's job, as one of the seven City Council members, to do this. When he was elected, everybody kind of expected him to be a watchdog because of his background as a lawyer, and so far he hasn't disappointed. Johnson of course has every right to doubt, challenge, and even debunk (if relevant) the study. I think he's obligated to respond to the data in some fashion. The $64,000 question is whether we're better off with the civilian employees. We might be. If we are, it's up to him--and/or other City Council members who support this policy--to explain why.

Author

Tom Head

Date

2009-08-31T16:33:43-06:00
ID

151425

Comment

why shouldnt he?

Author

NewJackson

Date

2009-08-31T16:34:19-06:00
ID

151426

Comment

I don't care how many studies Millsaps does, and the study may be very helpful. My point here is how Weill seems to have released the report -- to the Ledger before the mayor. That's why looks fishily political about the whole thing. It rather look like he's trying to alienate the administration for no apparent reason. I wonder at the wisdom of that.

Author

DonnaLadd

Date

2009-08-31T16:40:58-06:00
ID

151427

Comment

and then call all the media outlets to say i have a good plan, now what will HJ do.

Author

NewJackson

Date

2009-08-31T16:50:37-06:00
ID

151430

Comment

Did someone say Weil was acting with political motives? Weil's release of the subject report is certainly political...he is a politician isn't he?...aren't all elected officials political?...so why is the American public so suprised when politicians make political moves? I like our system of partisan politics. Name calling, dirty tricks, mis-information campaigns, personal verbal attacks...these tactics are all good when you consider the alternative, i.e. Afganistan, Somolia, Iraq, etc. In those societies differences of opinion are settled with violence...against foe, friend and innocent by-standers.

Author

FrankMickens

Date

2009-08-31T18:02:07-06:00
ID

151431

Comment

No question Weill is airing his case in the media (I would expect no less from a lawyer, especially one who is also a politician), playing up his "budget watchdog" image to his constituents rather than working with the mayor. I suspect he believed Junior would dismiss his efforts without serious consideration, which I think is shortsighted on Weill's part. At the end of the day, it's the mayor's call whether he believes the study and its findings have merit. On the face of it, the idea of reducing non-essential civilian employees sounds good. But it's not always as simple as just looking at statistics from other cities, states or regions. The numbers have to be studied closely to determine if apples are being compared to apples.

Author

Jeff Lucas

Date

2009-08-31T18:04:24-06:00
ID

151432

Comment

I would like to know why Jeff Weill didn't commission this study two years ago when Melton was Mayor but waits until Harvey Johnson is Mayor? What title does he have to commission any study without the approval of the City Council or the Office of the Mayor? This is some of the same tactics from the previous rep from ward one. It's seem that a game plan is being put into motion in order to control Mayor Johnson agenda for the City of Jackson.

Author

Tony Davis

Date

2009-08-31T18:24:53-06:00
ID

151433

Comment

HJ responded to the Millsaps report on the WAPT news coverage of the City Council Commitee meeting. HJ pointed that without analyzing the report in depth he cannot comment on the validity of the reports conclusions and more importantly on the reports inferences. Off the top of his head HJ gave the example of how JPD uses civilians to provide services that may be handled in the other cities cited in the report by another department. For example JPD uses civilians to provide 911 service. HJ knows of other jurisdictions where 911 is provided by the county entity, and not the city. To Mr. Weil..it is now obvious that you will not be a team player, which is sad..but then we know that you know what your constituents want you to do. The report on face value was a good idea, but your release of it without giving the administration the opportunity to preview it reeks of , as LBJ so graphically put it, standing out side the tent and urinating into the tent. Wouldn't it be more comfortable to be inside the tent and urinating outside? In other words you can maintain your views and use your rhetoric, however you would protect your working relationships with the administration, which will be here for the next four years..no matter how hard it is for you to swallow. A sense of teamwork and protection of working relationships are those characteristics which seperate politicians (in general the Republican minority) from statesmen (in particular Ted Kennedy)

Author

FrankMickens

Date

2009-08-31T18:25:35-06:00
ID

151434

Comment

NewJack- No comment ;-) Sounds like to me HJ and Weill are having a pissing contest and airing it out in the news. Not really interested in who commissioned what or what the study says. Most of the studies cities(not just Jackson) do, are a waste of money in my opinion. Common sense should tell them what needs to be done.

Author

BubbaT

Date

2009-08-31T19:39:46-06:00
ID

151435

Comment

I assume everyone saw our new top story about this that Adam called in and we posted at 6 p.m. It sounds like the report might not be as solid as Weill, and the Ledger, suggested if what Johnson says is true. (Rather reminds me of the Ledger rushing into print that MBN memo that Melton slipped them before factchecking it.)

Author

DonnaLadd

Date

2009-08-31T20:11:16-06:00
ID

151437

Comment

Folks, a search on Jeff Weill and this report turns up these remarks he made in his campaign questionnaire during the spring election, which seems to refer to the report's findings, posted on his Jackpedia page: We also need more sworn police officers. Almost 40% of the employees in the Jackson police department are civilians compared to 20% for similar-sized cities in the southeast. Reducing the number of civilians to the southeastern average would allow us to either hire up to 100 new sworn officers or hire 75 more officers and give the rest a substantial pay and benefit increase. Importantly this would be done without raising taxes. It does seem odd that he's just putting the report itself out now. We'll see what else we can figure out about it, and it's clear from Adam's new story tonight that the report needs some more vetting. If Johnson's response is right, it's pretty sloppy to have overlooked that information. A rush to judgment, perhaps -- er, several months later. The whole thing is weird, and rather distracting.

Author

DonnaLadd

Date

2009-08-31T20:32:08-06:00
ID

151442

Comment

Weill's 1st mistake was pushing this "study" as if Millsaps had performed a comprehensive analysis of police staffing and utilization. Instead it appears to be a simple survey and comparison of civilian vs. non-civilian percentages among a few Southern metropolitan PDs. I don't fault him for using Millsaps as a research tool to educate himself on the issue, but I don't like his misrepresenting their findings for political gain. His other mistake was not presenting the "study" to the mayor and council beforehand and using the media to try to upstage HJ, making himself look like a complete jackass.

Author

Jeff Lucas

Date

2009-09-01T07:42:08-06:00
ID

151444

Comment

[quote]I would like to know why Jeff Weill didn't commission this study two years ago when Melton was Mayor but waits until Harvey Johnson is Mayor?[/quote]The study was performed during Melton's administration. He just waited to release the study to the council now, which is a little suspect and self-serving.

Author

Jeff Lucas

Date

2009-09-01T07:56:35-06:00
ID

151447

Comment

I have a personal comment to Mr. Weill: Crisler loss the election and the citizens of this community do not have the time or the money for individuals to try to prove that he (Crisler)should have won and that Johnson is a dumb a$$. Now that the election is over, we should try to pull the same wagon and you know the heavy weight this City is carrying secondary to four years of neglect on so many issues. Some that involve grants that were either not signed and forwarded to government and others that were not re-applied for. I had the opportunity to discuss this "Study" with a JSU retired statistician. He was floored by the positive publicity and the reporting by media outlets (not JFP) that the City will be able to save "millions upon millions of dollars" if the City follows the directives of Mr. Weill. He also spoke to the issue of the termination of 100 civilian employees causing the percentage to drop to 20%. These are not will and pleasure positions and most employees are under the arm of Civil Service. It is his understanding that many of the non-officer positions pay a few dollars above minium wage. Does this mean that you will terminate only your top paid positions? If you attempt to hire 100 officers for these jobs and place the 100 terminated positionsd back in City government, the number then doubles. This reports sounds half baked but I know that this is one of Johnson's strong suits and he will not allow anyone to sell Jackson a Pig-'N-A-Polk.

Author

justjess

Date

2009-09-01T10:27:39-06:00
ID

151448

Comment

Justjess, it does look like the Ledger just grabbed the study and threw it into print without asking more questions. But they do that; we all know it. Otherwise, I don't have a problem with Mr. Weill doing a study; however, I don't like seeing it used in a weird political way. We are trying to be in a different place in the city these days after all the immature antics of the past that led to Melton as mayor. It's time for people to come together for the better of the city, not to push political agendas. And this rather sounds like a classic-drown-government-in-the-bathtub argument. I think it's great to have a discussion about this issue, and look at what "patronage" happened during the Melton administration and what needs to be done about, but it shouldn't be adversarial. We have enough of that negative garbage with Stokes and Bluntson to contend with. Instead, we have Jeff Weill screaming "patronage" on Alan Lange's tablog yesterday, and I'm guessing in the Northside Sun tomorrow. It rather comes across as if the Better Jackson PAC crowd coordinated this one, too. And that's so tired. The question, of course, as I put it to Adam this morning, is the specifics of "patronage": Are they unneeded "patronage" positions -- which Weill seems to be alleging -- or were they "patronage hires during the Melton administration when he did his study (such as trying to hire the unqualified Charles Melvin to head Parks). This issue needs some intelligence to flesh it out and get it out of the realm of political posturing and tabloid/blog "journalism." Thanks to people here for approaching the issue with intelligence.

Author

DonnaLadd

Date

2009-09-01T10:42:01-06:00
ID

151450

Comment

Oh, and folks, please don't forget that the Crime Prevention personnel that Melton fired immediately (perhaps at the behest of the bathtubbers?) were civilian employees. We all need to get the details, ask questions and think this through. Get past the rhetoric, which the Ledger helps push on this report.

Author

DonnaLadd

Date

2009-09-01T10:49:24-06:00
ID

151451

Comment

Ladd said, "The question, of course, as I put it to Adam this morning, is the specifics of "patronage": Are they unneeded "patronage" positions-- which Weill seems to be alleging -- or were they "patronage hires during the melton administration when he did his study (such as trying to hire the unqualified Charles Melvin to head Parks). These are all great questions; however, the way that Weill has gone about this issue is couched in a fashions that evoke suspicion.

Author

justjess

Date

2009-09-01T11:07:22-06:00
ID

151452

Comment

Ladd: "We all need to get the datails, ask questions and think this through. Get past the rhetoric, which the Ledger helps ush on this report." Agreed! Great points.

Author

justjess

Date

2009-09-01T11:12:23-06:00
ID

151454

Comment

Another thing to look at is how many of these civilian positions were existing departments that were shifted into JPD under Melton, such as Code Enforcement or Traffic Division. Removing them out of JPD umbrella isn't really a savings.

Author

Jeff Lucas

Date

2009-09-01T11:32:45-06:00
More stories by this author
Support our reporting -- Follow the MFP.