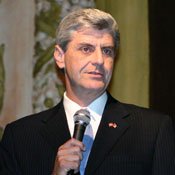 Mississippi Democratic Party Executive Director Sam Hall is accusing Republican Lt. Gov. Phil Bryant of pushing for voter identification for political reasons. "We have to ask if this is nothing more than an attempt to drum up support over another divisive wedge issue," said Hall, who spoke on Bryant's appearance at a Starkville Rotary Club meeting last week.
Bryant and state Rep. Gary Chism, R-Columbus, pressed the issue of voter ID at a meeting of about 100 individuals, claiming they've gained about 30,000 of the 95,000 required signatures to assemble a statewide ballot initiative to impose photo-identification requirements on voters.
Both hope they can get the process far enough along to present the potential new law as a referendum on the 2010 or 2011 ballot.
Hall said politicians pushing voter ID hope to divide Mississippians along social lines in the upcoming election, pointing out that Republicans themselves killed a measure in March that would have restricted voting to those with appropriate identification.
Leaders of the Mississippi Legislative Black Caucus squared off against conservative white legislators and loaded the House version of the voter ID bill with law changes that they claimed would further open the voting process. The progressive additions to the bill included laws extending voter registration time and even allowing voters to register to vote on the same day of the of election.
In a state where Republicans outnumber Democrats by only one percentage point, according to a recent Gallup poll, the GOP sacrificed voter ID in order to block measures that could make it easier for many people to vote. Republicans like Sen. Merle Flowers, R-Southaven, and Bryant killed HB 1533 before the March 2 legislative deadline. "Nobody wants photo Voter ID more than I do," Bryant said in a March statement. "… However, I am not willing to back down from my Republican conservative principles and accept early voting and other provisions that compromise fair elections," without detailing how early voting would make elections unfair.
State residents currently may register to vote either by mail or by visiting the county Circuit or Municipal Clerk. Applicants may also register to vote when applying for or renewing a driver's license, or when applying for some state and federal services. Voters must register 30 days prior to the election, or have their mail-in voter application postmarked at least 30 days prior to the election.
Bryant told The Commercial Dispatch that he stood against the old bill specifically because it allowed convicted felons to vote. The bill returned suffrage to people convicted of certain non-violent crimes, including writing bad checks—a crime that disproportionately plagues black and poor voters who tend to vote Democratic.
Mississippi NAACP President Derrick Johnson said he couldn't be sure if Bryant was following the proper process to acquire signatures for the petition. "There are potential problems involved in arranging something like this," Johnson said. "Participants must come from each congressional district, they must be registered voters and you have to be able to verify them. The names could be illegible or they could be unverifiable."
Johnson also pointed out that The Commercial Dispatch concluded in its Aug. 18 story that neither Chism nor Bryant required people singing the petition to present identification at the Starkville event.
"The other side of this is how do we know that these people are the people they claim to be? This is a push for voter ID, and yet they're not using ID to get this petition together," Johnson said. "This shows Republicans' real motivation, as far as I'm concerned."
Mississippi Democratic Party Chairman Jamie Franks said in a press statement that local Republicans are out of touch with what matters most to the people in Mississippi: "People here don't care about politicians' political posturing, people care about their own jobs, putting food on the table and making sure they can afford to go to the doctor when they get sick."
Voter ID opponents argue that a such a requirement is frivolous regulation designed to disparately affect minorities, youth and senior citizens—who generally vote Democratic.
When asked for evidence that such regulation is needed, Republican supporters typically refer to cases of fraud involving absentee voting—which does not require ID now, nor would under a voter ID requirement.
"They've never been able to offer a solid case where an ID requirement would have been useful because preventing fraud is not their goal," Johnson said early this year. "This is all about disenfranchising voters, not cleaning up voting."
Previous Comments
ID

151283

Comment

It makes no sense there is any oppositiong to having an appropriate ID for voting anymore than having one to cash a check or any number of other activities where proof of ID is required. This is not or should not be a partisan issue. Everyone is affected when anyone casts an illegal ballot black, white or whatever color, ethnic group, religion or persuasion. The opposition to voter ID smells more partisan than racial.

Author

Stog

Date

2009-08-27T09:27:51-06:00
ID

151284

Comment

I don't think it is racial or partisan at it's heart. It is about whether or not we value our right to vote more than renting a movie or opening a checking account. Voter ID will disenfranchise people. Study after study shows this. Why would we knowingly do something that would disenfranchise someone? If there were truly widespread -- hell, if there were truly any amount of -- voter fraud that would be corrected by Voter ID, then the debate would be warranted. But proponents cannot point to widespread, known and proven cases of voter fraud where Voter ID would have made a difference.

Author

Sam R. Hall

Date

2009-08-27T10:02:40-06:00
ID

151285

Comment

I don't show an ID at the ATM machine, or many other places. My bottom line: This is needless, partisan regulation unless someone can show the evidence that it is actually needed. We keep asking for that evidence, and its supporters can never provide it. Remarkably, most of voter ID's supporters say they don't want frivolous regulation. I guess they want it only when it might limit the number of people who vote against them.

Author

DonnaLadd

Date

2009-08-27T10:07:51-06:00
ID

151287

Comment

That ATM machine takes your picture everytime you use it. :)

Author

BubbaT

Date

2009-08-27T11:12:05-06:00
ID

151289

Comment

[quote]what do you do about absentee ballots? [/quote] They've already had to crack down on abuse of absentee ballots.

Author

Ironghost

Date

2009-08-27T11:30:29-06:00
ID

151290

Comment

There is no need for voter ID. It's like a poll tax to me. Plus, voter fraud is extremely rare. You're probably more likely to be struck by lightning than there will be actual voter fraud. The GOP tried to make it a very big issue with ACORN in the presidential election and it didn't work. Even the proponents of voter ID can't prove any pronounced amount of voter fraud. I don't know why the GOP insists on bringing up wedge issues to divide us against each other. We saw the divide-and-conquer strategy last year at its worst and like ACORN, it didn't work.

Author

golden eagle

Date

2009-08-27T11:32:53-06:00
ID

151292

Comment

Maybe it is just my being of the younger generation, but why is proving that you are who you say you are such an issue? Voting is serious stuff, and I would think a safeguard like showing a photo ID would be a good thing. Plus it would shut people up who claim that elections were stolen because of dead voters voting.

Author

QB

Date

2009-08-27T11:40:32-06:00
ID

151294

Comment

Isn't needless legislation a bad thing, though, QB. You're a good Republican: do you not require proof that the ID is actually needed before wanting to regulate one of the most basic rights of Americans? Address that question, please, because it's the biggest hurdle y'all need to clear to make a lick of sense about your voter-ID obsession. And your last sentence makes it sound like you want the government to pass frivolous legislation just to "shut up" the people erroneously claiming that elections are stolen by dead voters. Meantime, you do realize which party is spreading those rumors, right? Y'all got a serious circular logic problem. It'd be real nice if you'd quit trying to treat the rest of us like we're stupid. Because, well, we're not. And if you want frivolous regulation on this issue, you really ought to shut your traps about too much regulation on the corporations and investment firms that have ruined our economy. Just sayin'.

Author

DonnaLadd

Date

2009-08-27T12:04:42-06:00
ID

151298

Comment

Cause owning 20 to 30 guns has nothing to do with voter id? Beside if all you got is 20 guns you need to buy more. ;)

Author

BubbaT

Date

2009-08-27T12:21:33-06:00
ID

151300

Comment

I can understand your point BubbaT from the standpoint of a gun collector but, what is the point of need to "buy more." Who exactly is this directive for?

Author

justjess

Date

2009-08-27T12:29:15-06:00
ID

151301

Comment

Maybe Voter ID isn't frivolous legislation.

Author

Ironghost

Date

2009-08-27T12:29:34-06:00
ID

151302

Comment

Jess- Just messing with Baquan.

Author

BubbaT

Date

2009-08-27T12:32:47-06:00
More like this story
More stories by this author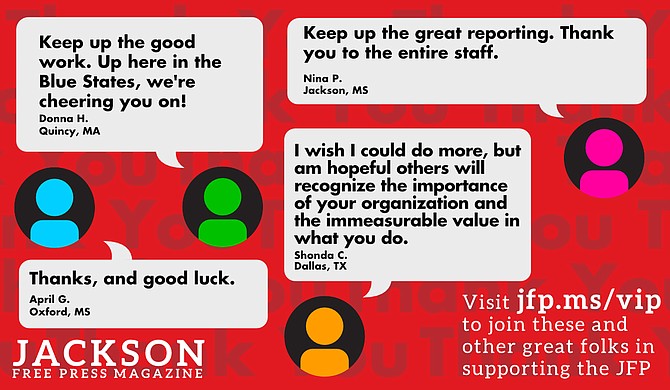 Thanks to all our new JFP VIPs!
COVID-19 has closed down the main sources of the JFP's revenue -- concerts, festivals, fundraisers, restaurants and bars. If everyone reading this article gives $5 or more, we should be able to continue publishing through the crisis. Please pay what you can to keep us reporting and publishing.