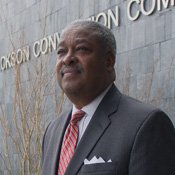 Jackson Mayor Harvey Johnson Jr. reminded Jackson City Council members at yesterday's payroll meeting that he will present his budget proposal to the council at a noon tomorrow, Aug. 19. The new fiscal year for the city begins Oct. 1, 2009, and the city has to finalize the budget in September.
The mayor's information comes after weeks of difficult preparation. The city has labored lately under the weight of falling tax revenue, as the city's sales tax revenue dipped about $2 million. The revenue loss is coupled with increased municipal costs, such as rising insurance rates, fluctuating fuel prices, aged or dated city-owned equipment and vehicles, and general employee disenchantment as departments stall promotions and raises.
The city is also facing repayment of a $2.5 million bond that the council signed off on last year for street paving and infrastructure repairs.
Johnson had earlier referred to the city's financial situation as "dire," though he played down his use of the word at a later meeting. Johnson said he is confident the city could properly address the tight budget before the September deadline.
The city attempted to cut its budget by 3 percent last year, and Johnson said those cuts will likely extend into the next budget cycle. The mayor has made no proposal for a tax or fee increase to fill holes in the budget, and council members appear equally unwilling to consider that option.
Ward 1 Councilman Jeff Weill said he would like the chance to seriously consider the possibility of city staff reductions.
"When I first came to council, the mayor's staff told me that there were 300-plus too many employees in the non-public safety workforce. I don't know who those folks are, but I want to find out and in my mind, since 70 percent of the budget is payroll, if we were to reduce those that are recognized as being redundant or unnecessary then we could save a lot of money," said Weill, adding that he could easily see cutting some staff without a significant reduction in services.
The council is largely letting Johnson take the lead on proposing a budget, unlike previous years under the administration of former mayor Frank Melton. During the last administration, council members pressured Melton to meet budget deadlines, and were often suspicious of the documents Melton delivered.
The budget remained a contentious issue between some members of the council and Melton throughout the year. Former Ward 6 Councilman Marshand Crisler and other council members frequently refused to sign off on city payroll, fearing that they were approving city employees who may have been hired outside the city's hiring process. Crisler, in particular, questioned the legality of some employees, fearing Melton may have streamlined the hiring of personal friends, who Crisler suspected of being felons.
This week, Weill also refused to approve the payroll, saying he would not approve paying employees he did not know.
Weill has asked for a list of employees and salaries, a request that Johnson refused to grant on the grounds that compiling the list is "onerous." He added that the council was overstepping its powers in demanding the documentation, but said he would provide such information quarterly as necessary for budget reviews.
Previous Comments
ID

150993

Comment

WoW! Sounds as if Weill is really trying to lock horns with the Mayor. What comes up for me is the fact that Weill served as council person for Ward 7 during Frank's entire administration. He, as did others, knew about all of the Will and Pleasure, friends, family, felons, etc. (people melton hired to dodge the Council's approval). melton got away with murder(figuratively). Why didn't Weill compile his list during those years? Weren't these same people hired and with the same salaries? Just asking.

Author

justjess

Date

2009-08-18T14:42:18-06:00
ID

150996

Comment

If I'm not mistaken, those lists were provided during the Melton administration at the Council's request. Johnson has decided the list is too onerous.

Author

QB

Date

2009-08-18T14:52:36-06:00
ID

150997

Comment

Weill's ward one. Barrett-Simon is seven. What I question is how hard can it be go to HR and fiddle with the computer for a few minutes? Heck, they mail paychecks out so they've got a list already.

Author

Ironghost

Date

2009-08-18T14:54:49-06:00
ID

151008

Comment

This list, was provided to the council during the Melton administration. To my recollection the city council hired an attorney to get all the info, which by the way included employees ssn numbers and other personal info. Unless Weill thinks Melton hired additonal people after that, there seems to be deeper issue going on here.

Author

classy

Date

2009-08-19T07:09:26-06:00
ID

151011

Comment

Interesting article in the C-L today regarding Johnson's efforts to channel all departmentmental contact through one individual. Transparency? http://www.clarionledger.com/article/20090819/NEWS/908190356/1002/news01/Council-upset-by-info-block

Author

QB

Date

2009-08-19T07:54:55-06:00
ID

151019

Comment

Johnson should provide the information on the staff members. Council should not approve a payroll without details about who's on it. We've had enough problems on that front. It's sadly common for governmental agencies to funnel all contact through one person. Sometimes it works well; often it doesn't. We're having similar problems with the state government right now. The secretary of state's office has done more to hurt public records access than anyone I've seen in a while (other than Melton/SORE). And the Dept of Ed is blocking Ward from public information he needs. Circumstances are dire in this state on the open-information front. I'd like to see Harvey Johnson lead on this front, rather than repeat the same errors just because he can get away with it in this anti-public-access state.

Author

DonnaLadd

Date

2009-08-19T10:26:07-06:00
More stories by this author
Support our reporting -- Become a JFP VIP.
The news business has changed dramatically in the past year, and we need your help more than ever to keep bringing you important stories about Jackson and the Metro. Become a JFP VIP with an annual membership or you can Sign up as a monthly supporter. Thanks for anything you can do to empower our journalism!