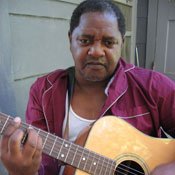 Martin's welcomes Mississippi newcomers this Thursday night. Milton Menasco & the Big Fiasco are a Bozeman, Mont.-based rock/soul three-piece band with a passion for funk and reggae. Listen to their music at http://myspace.com/miltonmenasco.
Cedric Burnside and Lightnin' Malcolm—aka Juke Joint Duo—return to Martin's this Friday night. It's not the blues; it's a musical throwdown. If you're looking for the real deal, high-energy, whiskey-drinking, dance-party juke, this is it.
There is but one grade A cut for Saturday night, and it is Drive-By Truckers and The Dexateens in Hal & Mal's Big Room. It's an 18-and-up show, and $20 gets you in the door. This is the show that everyone has been anxiously anticipating since Charley at H&M booked it. Known for their stellar live performances, the alt.country/southern rock national favorites haven't performed in Jackson for quite a few years. If you haven't heard their latest music, hit them up at http://www.drivebytruckers.com.
Remember, if you support the bigger shows, the venues can afford to continue to bring them in. Well-seasoned southern rockers The Dexateens will open. Trucker frontman Patterson Hood produced many of the Dexateens' tracks in recent years. If you dig the Muscle Shoals/No Depression-inspired southern rock off, you will have a good time.
Next Friday, be sure to check out the Mississippi Museum of Art's ArtRemix with Louis "Gearshifter" Youngblood Trio (blues/inside stage) 5-8 p.m.; Barry Leach (jazz/outside stage) 7:30-8:30 p.m.; and Todd Snider (roots/outside) 8:30-10 p.m. $20. Check out the art while you're there.
Then next Saturday night, Aug. 15, the annual Bright Lights/Belhaven Nights festival happens along Carlisle Street from 5:30-9:30 p.m. The festival will include musical performances on five stages and other activities from New Stage Theatre down to the McDade's parking lot and in most of the businesses in between. Art, artisans, craft and other merchants, free kids activities, food and more will be available. Admission is $3 for adults, $1 for kids.
The music scene in Jackson has changed in recent weeks. The new Farish Street blues venue F. Jones Corner (in the old Field's Café location) is now open, and if you work close to downtown, you can hear live blues and eat a plate lunch every day. Then on weekends the late-night juke cranks things up about 11:30 p.m. with the house band, Sherman Lee Dillon's Mississippi Sound. Rotating blues groups play with the band until 4 a.m.; $5 cover gets you in Friday and Saturday nights.
You might also notice on the calendar that Seven*Studioz is no longer open. Taking over the Millsaps District space is Cultural Expressions, which offers some of the best deejayed and live hip-hop, reggae, spoken word and R&B around. DJ C-Lecta is back to host his Friday-night Caribbean sessions. DJs Scrap Dirty, Young Venom and Sketch will offer up the hip-hop/soul on Saturday.
Are you looking for that one final road trip while you can still call it a "summer getaway"? Tickets are still available for Green Day/Kaiser Chiefs in the New Orleans arena for this Friday night; $25-49.50. Blondie and Pat Benetar are at Beau Rivage, Biloxi, Saturday, Aug. 22, tickets $55-$78. B.B. King will perform at the MSU Riley Center in Meridian Sept. 3 and at Beau Rivage Sept. 4. Erykah Badu returns to the Orpheum in Memphis Sept. 10. The Black Crowes are on deck for the Lyric in Oxford Sept. 28. India.Arie makes a rare Mississippi stop at the Riley Center in Meridian Oct. 1. Most of these shows are reserved seating so get your seat up front now. Cheers.
More like this story
More stories by this author